New Silhouette Cameo 2014 Compared to Original Silhouette Cameo
There's a new machine out!  Don't miss this post! >>> ** The NEW Silhouette Cameo 3 Compared to the Silhouette Cameo 2 **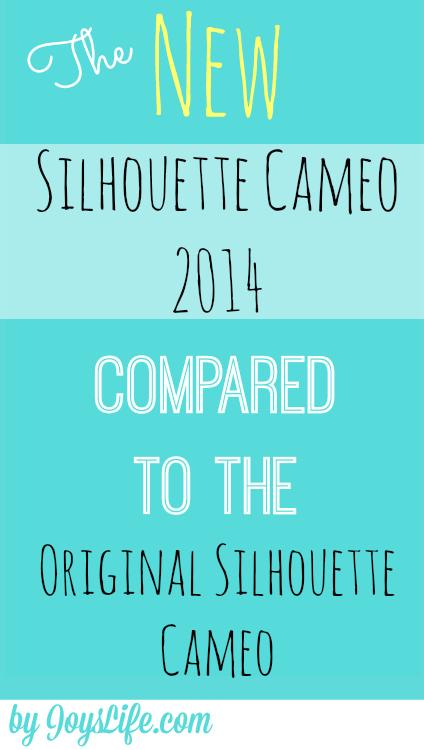 As soon as it was available to purchase, I pushed the button to buy the newest Silhouette Cameo (2014).  I shared the new features of this new 2014 model based on what Silhouette had released about it at the time.  Now that I have it, I wanted to do a little comparison between it and the previous Silhouette Cameo.
There's a new machine out!  Don't miss this post! >>> ** The NEW Silhouette Cameo 3 Compared to the Silhouette Cameo 2 **
What Came in My Cameo Bundle
I purchased my machine from Amazon because they had the lowest price with the most extras.  Included in my Silhouette Cameo (2014) bundle were these things: a one month subscription to the Silhouette Store.  The 1 month subscription gives you $25 to use up in a month's time.  If you don't use it in a month after activating it, you lose it.  Ack!  So, use it!  But wait…there's more…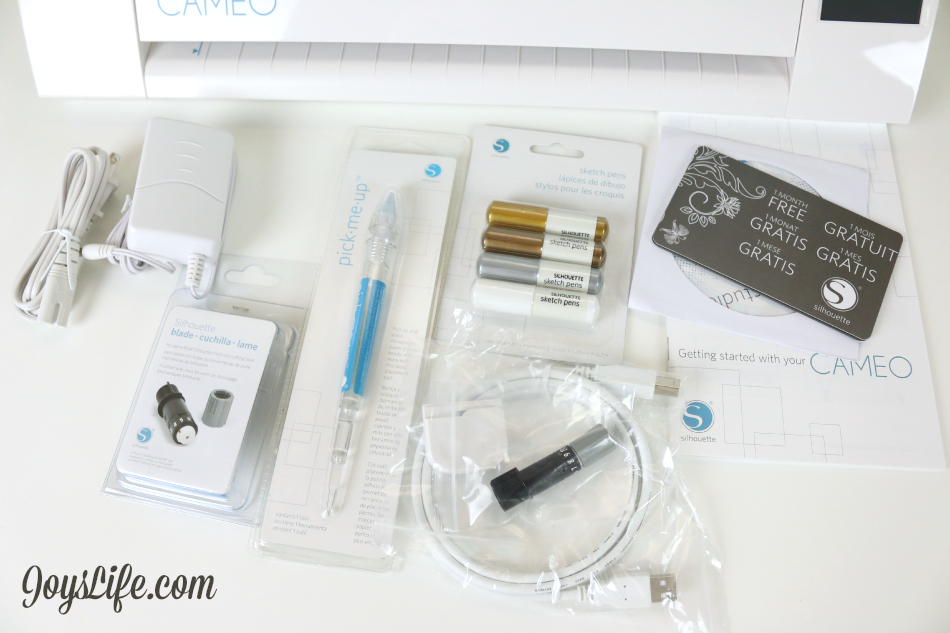 It also included a Pick Me Up tool, 4 Silhouette metallic sketch pens, an extra mat (a total of 2) and an extra blade (a total of 2).  If you want a Pick Me Up tool and didn't buy a bundle that has one you might consider this whole pack of tools for the Silhouette.  It includes the Pick Me Up and 3 other useful tools.  In most Cameo purchases, you will receive only one mat, one blade and I think usually a $10  download card to the Silhouette Store.  The nice thing about Silhouette download cards over memberships is that the download cards do not expire.  Yay to that!
The Machines Compared
From the front!  Don't be fooled by this photo.  It looks like the new model is much smaller.  It isn't.  They are the same size.  It just looks that way since the new one is in the back and I had to back up to get them both fully in the shot.  Differences?  So far they are different in color and the right hand panel.  Let's look at the other differences…
From the inside, you'll notice a difference in color and and in the rollers.  The new ones are steel spring rollers as opposed to rubber.  You may notice guide marks in blue on the new Cameo.  They were also on the previous Cameo but you couldn't see them because they were grey.  You might have this question, "Why did Joy call the Original Cameo a 2nd Edition?"  Well, you might not have noticed unless you owned a Silhouette that came out when it was first released in 2011 but another model later came out.  Differences in those?  Only one major one that I can remember.  That ratchet area on the left…AKA..that hole.  The original one looked like this.  So, if you still have the 2011 version, you'll think the hole is new.  It's not.  It was part of the 2nd Edition update.  It still functions as the ratchet to adjust your blade depth.
[clickToTweet tweet="Which Silhouette Cameo is right for you? This comparison will help you decide! #SilhouetteCameo" quote="Which Silhouette Cameo is right for you? This comparison will help you decide! #SilhouetteCameo"]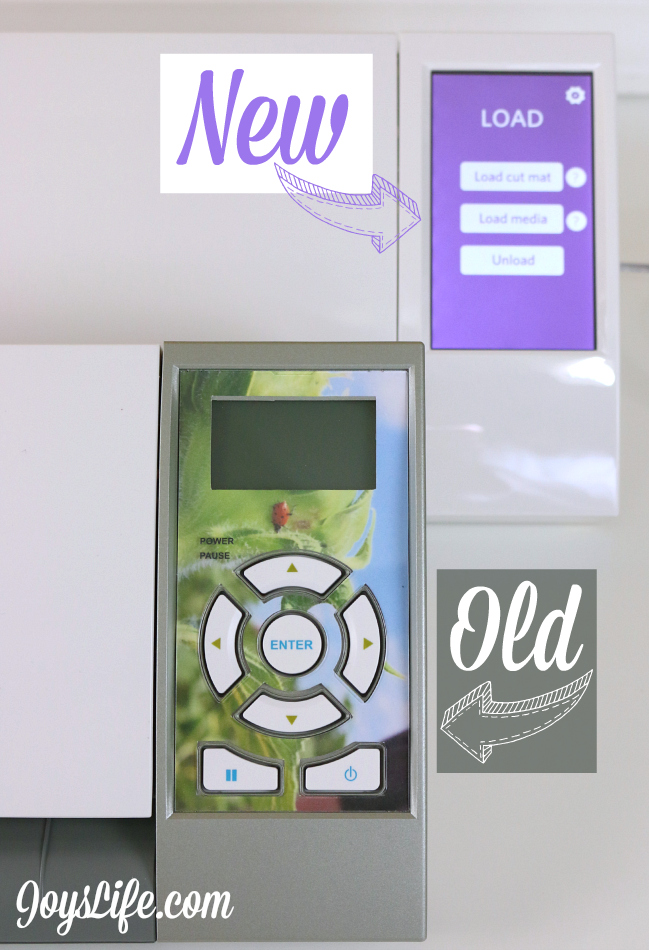 The most obvious difference is the panel on the right side of the machine.  It is now a full-color LCD touch-screen.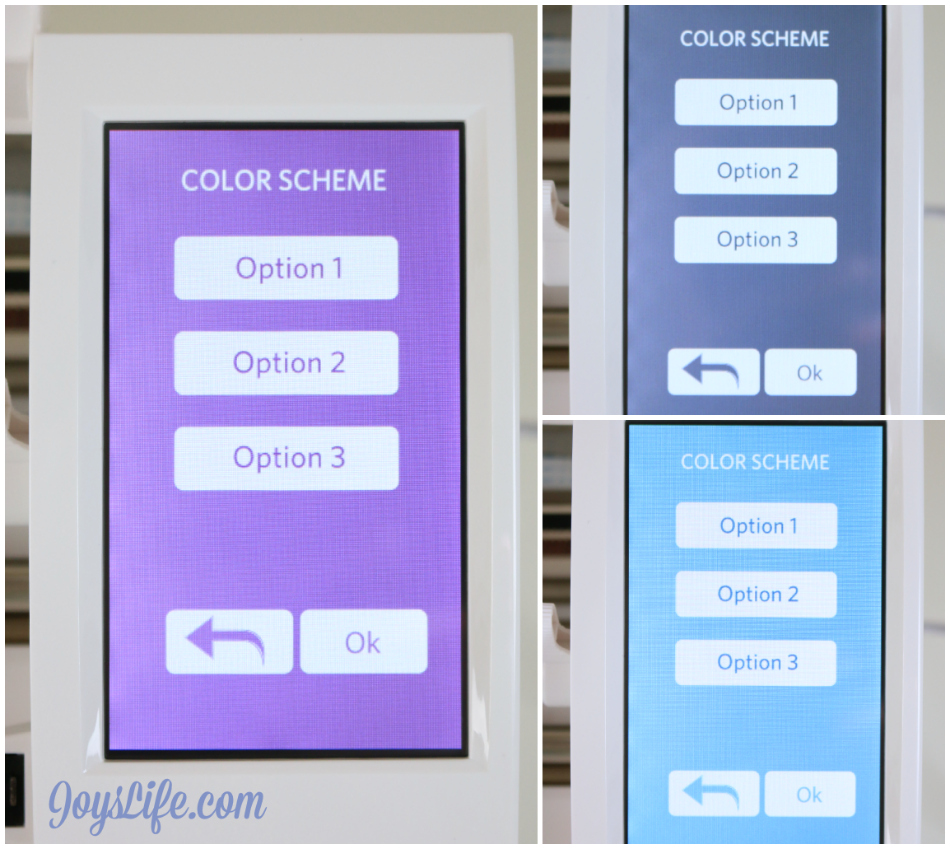 I'm not totally won over by this new addition.  It seems to be slow to respond to touch…at least my touch.  However, this whole panel can be upgraded and changed with a quick update by Silhouette, so I'm reserving judgement for a while.  I'll let them get some user feedback and see if they make some adjustments.  You've got 3 color choices with the panel.  I picked purple.  I miss being able to add a photo or other patterns like we could with the previous Cameo.  It's not impossible for that to occur with this panel, so maybe they'll add more options in the future.  Crossing fingers.
Check this out!  Yep, you can add things from a USB!  Nice.  More about that next.  One downfall?  The little triangles on the right (unless and until they update and change it) are the directional buttons.  They (at least for me) were not easy to use.  Additionally, when I loaded a mat and hit the directional buttons either up or down more than once in succession, the rollers kept rolling and wouldn't stop.  (It had no trouble loading and unloading the mat, just in advancing it or rolling it back using the directional buttons.)  I almost sent the machine back at that point but my husband convinced me to keep it and try again.  So, I will.  Plus, it's such a big deal I'm fairly sure they will fix it soon.  I doubt that's something they intended and in my experience, they do update and change things.  I'm hopeful.
11/9/2014 UPDATE: They released a firmware update that fixed this problem!  More info here.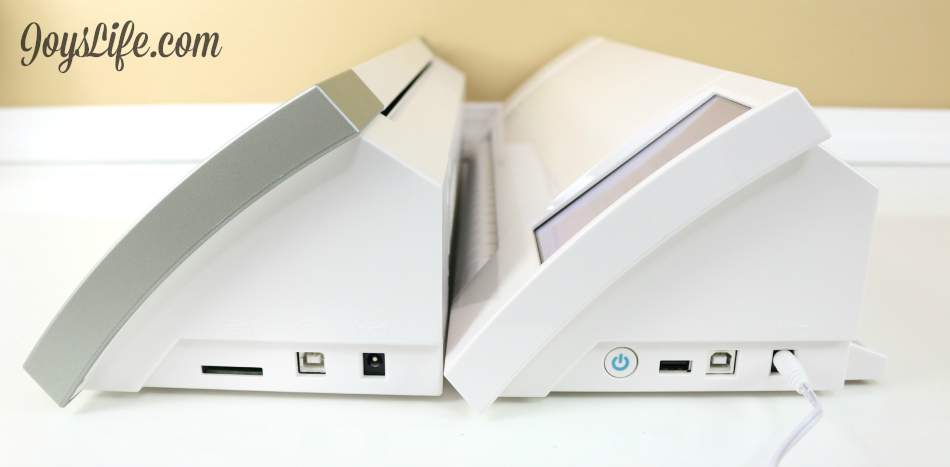 The old Cameo is on the left.  It could accept an SD card, while the one on the right can now accept a USB.  Does that mean we might be seeing it work with Bluetooth or wireless technology in the future?  I can't see why not.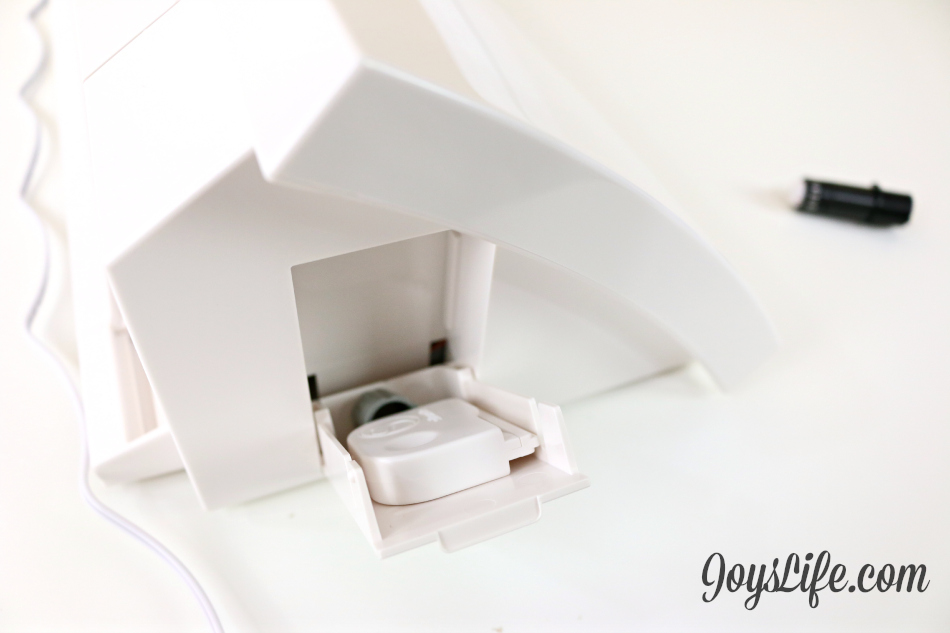 On the other side of the machine is a compartment for storing things, like an extra cutting blade or the crosscutter blade.  Speaking of the crosscutter…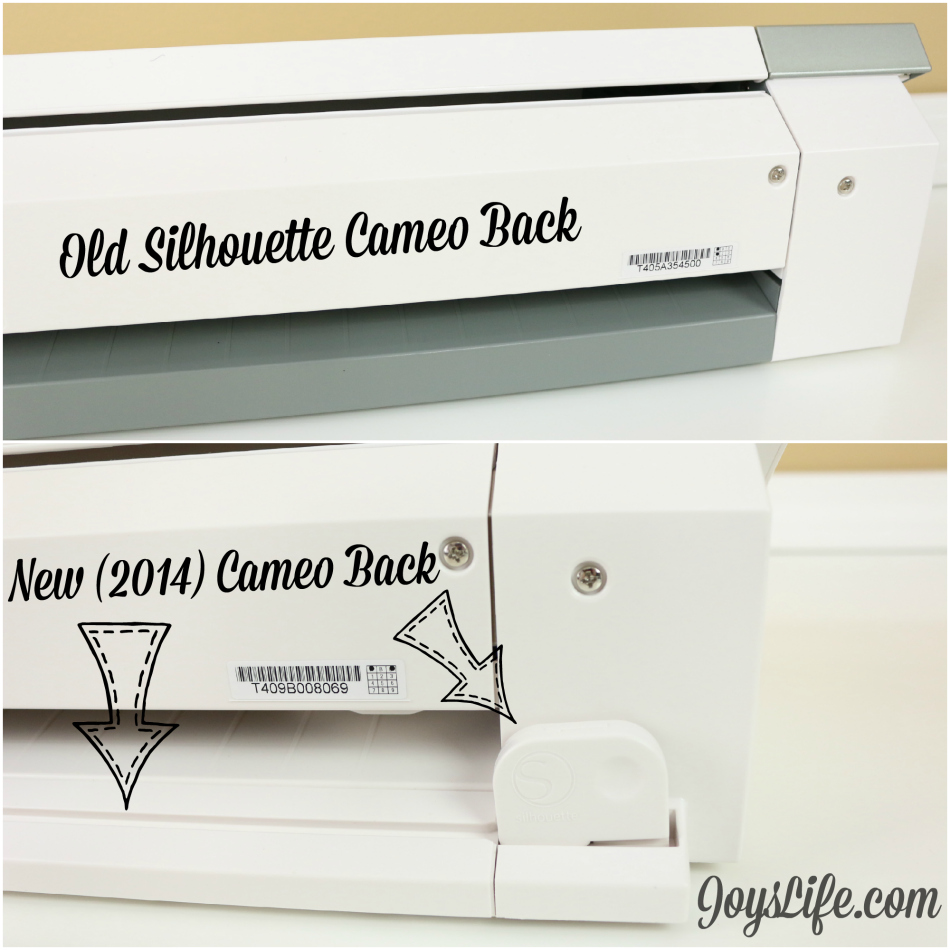 The new addition to the back of the 2014 Cameo is the crosscutter.  The blade can be stored in the side compartment when it's not in use.  It's helpful when cutting rolls of vinyl and excess paper.
So, that's about it for new Cameo vs. old Cameo.  It looks like they have stopped production on the old Cameo but you can still find one here (for now).  Want to try the new one?  I bought mine here.
There's a new machine out!  Don't miss this post! >>> ** The NEW Silhouette Cameo 3 Compared to the Silhouette Cameo 2 **
Need help with your Cameo?  See these tutorials.  Want to learn about other die cut machines?  See this post.
You can find all of my Silhouette Cameo projects on my blog here or on my Silhouette Pinterest board.
Happy Crafting!