How to Cut Chipboard with the Silhouette Cameo without a Mat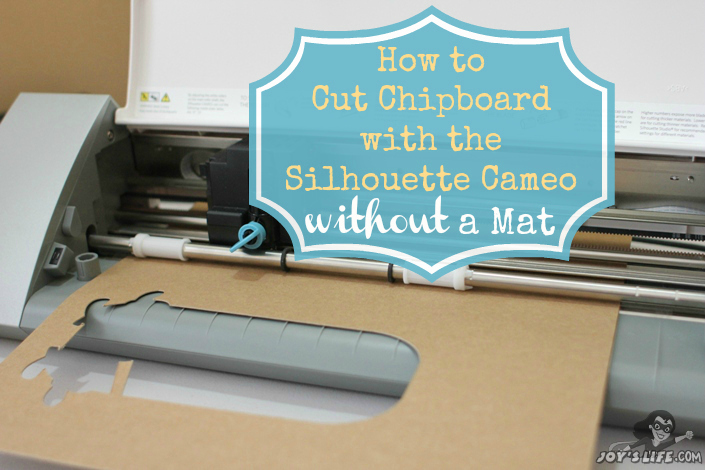 One of my Facebook friends, Jennnifer K., asked me if it was possible to cut chipboard with the Silhouette Cameo without using a mat.  It is possible!  I tried it with this recent project and have a few observations, tips and suggestions.  In this project, I'm using a chipboard that is a little bit thicker than cereal box.
Here are my tips & suggestions for cutting chipboard without a mat:
1. Move the roller over to better hold the chipboard.  You do that by twisting it out of the grooved area and then pushing the roller wherever you need it.
2. I loaded the chipboard using the "Load Cutting Mat" option.
3. I started with my blade set to 6 but I ended up moving it to 9.  It seemed that cutting without a mat required a deeper blade depth.  Your required blade depth will depend on the thickness of the material you are using and how sharp or dull (used or new) your Silhouette Blade is.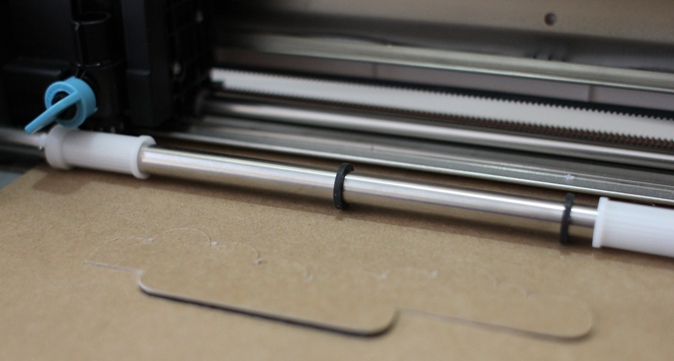 4. I set my machine to multi cut about 3 times.  Again, the necessary amount of multi-cuts depends on the thickness of the material you are using and how sharp or dull your blade is.
In my experience, the settings for cutting chipboard WITH a mat are different.  Here's how to cut chipboard with your Silhouette Cameo using a mat.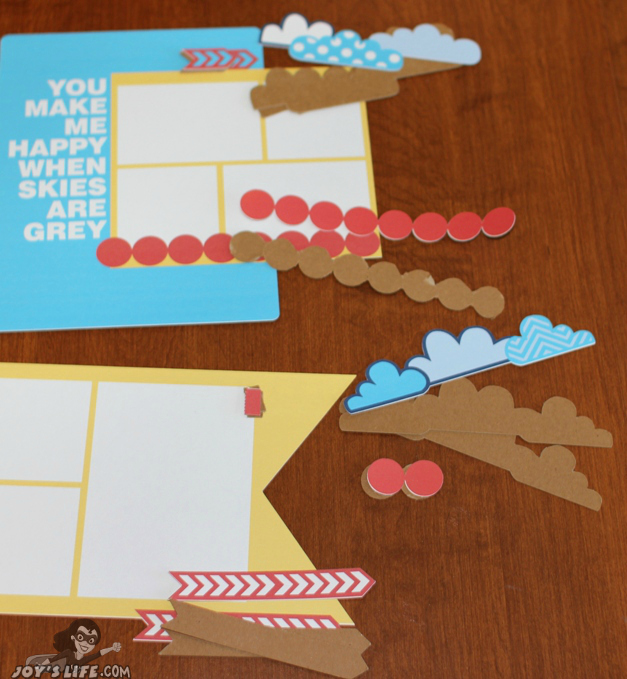 Here's everything I cut from that piece of chipboard.  I used it to make a scrapbook layout that could be rigid enough to stand as a display.  You can see the finished project here.
Problems and Issues
from Cutting Chipboard without a Mat
I ran into a few problems when I cut this thickness of chipboard without a mat.  Sometimes when I was using multi-cut the cut would be slightly off from the original.  I'm assuming that is because the chipboard moved slightly before the next cut.  I have not had that happen when using a mat.
The other problem was that it seemed to have trouble making mildly intricate cuts, like the circles above.  I had to "clean up" those pieces by hand cutting the places that the machine missed.  I believe this problem has more to do with the blade getting stuck in this particular thickness of material and being unable to make precise turns.  A thinner chipboard might have better results.
Overall, I'm really glad I tried cutting chipboard without a mat because it DOES work!  YAY!  Good to know!  However, my preferred method will still be to use a mat at least when I am making cuts with detail.  Using a mat in those situations has given me a better result.  (Keep in mind that I use Cricut mats instead of Silhouette mats because they work better for the way I craft.)  If I just need to make some basic cuts, I'm going to go matless!  I'm just a wild woman like that.  LOL!
Need Silhouette Cameo help?  Check out these FAQ's.
Happy Creating!