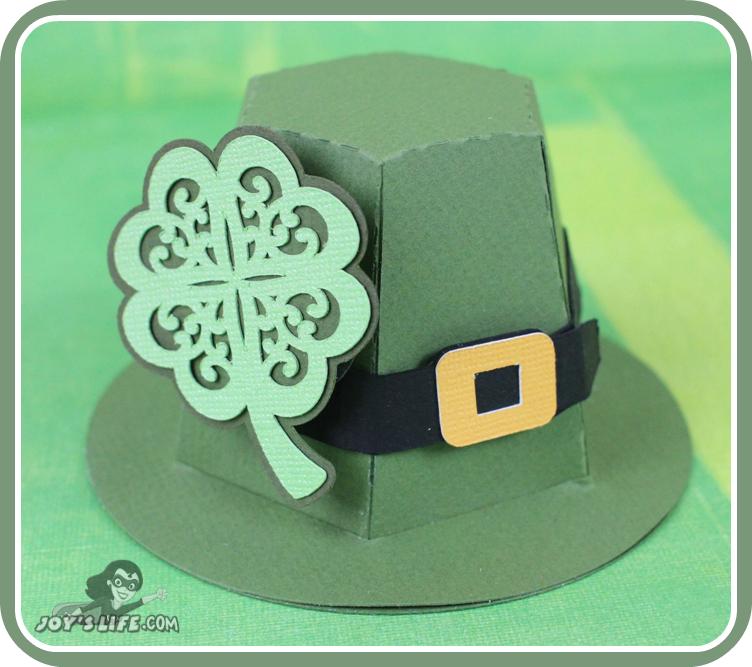 This 3D Leprechaun Hat is such a fun little decoration for St. Patrick's Day! You might be surprised that I used this Gobble Gratitude file by Lettering Delights to create my hat because it's a Thanksgiving related file. You know what? I think that's super awesome! If you have this file you can use it for many hat occasions just by changing the color. That equals MONEY SAVING which, of course, means you'll have money for more crafty things. LOL!
First, cut out your 3d hat using your favorite die cut machine. I'm using the Silhouette Cameo.
The hat can be a little confusing. This part goes on the inside. Fold on the perforations, fold the tabs out and add adhesive so the outer part of the hat can adhere to it. I'm using Glue Dots.
Now you're just going to place the outer part of the hat over the one created in the last photo. Then slide the round piece (the brim) over the hat.
Hey, we've got a hat! You could fill the hat with candy or something awesome here. If you do that, make it easier to get the flat circle piece off so your hat isn't totally destroyed when the goodies are retrieved. Consider a repositionable glue. Cover the bottom of the hat with that final solid circle piece.
It's time for us to (hat) band together. I'll play the guitar…but not well. Glue on the band of the hat. I went Glue Dot crazy!
I decided to add some clover to my hat using this pretty clover file from Lettering Delights.  Then I stuck it to my hat using an Action Wobble.  I accidentally deleted all the photos of the wobble moving on the hat which led to me say some very CLOVERful words for a few minutes.  Grrr. Oh well.  It happens.  Anyway…have you seen Action Wobbles?  They're little springs that you can stick your die cut to so they can wobble back and forth.  So cute!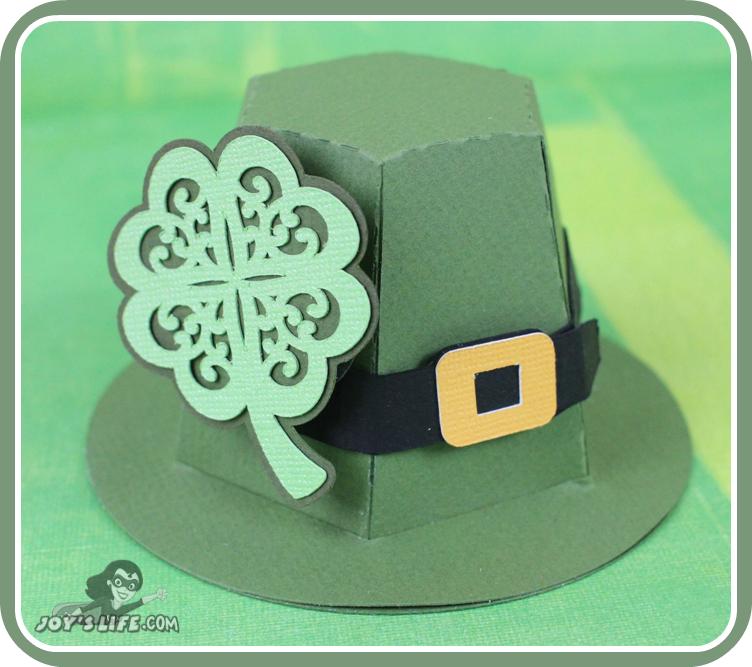 Time for a Giveaway

Woo hoo…a chance to win!
Hey, let me know what your favorite thing is about SPRING and one winner will receive 10 Action Wobbles from me. 🙂  I'll post the winner here on March 13, 2013.
And the winner is:
Evelyn Holmberg says:
MARCH 8, 2013 AT 6:51 AM
Thanks for showing us how to use that file. I love the shamrock detail on your hat. Also, thanks for the chance to win some action wobbles!
My favorite thing about Spring is how nice it smells. I love to go outside and smell all the new flowers and people's freshly-mown lawns! Lucky I'm not allergic. Evelyn
Wishing you a happy & crafty day!
I wrote this post while participating on the Glue Dots Design Team.