How to Personalize a Cookie Jar with the Silhouette Cameo & a TruMoo Chocolate Oatmeal Cookies Recipe
This is a sponsored post written by me on behalf of TruMoo Milk. All opinions are 100% mine.
You can't tell from these photos but I'll go on and admit it, that cup of milk used to be full to the brim.  It looked so good and smelled so good, I thought I'd just take a sip.  With all my sips, it's a wonder this photo even happened.  I'm drinking TruMoo's Limited Edition Chocolate Marshmallow and I love it!  Previously, I wasn't even a chocolate milk drinker but I like this milk…a lot.  Enough to make one of my favorite cookies with it!  Let's talk more about that!
These cookies are delicious, moist and make your kitchen smell fantastic.  You'll be proud to serve them.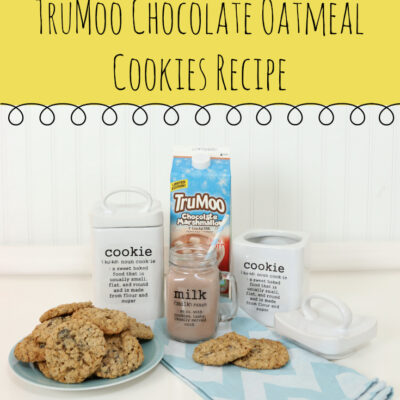 Chocolate Oatmeal Raisin Cookies
Want a fantastic oatmeal cookie? Look no further! This delicious oatmeal raisin cookie has a touch of chocolate making it even more fabulous!
Print Recipe
Share by Email
Share on Facebook
Share on Twitter
Pin Recipe
Ingredients
3/4

cup

butter

1

cup

packed brown sugar

1/2

cup

granulated sugar

1/4

cup

TruMoo Marshmallow Chocolate Milk

1

large egg

1

tsp

pure vanilla extract

1

cup

all-purpose flour

1

tsp

ground cinnamon

1/4

tsp

cloves

1

tsp

baking powder

1/4

tsp

baking soda

3

cups

quick or old fashioned oats

1

cup

raisins
Instructions
Heat oven to 350 degrees.

Beat (softened) butter, brown sugar, granulated sugar, milk, egg and vanilla until light and fluffy.

Add flour, cinnamon, cloves, baking powder and baking soda to mixture and mix.

Stir in oats and raisins.

Bake for 13 to 15 minutes or until solid around the edges and just set in the middle.

Cool & serve!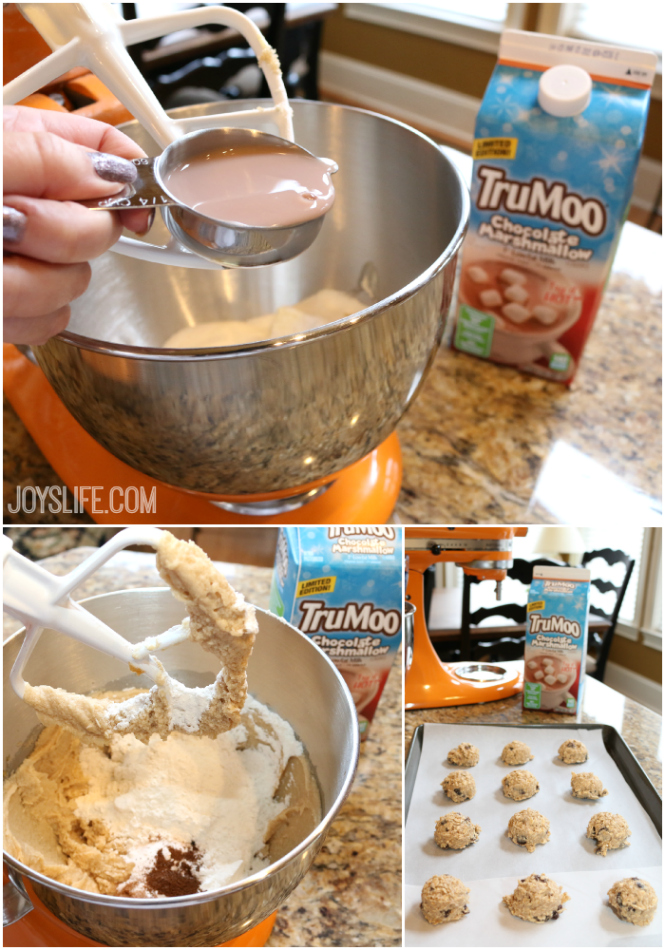 I added 1/4 cup of TruMoo Chocolate Marshmallow milk to the batter and it helped give a light touch of chocolate that's perfect in these cookies.  I'm using a 1-1/2 tablespoon scoop to portion out the cookies.  I used to just plop them down by hand but I have to say, I like this way better.  It gives a nice uniform result.
These were so delicious that I wanted a cute cookie jar to keep them in.  I bought a set of plain white jars and decided to make them super cute by adding my own labels.  It was fun!
How to Personalize a Cookie Jar
Printing and cutting labels with the Silhouette Cameo is fun and easy!  First, I created the lettering in the Silhouette software using fonts from my own computer.  The cookie definition is straight from the Webster dictionary but I made the milk definition up myself!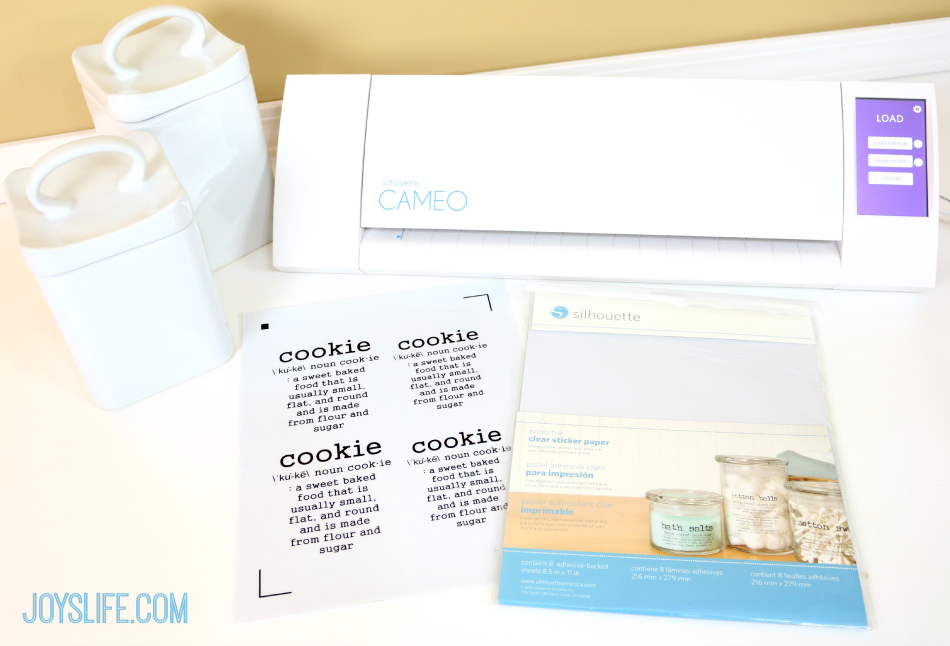 I purchased white cookie jars and the Silhouette clear sticker paper to use in my Cameo.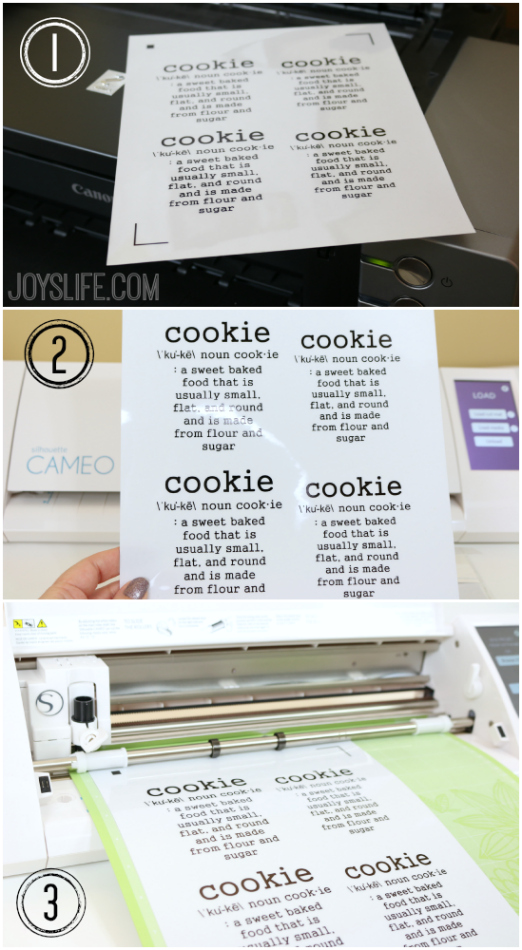 First, I designed the label in my Silhouette software, including adding cut lines around the stickers.  Next, I printed it out on the sticker paper.  Print it shiny side up!  Add the printed sticker sheet to a mat and insert it into the Cameo.  Set the Cameo to cut the lines you created around your label.  (Here's how to print and cut with the Cameo.)
Here's a tip:  To create your own labels you don't even need a Silhouette.  You can just buy the Silhouette Clear Sticker Paper, design a label on your computer, print it out using your printer and cut it out by hand.  Done!
After the Silhouette has finished cutting the labels, peel them off of the backing and stick them to your cookie jar or glass.  Easy!
Need help?  Here are some more Silhouette Cameo tutorials.
I love the way the milk mug turned out!  Do you like the definition I came up with?  Hee hee hee.
I love the way that adding these labels really made these more personalized for my kitchen and even for gift giving!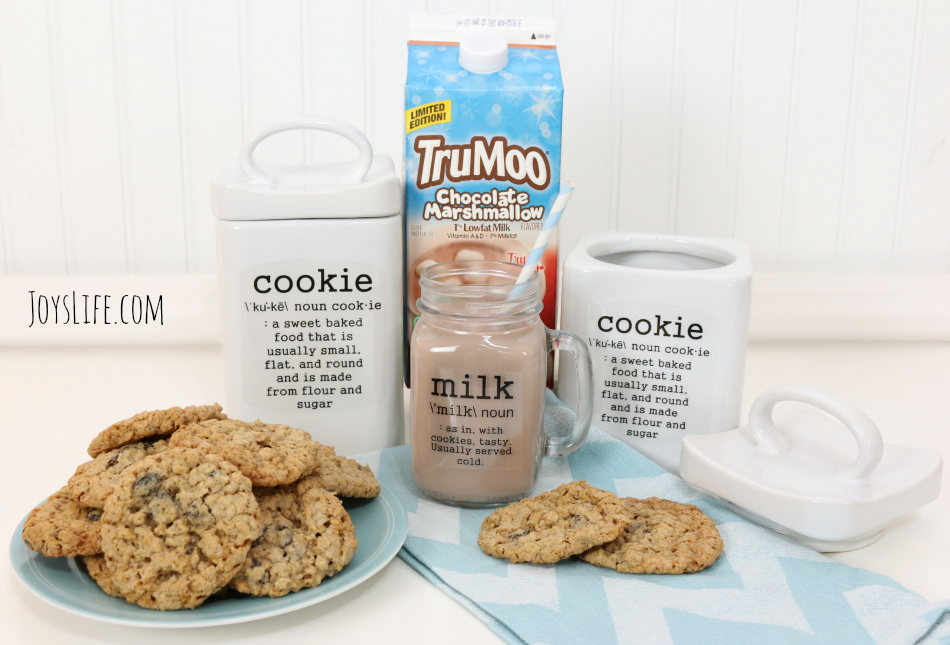 I hope you'll try these delicious cookies and let me know what you think about them.  I think you're going to love them!
For product information and availability, visit TruMoo online.
Find TruMoo Recipe inspiration on Pinterest.
Join the TruMoo community on Facebook.