Cricut Imagine Update #1 Walk Through
Here's what you'll see after you plug everything in and begin updating.
Have you updated you Imagine yet?  I would have done it sooner but I went out of town shortly after I got it.  Then I came home and decided to move it all over the house before I settled on a spot for it. What you'll have to do to get the update is download the Cricut Imagine Sync software.  If you have a Gypsy, then you're familiar with the Gypsy Sync software.  The Cricut Sync is basically the same thing, but for the Imagine.  Click HERE for the Imagine Sync software page.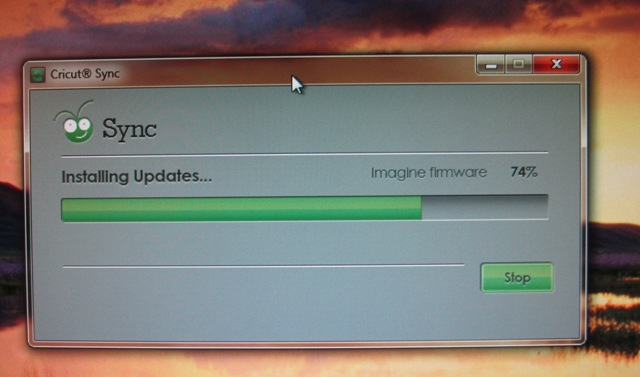 If your Imagine is Progressing with its update, this is what you will see.
After you download the Cricut Sync software take that (very well thought out) lengthy white USB cord and plug the square"ish" end into the back of your Cricut Imagine. Now you just need to plug the USB end into the computer where you downloaded the Cricut Imagine Sync software. Double click on the Cricut Sync Icon. It will begin communicating with your Imagine. See that first photo at the very top? Yeah. DON'T MESS WITH ANYTHING! 😉
Then you'll see this screen while it does its updating.
Are you stuck on this "restarting" screen? I was too.
The first time I did this update I saw this screen for a long…long…LONG time. So long in fact that my Imagine had already restarted itself and I still saw this screen. Being that this was the first time I'd ever updated my Imagine, I was a bit leary about turning it off. What could happen? Would I ruin my Imagine? That's when DH walked by my Imagine and was just about to start pressing buttons!! WHAT?! That man almost drew back a nub. 😉 I barked at him pretty quick not to touch my Imagine because it was updating. That's when he made a valid point. He said that since the machine had restarted he thought it had already finished. I think that's when I told him to get away from my machine, but his point stuck in my head. Hmmm…maybe I SHOULD press STOP on that restarting screen? Maybe it IS done. You know what? I gave it about 20 more minutes, scoured the Internet for an answer to my burning questions and came up with … NOTHING. So, I decided to press stop on the Sync software.
This was the screen on my Imagine after it restarted itself.
My Imagine seemed fine. Frankly, I thought it had updated just fine too. I decided to hit the "about" button. When I did that it revealed all of the information about what version I had.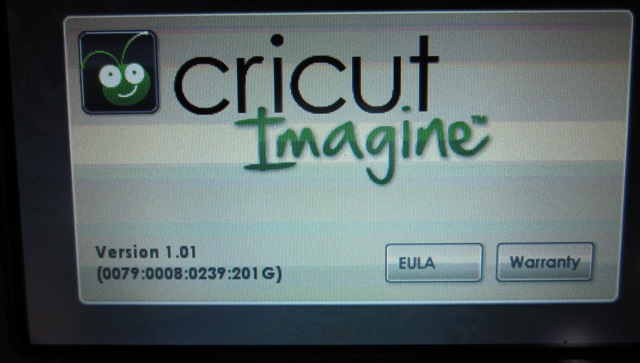 I was thinking Woo Hoo! I got the new version and I'm all done. YAY! Then I decided that I should double check. So, I clicked my Cricut Sync icon again and you know what it said? It basically said, "Joy, you're so wrong it's like you went shopping at the Wrong Store and found a sale on Wrongs."
I thought I'd done everything and was all updated, but after clicking on the Cricut Sync icon again it told me that I had updates available. For Heaven's sake. I clicked "Update Now" and this time the whole update took less than 1 minute. How weird is that? Very.
Whew.  This time I had great success.  YAY to that.  THIS is how it should look when you are up to date.
AH HA!!  See that :0009 ?  That's what you're looking for in this current update.  If you go back up the post a few photos you'll see that it was :0008 when I thought it was updated but wasn't. Well, until the next update I'm all set.  I hope you have good success updating your Imagine.  I did hear that it might help to turn off your virus protection while you are doing these updates, but that's up to you to decide. 😉
HAPPY UPDATING!