How to Use Sizzix Dies in Cuttlebug
You
CAN

Use Sizzix Dies in the Cuttlebug

After using the Sizzix Create-A-Bow (that's a link to it on Amazon) in my Sizzix Big Shot in these two posts POST 1 and Post 2, I had a lot of questions about whether or not the dies could be used in the Cuttlebug.  They can!
Here's how:
First put in the B plate, then add your die face UP, lay your paper over than and then sandwich the other B plate on top of that.  You're all ready!
Now you roll it through.  If you're new to using dies in your embosser I want to prepare you for the fact that the newly pristine and lovely B plate that goes over the top of your die will soon be cut up, marked, marred and otherwise ugly.  Don't worry about it.  You haven't done anything wrong and there's no way to keep them looking pretty except not to use them.  If it really bothers you and you'd like to have them clear for your embossing only uses, you'll have to buy an additional set.
Those words say,  "Wishes, wishes."  They're left over from this project.
After cutting out 5 sets of bow pieces I decided that this time I would try making a smaller bow by leaving out the 5 largest pieces.  It works just fine!  I suggest using a double sided for best results.  Thick cardstock doesn't work as well as paper because it wants to crease.  Each time you make a cut you also get those buttons.  I think that's a great added bonus because I was actually considering buying a Martha Stewart button punch, but when I looked at it on Amazon it had gotten bad reviews.  I kept going back and forth and … well, now I don't need it! 😉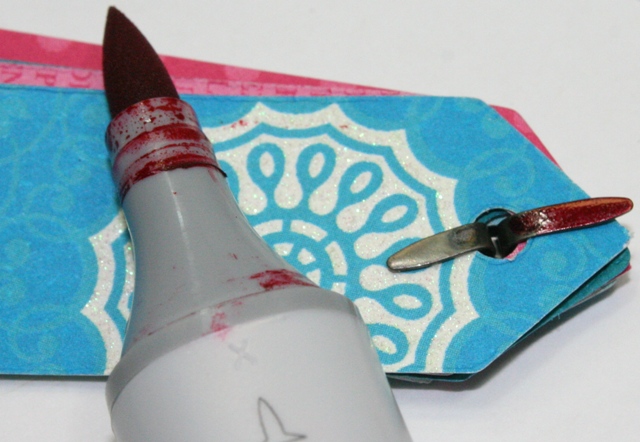 I used a brad to hold the leftover pieces together. Next, I used a red Copic marker to color the brad from that boring brass to red! 😀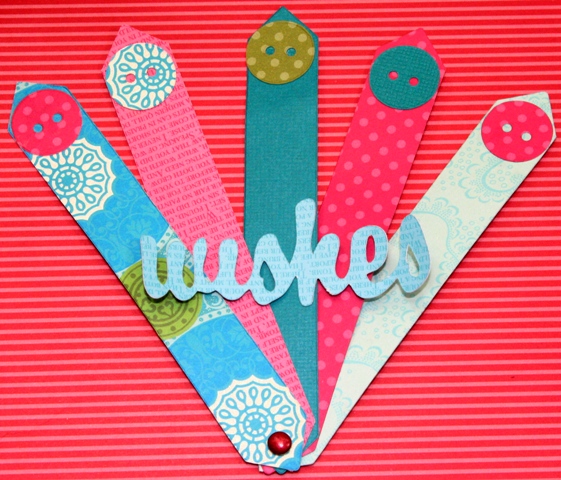 I thought this looked pretty and has many functions. You can use it as candles in a scrapbook or on a card. Use it to give some interest to a page or as a picket fence. I'm actually using mine as a bookmark or you could have 5 bookmarks if you take them off the brad. 😀
Now for the Give Away!
I bought this for my give away because I love mine!
It's a Cuttlebug with all those accessories! FUN!! Super Friends please leave a comment to be entered for a chance to win. How can you become a Super Friend? Just register so you can leave a comment…that makes you a Super Friend! I'll announce the winner on Monday, Dec 2o. Good luck and thank you for being here!
And the Winner IS:
# carrie Says:
December 14th, 2010 at 12:16 PM
What a fabulous give-away! Thanks for the chance to win. I am so glad I discovered your site. I love the Cricut info that you share. Enjoy seeing Zippy in your picture presentations and he looks so cute dressed for the holidays.