I couldn't let Halloween go by without posting some gross Halloween food, could I? Some might say, "Yes, you sure could skip posting those gross witch finger cookies." Well…I heart scary movies, so I think I just HAVE to post some scary, creepy stuff. Those of you who've followed me over the past few years have probably seen these, but pretend they're new. LOL!
It's as easy as … pie. If you've ever made a fruit pie from scratch you know that really means it's difficult. Once I made a cherry pie from scratch. I pitted the cherries. I made a lattice crust. It baked perfectly and was beautiful. Before I even got to take a single bite out of it, I knocked a glass out of a cabinet above and it shattered! All the glass slivers fell into my pie! That was the last time I ever made a cherry pie from scratch. Sad face. I will still eat them though. 😉 I love pie!
The apple smiles are EASIER THAN PIE. They are made from apple slices, peanut butter and little marshmallows for teeth. Yummy and cute!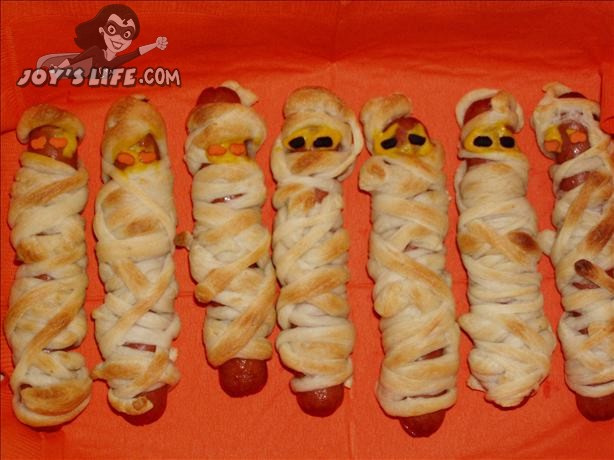 I made these little mummy hot dogs by wrapping cooked hot dogs in strips of Pillsbury Crescent Roll dough and baking them until they looked done. Then I dotted on some mustard for eyes and applied cookie decorations for more eye depth. Whew! Now my mummies look authentic. LOL! Just like at the museum, huh? 😉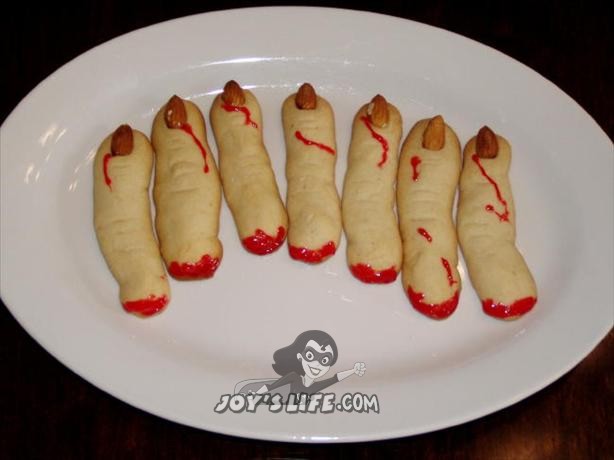 I sent some cookies from this batch down to a neighbor and they got freaked out. My tip for giving these: KNOW YOUR AUDIENCE. LOL! 😉
How to make the Witch Finger Cookies:
I followed this recipe…which I did not create.
Witchy-Poo Fingers Recipe
by Lennie
60 cookies
time to make 40 min 15 min prep
1 cup unsalted butter, softened
1 cup icing sugar (sift through a sieve after measuring to remove lumps)
1 large egg (room temp)
1 teaspoon almond extract
1 teaspoon vanilla
2 1/4 cups all-purpose flour
1 teaspoon baking powder
1 teaspoon salt
3/4 cup whole blanched almonds (you need about 60)
red decorating gel, as needed
1. In a mixing bowl, beat butter sugar, egg and extracts together.
2. In another mixing bowl, combine flour, baking powder and salt.
3. Beat dry ingredients into butter mixture, then cover bowl and refrigerate for 30 minutes.
4. Preheat oven to 325 degrees F; have cookie sheets, lined with parchment paper, ready.
5. Remove only 1/4 of the dough from refrigerator (leave rest refrigerated to stay cold); measure out heaping teaspoonfuls and shape into fingers.
6. Press an almond firmly into the end of each"finger" to make the fingernail.
7. Below the almond and at the opposite end of the finger, press in dough to create knuckle halfway down; using the back of a table knife, make indents into the knuckle (look at your own fingers to get an idea of what this should look like).
8. If you want really big ugly fingers with two gnarled knuckles, use about a tbsp of dough per cookie.
9. Place on paper-lined cookie sheets and bake in preheated oven until a pale golden colour–about 20 to 25 minutes.
10. After first sheet goes into the oven, remove more dough from the fridge to make more fingers.
11. When cookies are done, remove from oven and let cool for three minutes.
12. Carefully lift up almond from each finger and squeeze some red decorating gel onto nail bed, then press almond back into place; the red gel will creepily ooze out.
13. Transfer to a rack and let cool completely.
Last but not Least…
For those who might get grossed out by this I've simply provided a link instead of a photo.
(They are just marshmallow & caramel. Don't panic.)
Happy Almost Halloween!