Photo Frame Hanging Advent Countdown Calendar – Lori Whitlock Blog Hop

Welcome to the Lori Whitlock Blog Hop!  Be sure to follow the hop list at the bottom of this post so you can see all of the crafty project ideas!
As I began working on this project, I realized just how useful it would be for our family.  The main reason?  My daughter is away at college and we can start counting down the days until she comes home for a visit.  It's so nice to get a visual on that by flipping each day as a countdown, especially for my two younger children who are still at home.  Who am I kidding?  Especially for me.  LOL!  I left the center blank so you can imagine filling it in with any occasion that is special to you.
Who needs more time?  Raise your hand.  I know!  Me too.  So, that's why I decided to make this project a print and cut.  I designed six different days (to start) and all I have to do to change up the look is drop in new digital paper and change out the numbers.  Excuse me a second while I high five myself…and probably miss my own hands.  LOL!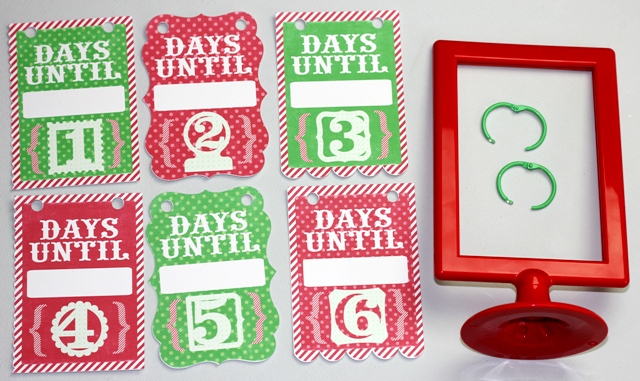 Here's the whole recipe
(aka…what I used to make this)
Days Until (Days Until heading and brackets)
Life Cards Assortment (Scalloped shaped card in middle)
4 Frames (All cards except the middle ones)
Number Set 1-10 (don't miss the other available number sets too)
Hardware: 2 metal binder rings and an IKEA frame.
Now when it comes to the paper I used, that's digital paper Lori had available last year.  I wanted to use Lori's new digital papers and even make a "Days Until" for Thanksgiving but I had some computer issues and had to go with this.  So what I'm saying is…check out these papers I'd intended on using: Christmas Day and the super cute Fall Fling.
I added those little holes at the top in the design so I wouldn't have to hand punch each one.  This is a great way to make sure everything lines up.  YAY to that!
Cameo or Silhouette Software Questions?  Check out these helpful posts.
Time for a Give Away!
To be eligible for a chance to win a $10 gift card to Lori Whitlock's shop, leave a comment on this post telling me what special event you are counting down to.  I'll list the winner on this post on November 27.
AND THE WINNER IS:
Yvonne Morentin says:
NOVEMBER 21, 2012 AT 5:46 PM
I am counting down the my baby girl's Birthday… she will turn 18 on Dec 13th… Then comes my baby boy… he will 17 on Jan 5 … and then my first baby… he will be 21 on Feb 18th… so from this moment on… it's party on the brain… LOL…
Now See these Creative Countdown Ideas!
Natalie Graham
Corri Garza
Joy – You Are Here! Welcome!
Lisa Bell
Mendi Yoshikawa
Amanda Jones
Christine Ousley
Lisa Barrie
Lori Whitlock
Don't miss this sale!
Happy Hopping!