Vinyl Canvas Spring Rabbit from Cricut Kate's ABC's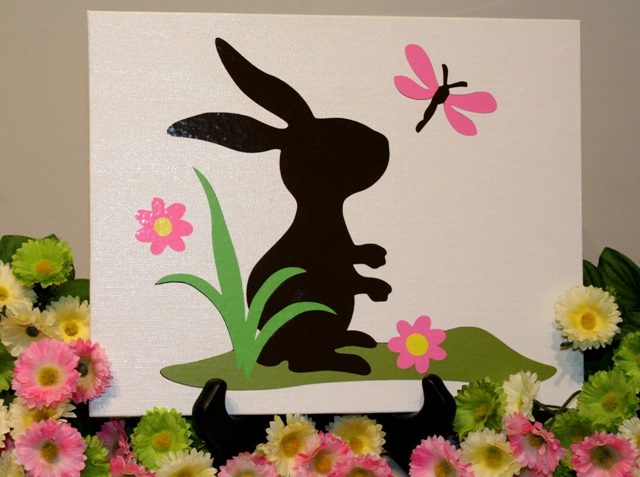 I just HAD to have the Kate's ABC's Cricut cartridge, so much so that I totally overpaid for it.  Oh well, I'll try not to think about that and instead I will focus on this cute vinyl creation I made from Kate using a flat board style canvas!
I'm using the Cricut Imagine to cut my vinyl.
More and more I find myself using my Cricut Imagine Machine instead of my Cricut Expression.  I figure, it's sitting there why not use it? 😛  The only thing that drives me crazy about it is that every time it finishes cutting, even when I extend the pull out in the front, it shoots my mats onto the floor if I'm not there to catch them.  Hello!?  If I wanted to be a catcher, I'd play baseball.
UPDATE 2016: The Cricut Imagine and Cricut Expression are no longer being produced. Here are the current machines.
Here's the first layer!  I use transfer tape to aid in positioning my vinyl.  I also coated the canvas with Mod Podge a day before I was ready to use the canvas.  If you want to learn about layering vinyl, kinds of vinyl, transfer tape, laying vinyl on a curved surface, glass etching with vinyl AND SO MUCH MORE…you will love my Cricut Vinylology DVD.  It's over 3 hours of information and projects about how to use vinyl with your Cricut.
It's starting to take shape!  I do wish I had a lighter pink and lighter green vinyl on hand.  Time to go shopping!
There are a lot of bumps and texture to this canvas, so the shiny rabbit shows some of the texture beneath him.  You can get rid of air bubbles, but you cannot rid your project of texture from the surface below. 😉  Now I just need to add the flower centers and the tall grass.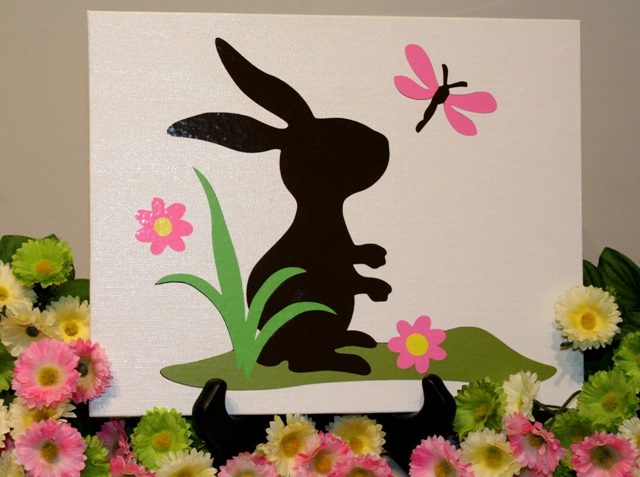 TA DA!!!  I just love this sweet bunny!  Don't those flowers look pretty with it?  I thought so.  I also used them because they were still on my craft desk from the last project I did with them.  They're so pretty; I'm not ready to put them away!   I hope you enjoyed this project. 🙂
HAVE A WONDERFUL DAY!