How to Cut Felt with the Cricut
I told you I'd give it a try and I did!! I cut these hearts out of felt using my Cricut! 😀
I'll get right to it because I know you're eager to learn how to cut felt with the Cricut, right? Ok, first of all I used regular floppy felt that I bought at Michael's. I ironed Heat 'n Bond
onto it because there was NO WAY it was going to cut in its original state. It wasn't stiff enough without the Heat 'n Bond and would pull a lot.
Just read the directions on the back of the Heat 'n Bond
.  You'll need to cut it to fit your felt size.  Then you iron it on. The package directions are easy, don't worry.
See?  You just cut the Heat 'n Bond
and iron it right onto your felt.
It's very easy.  I promise!
Then you apply the felt to the Cricut mat, Heat 'n Bond side down, felt side up. It works best when you use a sticky mat, as opposed to an older, less sticky one.
I used the Deep Cut Blade and set it at 6, Speed 2 and Pressure 5.  I also set the Multi-Cut button to 2 (so it would go back over the same image 2 times).
I found that the smaller the heart, the more likely it was that I would have to cut some of it out by hand.  The larger the heart, the better the result.   The small hearts were cut at 3″ and the big hearts were cut at 5″.  I used the Designer's Calendar cartridge for the hearts.
Sometimes the cut and paper come off easily…
… and sometimes they didn't.  Be prepared to clean up your mat.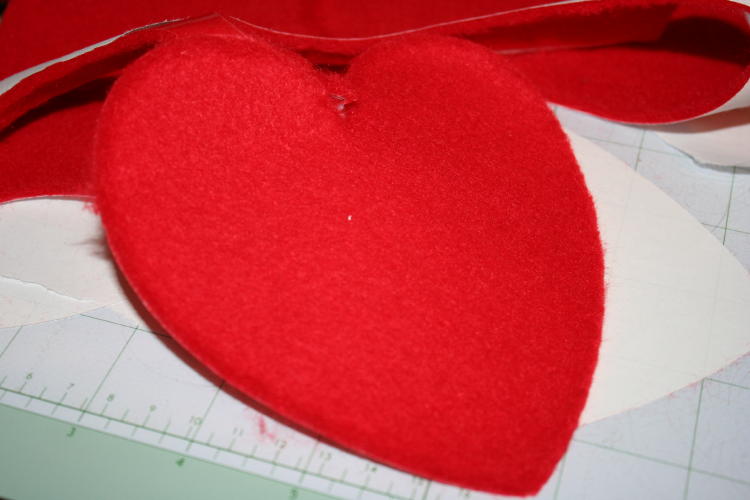 The Cricut produces a clean cut from the felt when it's all working as it should, but as you can see at the top of the heart; it can miss spots.  With the smaller heart, I had to do more scissor cutting.  When you are finished with your cuts you can easily bond your finished cut to something, following the Heat n' Bond directions.  I decided to leave mine as they are, so there is a slightly odd feeling to the back of them; it's the adhesive still stuck to the back.  It's heat activated so I'm not really worried about it.  I gave them to my kids, DH and self to hold…See?
Family Portrait
We're Beary Cute, aren't we?
Wait until I show you what I did with the hearts next!