The Tiny Attacher Compared to a Regular Stapler
I happen to love office supplies, so when I saw the Tiny Attacher months ago, I just HAD to have it.  I went on a crazy mission one afternoon like I was on the Amazing Race or something.  I drove all over Hotlanta to find it.  I finally found it at Hobby Lobby after one HL told me they didn't carry it at all.  LOL.  Well, actually I found the staple refills first and then 2 stores later I found the actual Tiny Attacher (the only one they had).  I was doing the whole Lion King/Simba birth thing again.  I should carry the music with me and just play it when I find things.  No, wait…that day I distinctively remember doing the Ariel singing as I lifted the Tiny Attacher in the air, so it was really like a whole Disney Medley.  Say what?  I actually always sing like Ariel AND do the Lion King/Simba birth thing at the same time?  You're right!  See this post for the last time I did it. It's amazing what you learn about yourself when you post a lot … like…I'd never make it on Broadway…and Disney is probably going to sue me if I don't stop butchering Ariel's singing.
and now…Back to the Tiny Attacher
…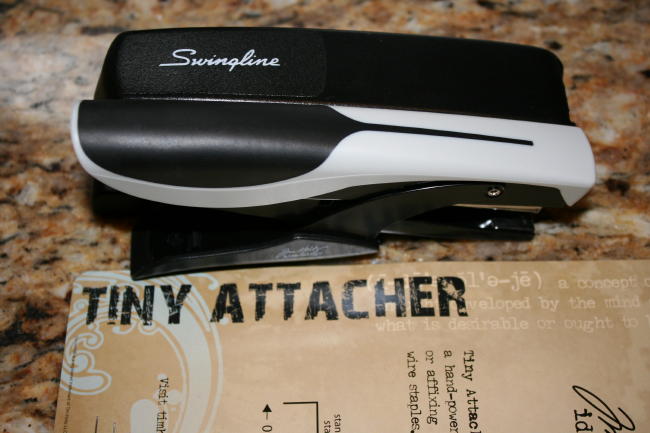 Don't worry Swingline stapler. I won't replace you with the Tiny Attacher. We're still BFFs.
Ok, see my other baby up there? That's my friend Swingline stapler. He's never let me down. I only buy Swingline…EVER! I won't let another brand of stapler into my house (the Tiny Attacher is a crafting tool and doesn't count, LOL) and that's saying a lot because I heart office supplies almost as much as I do shipping supplies. No, I don't know what my issues are regarding that. However, I did find out that my grandmother used to be a postmaster in her town!! It could be something in my DNA. Hmmm…
Swingline 545 Standard Desk Stapler vs. Tiny Attacher
1st – They are about the same size and weight. TA is smaller, but it's not a massive difference.
2nd – TA's staple is much smaller, I daresay "tiny" even!
I do have this problem though.
It just IRRITATES me to death that they claim that my standard sized 545 Swingline Desk Stapler uses a "Mini Staple".  I think that is very misleading.
Here I put my standard staple in the little boxed area so you could see what they call "mini".  Now, I realize there are bigger staples in the world, but it's not what most people use and it's certainly not "mini".  I would have stapled the Tiny Attacher staple in the box, but the TA doesn't have the kind of reach that allowed me to do that, so that's why the staple is down there on the bottom.  That might be a drawback for you too, that it has a shorter reach.
Let's Take a Look at the Staple Refills and Compare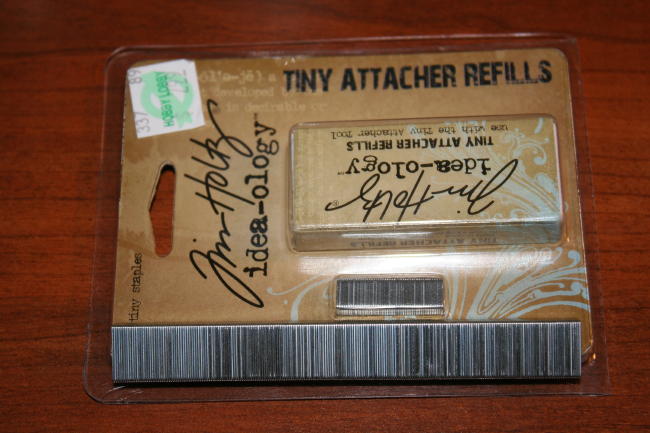 As you can see, there is definitely a big difference in the size of the regular Swingline staples and the Tiny Attacher Staples.
These are the staples I use in my Swingline, just so you know I'm not using something oddly large.
Here they are stapled a bit closer together…
I wouldn't replace my trusty Swingline with the Tiny Attacher, but that's because the TA is not made for stapling thick reports or other office related jobs.  It's for attaching things in crafting and taking up less room doing it.  For that, it's the BEST EVER!  It does a great job adhering things to paper and other media AND it has a smaller footprint so people don't look at your work and say, huh…a staple.  I really like that they are small and easier to hide.  I LOVE using them on my treat bags.  You just saw me use it on my Spongebob bag and then hide it with some cardstock. Even if you like to have your staples showing, I just think this product gives crafts a more finished, professional look.
You can buy one here…
Tim Holtz Idea-ology Tiny Attacher w/100 Tiny Staples
Overall, I just LOVE this product!!