Lori Whitlock Christmas Blog Hop – Glass Etch Vinyl Nativity Scene Candle

Today I'm participating in a Christmas Blog Hop using digital files created by Lori Whitlock.  I used the Silhouette Cameo to do all my cutting.  I heart that machine!  I used Lori's Nativity file AND…GLASS ETCH VINYL!  Say what?  You haven't heard of it?  It's super cool!  It gives a glass etched look to things without you actually having to glass etch.  That's perfect for large areas, things you don't want permanently etched (your windows) and hard to etch things.
SUPPLIES:
I used a Dollar Store tall glass candle and vase/glass cylinder.  Woo hoo we're at 2 bucks!  I bought that sand in the clearance aisle at Target one year because I knew one day I'd need some sand.  True story.  Remember when I made hurricane lamps from those?  So fun!   I bought my glass etch vinyl from Expressions Vinyl.com.  They call theirs "dusted crystal" vinyl.
I cut the vinyl out using my Silhouette Cameo and Lori's Nativity file .  Honesty time.  I was originally creating this on a glass block which better showed the glass etched function of this vinyl but I had some candle issues and that project could not go forward.  Methinks SuperJoy was super tired and shouldn't have been playing with fire…(including electric candles…)…so sad.  <whistle…whistle…eye avoidance>
No, don't hit it.  It's glass.  Some days I think in theater terms and show tunes.  It's a curse.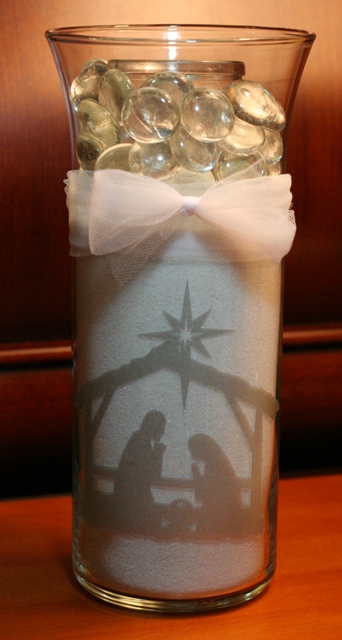 I used transfer tape to adhere the vinyl Nativity scene to the glass jar and then I stuck the candle in there.  I added sand to keep the candle in place.  Using something removable to hold your candle in place allows you to exchange it for a new candle when necessary.  You can add sand or other non flammable substances…like…brownies because then you can eat them  seasonal items that won't burn your house down.  I stuck those rocks in the top to keep the sand from being disturbed and landing in anyone's food during a feast.  DH saw this and loved it.  He already stuck it on the mantle.  I hope you like it too!
JOY'S FREE FILE FROM LORI TO YOU – Nov 18 – Nov 20
If you missed the free tag give away, they are now available for purchase at Lori's store. 🙂
Check out all the blogs on the hop!
Joy – (YOU ARE HERE @ Joy's Life.com)