Peppermint Stick Tealight Candles with Cardstock Vellum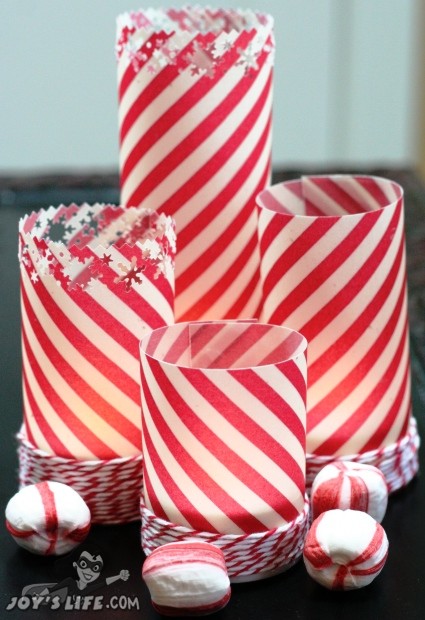 This project is so easy you're going to want to hug me.  LOL!  All you need is some cardstock vellum, battery operated tealight candles
and Glue Dots®!  I used Glue Dots 1-Inch glue lines
and Glue Dots 1/2-Inch Craft Dots
. I got my cardstock vellum from Stampin' Up.  I'm not sure who else sells it, so that might be the hardest part of the project.  Vellum is translucent, so make sure your cardstock vellum search fits that requirement. 😉
Load a sheet of cardstock vellum into a printer and print a red and white striped pattern onto it.  I used some digital paper along with my Silhouette software to create this candy cane striped vellum.  I created a rectangle and filled it with the pattern so it would fit the size vellum I was using, then I printed it.  I used the transparent setting on my printer but I've used the regular setting before too and had no problems.  Cardstock vellum prints nicely.  Mine dried fast too.
The paper pattern I used is no longer available but here are three red and white striped digital paper options from Lettering Delights that will work well too: Bento Box, Balloon Festival and Canada Eh.
You can see through the vellum.  That's why it's perfect for this project!
Now all you have to do is cut the vellum into the sizes you desire.  The only really important part of this is that you want to make sure the pieces are long enough to go around your battery operated tealight candles.
How tall the vellum is doesn't matter at all.  That's up to you! 😉  I varied the heights of mine because I thought that looked nice in a grouping.
Using Glue Dots® 1″ Glue Lines, place the glue lines around the base of your tea light candle and around the side of the paper where it will come together and form a cylinder.  Adhere the cardstock vellum to the base of the tea light candle.  For a secure fit, press the vellum together where the cylinder is formed.
OPTIONAL: Add Glue Dots® 1/2″ Craft dots to the cardstock vellum at the base of the tea light candle and wrap the base with bakers twine.
ANOTHER OPTION: Use a paper punch along the top of the paper to form an interesting pattern.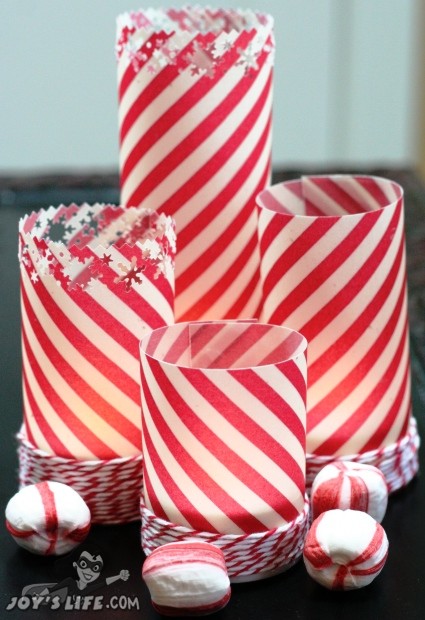 I hope you like my peppermint stick tealight candles! They look really pretty and festive flickering away on my mantel. I'm really enjoying them. Be sure to ONLY USE battery operated candles with this project! 😉
I wrote this blog post while participating on the Glue Dots® design team.