How to Create Bag Toppers using Cereal Boxes
This shop has been compensated by Collective Bias, Inc. and its advertiser. All opinions are mine alone. #CerealAnytime #CollectiveBias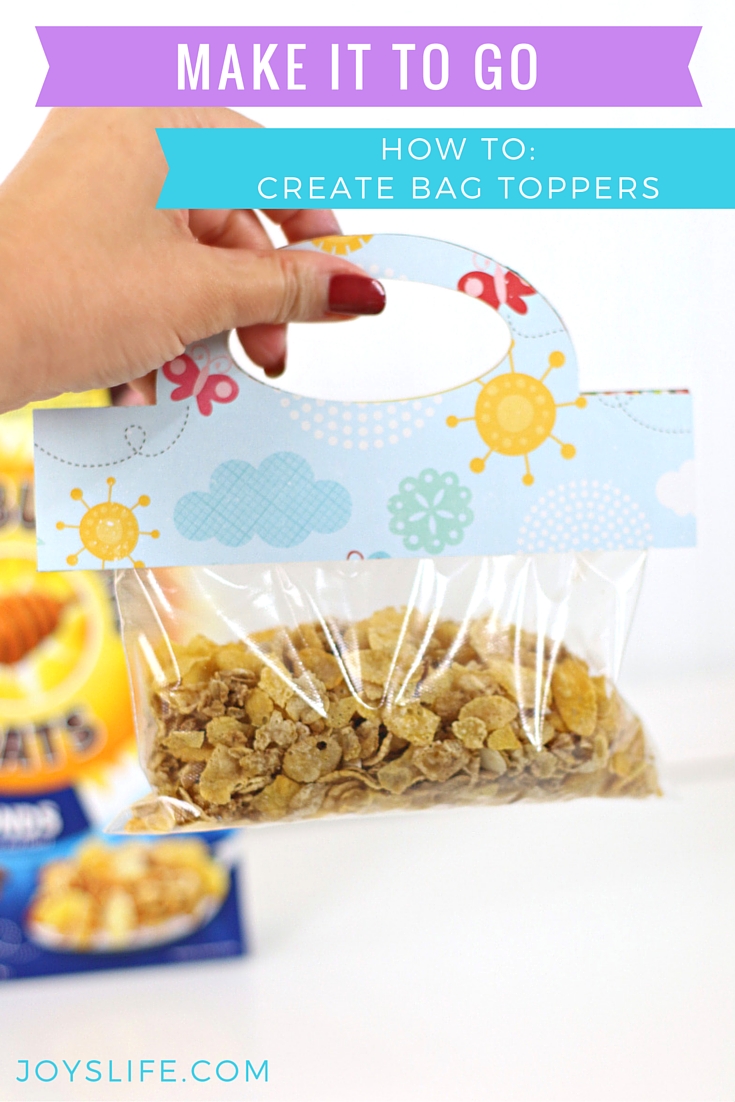 I don't know about you, but for me and my family, cereal isn't just for breakfast.  I can't tell you how many times I've quickly poured some cereal into a bag and taken it on the road.  I've done that since my kids were little and our whole family believes that it's a perfect on the go snack.  Do grab it to go too?  This bag is holding Honey Bunches of Oats with Almonds.  Have you tried it by itself?  So good.  Today, we're going to use the cereal and the box!  I'm going to show you how to create bag toppers with the Silhouette Cameo using cereal boxes instead of chipboard!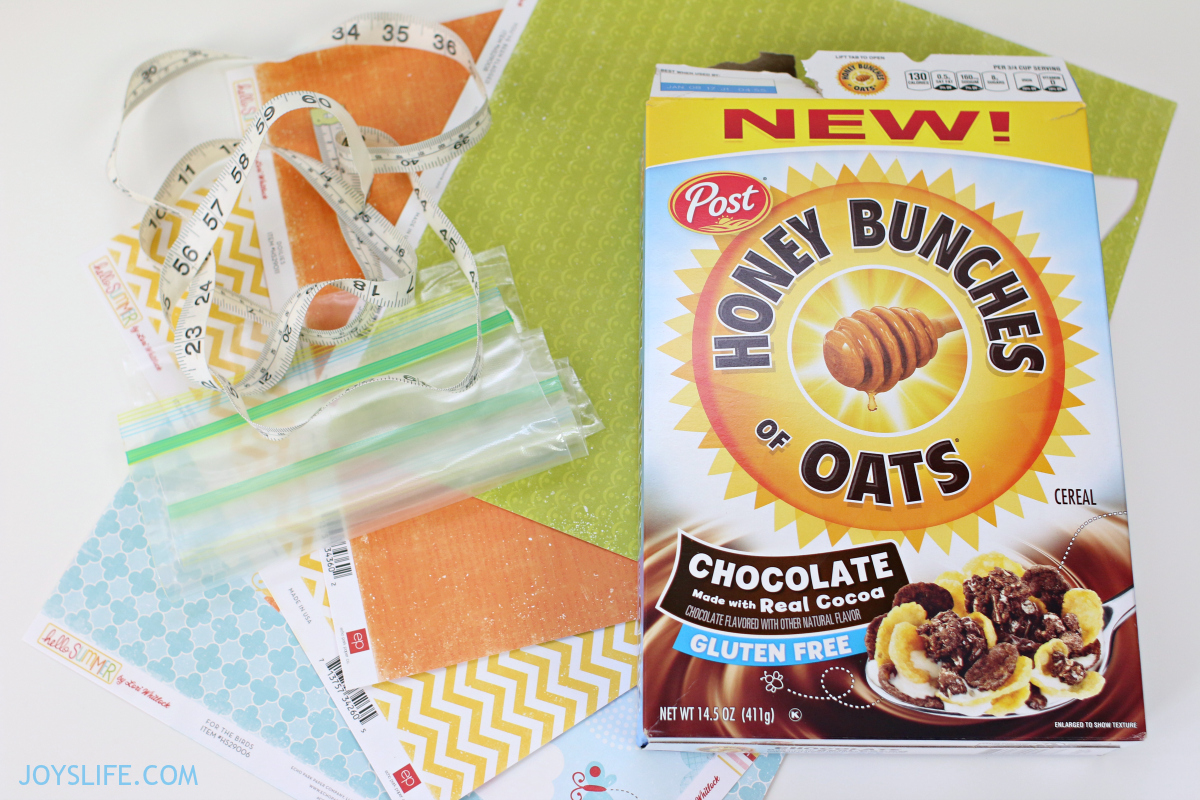 You will need:

Honey Bunches of Oats Cereal
Scissors or a Die Cut Machine
Scrapbook Paper or Cardstock
Snack Bags
Adhesive
First, you're going to need cereal.  I made a few toppers using the boxes from Honey Bunches of Oats with Almonds, Honey Bunches of Oats Honey Roasted, and the new Honey Bunches of Oats Gluten Free Chocolate, which is so delicious that you won't believe it.  So, try it and tell me how right I am.  Anyway, you'll need an empty box, scrapbook paper or cardstock, snack bags and adhesive.  You'll want to measure the top of your bag to see what size you need to make your topper, so that's why there's a measuring tape too.  I needed mine to be about 7.5″ across.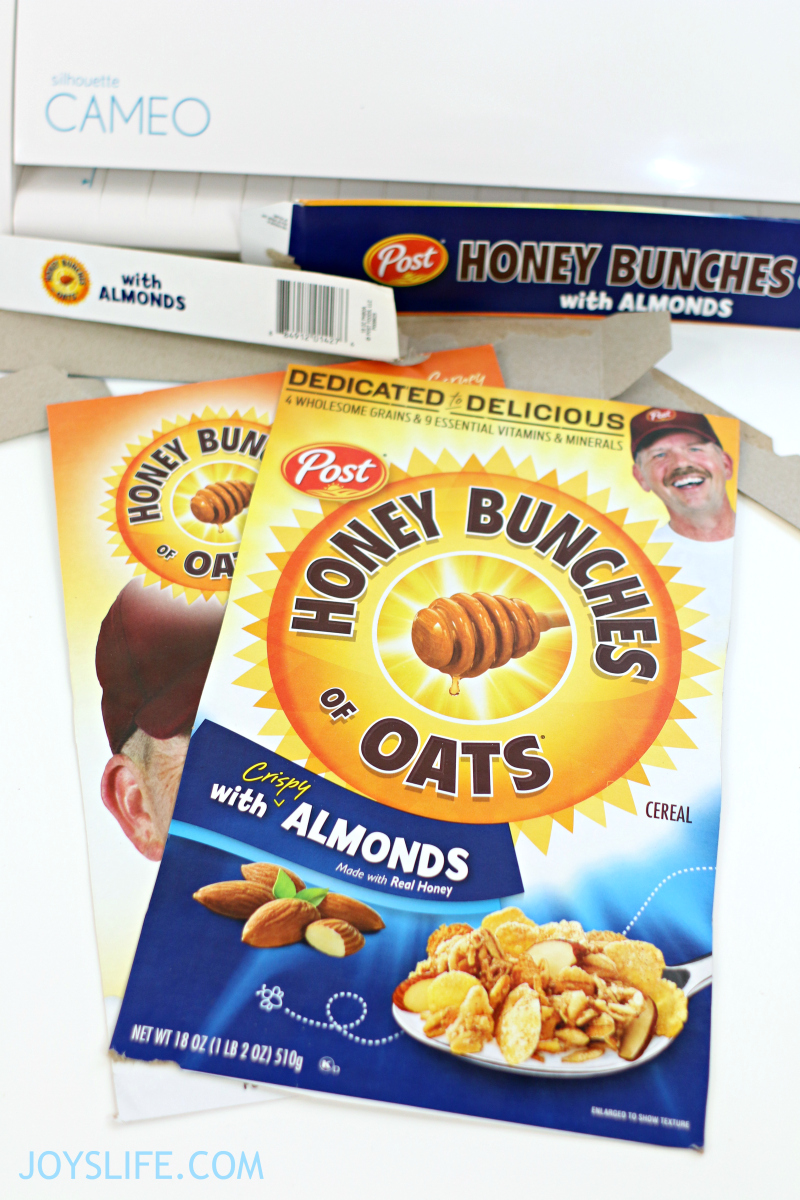 After you cut down your cereal box, add it to your cutting mat.  I like to use a Cricut cutting mat in my Silhouette Cameo.  It works!
Once you load it under the rollers it should stay in place.  If your mat isn't very sticky, you can tape it down temporarily with painter's tape.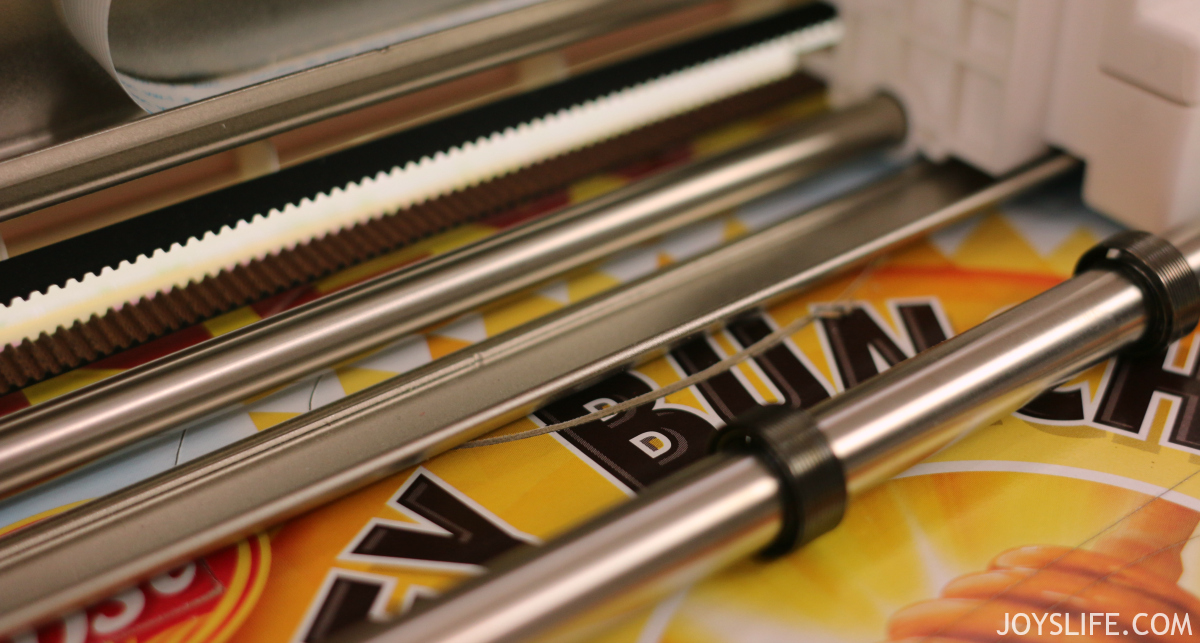 I'm cutting with my blade at 10 and I cut three times.  It works perfectly and is a great substitution for pricey chipboard!
You can hand cut any kind of handle that fits your family and needs, but I used this handle and adjusted its size and shape to fit my needs.  After you cut the chipboard pieces, cut them out in paper, so you can cover the fronts and backs of each piece.
Need help with the Silhouette Cameo?  Check out these tutorials.
Use adhesive to attach the paper to the chipboard handles.  I'm using a Xyron but you can use your favorite adhesive.
I'm using double sided paper, so this is the back of my handle.  After I running it through the Xyron, it's covered with adhesive and I can stick it to the cereal box handles.
The Xyron is a useful tool.  Here are some other things I've made using it.  They also have a new style out – See this post for more info!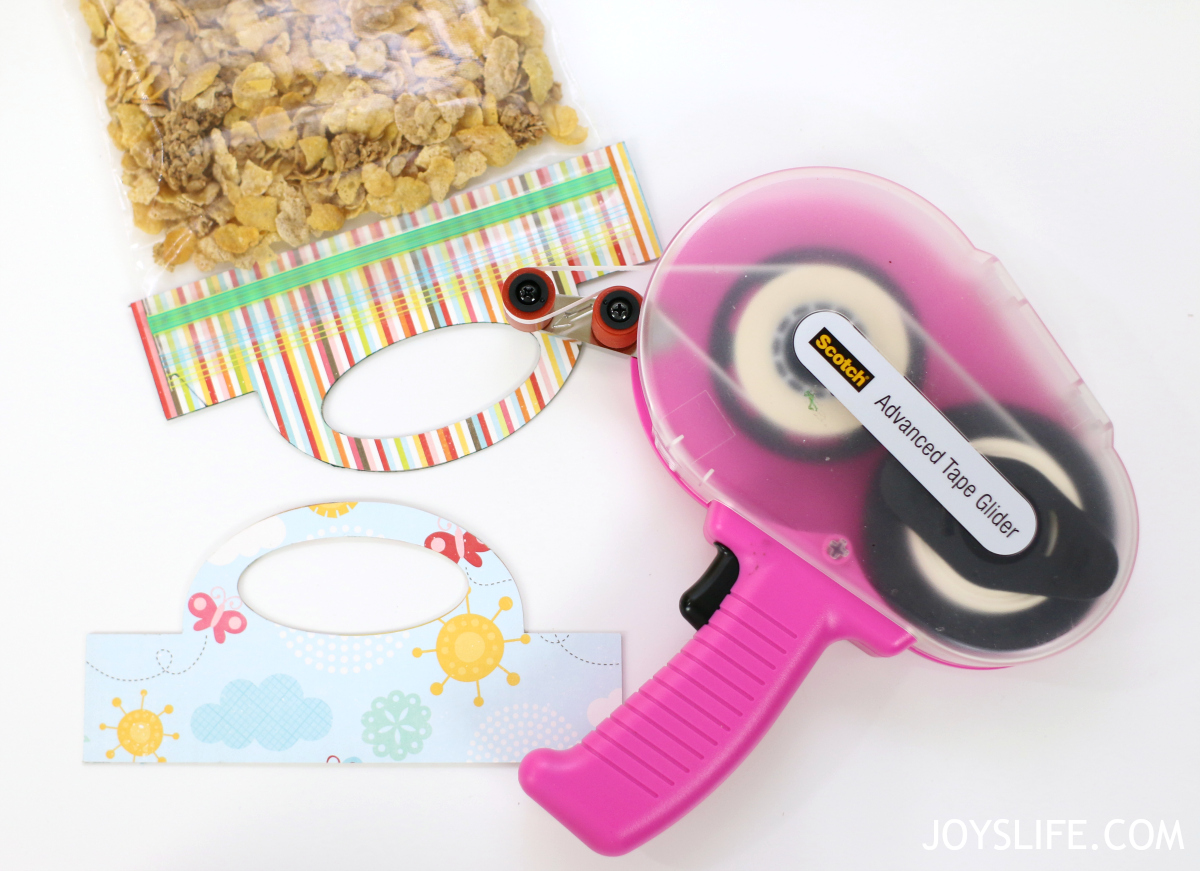 I'm using an ATG gun to glue the handles to my bag.
Ta da!  All ready for life on the go!  This adorable snack bag topper makes a fun tote for hitting the road, adding to a gift bag, sticking in school lunches or taking to work.  You'll know that this is your bag of yummy goodness.  If you're about to go on a road trip, like I am, then you'll be happy that you can find your snacks both by description to the people in the back of the car or by grabbing at it blindly.  LOL!  That topper is easy to grab and find!
I picked these cereals up at my local Walmart, where I also got myself some new nail polish.  I got an orange color.  It's one of my favorites, but I hope it's not too early in the season for it.  I usually wait until I have a tan.  We'll see!
Stop by Walmart and don't miss the new Honey Bunches of Oats Gluten Free Chocolate cereal I was telling you about.  My youngest son, who isn't much of a cereal eater, LOVES the new Honey Bunches of Oats Gluten Free Chocolate.  Not only will he eat it for breakfast, but as a snack without milk!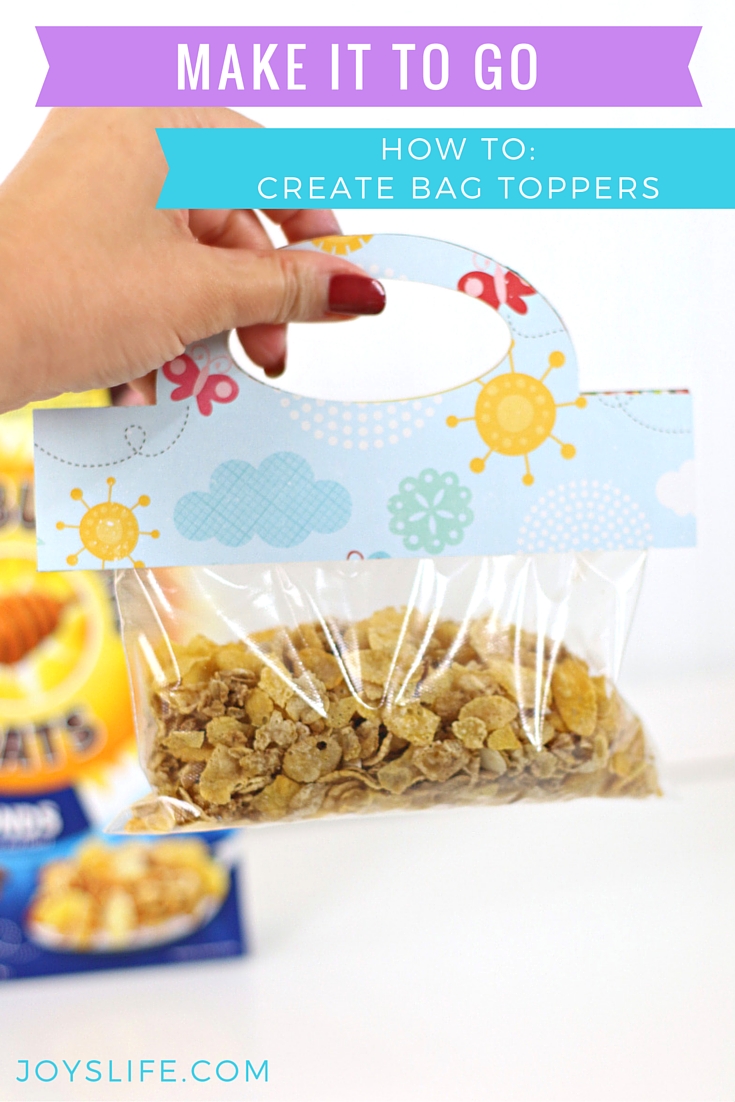 Get the whole family together for a fun topper making evening.  You could make monster toppers, springtime toppers, whatever you can dream up.  If you don't have a die cut machine like the Silhouette, don't worry.  You can cut these handles out with a pair of scissors.  Have you kids draw the shape they like and you cut it out!  Good and yummy fun for all!
What kind of topper will you make?