How to Create Easy Watercolor Pet Art
This shop has been compensated by Collective Bias, Inc. and its advertiser. All opinions are mine alone. #IAMSCat #CollectiveBias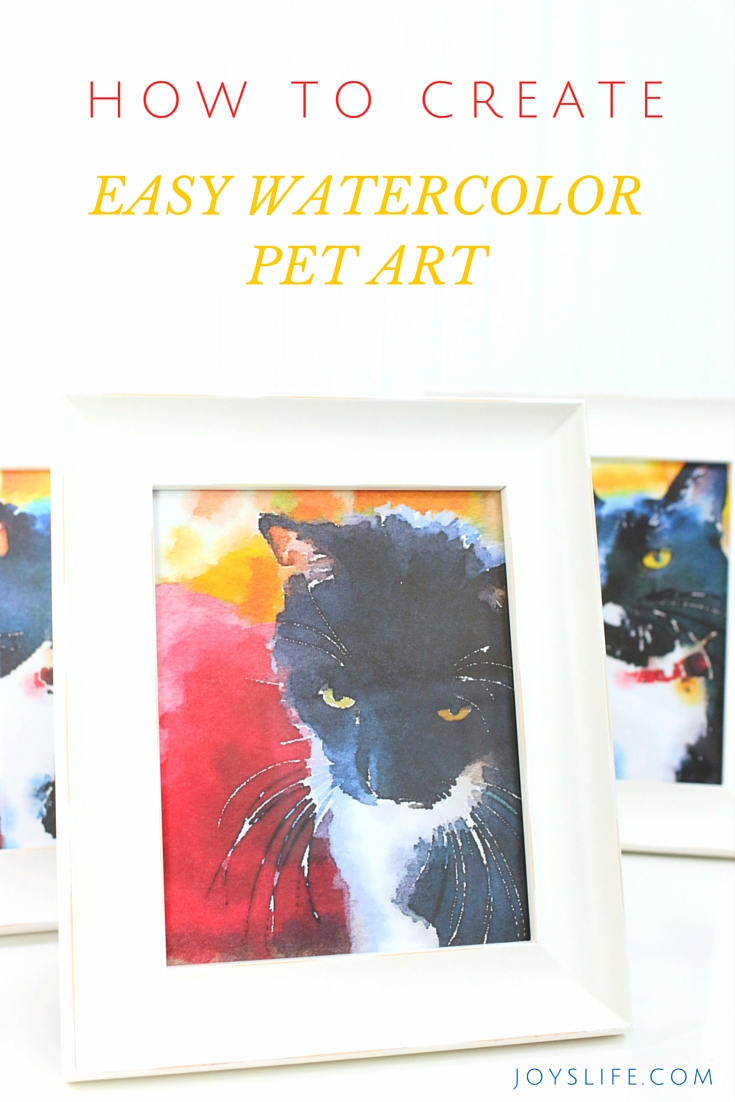 Recently, I saw the prettiest framed watercolor pet art at one of the big chain craft stores. I wanted to get all of them to decorate my daughter's room. She's away at college and I thought that the bright colors would bring a touch of Spring to her room. The problems? I couldn't get over the fact that they each cost $30 and that the pictures, although adorable, were representing pets that weren't ours. Why purchase wall art of someone else's pets when I could honor our cat and my daughter's BFF, Domino, who sleeps on her bed awaiting her returns home from college? That why I decided to create my own art using my own pets, my printer and one cool app.
I'm not an artist. Really. I'm pretty creative, but the drawing or painting ability skipped right by me. When I was teenager, I got fired on my first day from a mall job where I had to hand personalize products with paint pens. True story. That was when I realized that sometimes no matter how much you want to be good at something, there can be a talent factor that might just elude you. Not so with this easy tutorial. You can watercolor without getting messy and even if you have no paint skills, using the Waterlogue app. It works with Apple products and with Windows.
Take a picture of your pet. Can't get them to turn your way? Hold a treat in the direction you want them to look. Sometimes it might take more than one person to get the shot. So, you might try having someone else hold the treat while you get ready to snap those pics!
When you've got your favorite shot, you're ready make art!
I'm using a Canon 70D camera, so I uploaded my favorite images of Domino to Dropbox and then download them into the Photos section of my Ipad.  I also took some shots of him with my Ipad, those I can use immediately, with the Waterlogue app, without uploading anything.
You can choose from the different looks or get more specific with some of the other options.  I liked my photo just as it imported.  I tested some other looks, but this was my favorite.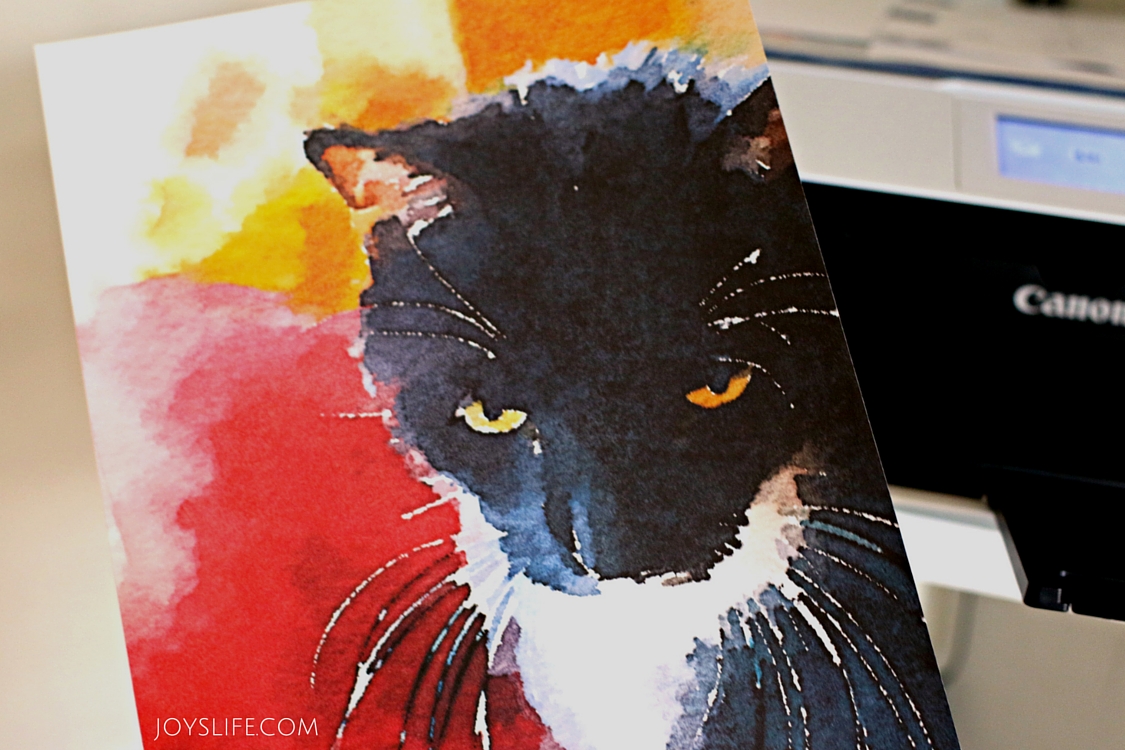 Next, you can click the heart button on the right and print your photo.  I exported mine because my Ipad wasn't finding my printer.  Sigh.  The fun part is now…Printing!!  I'm just using white cardstock and my home printer.  I printed without a border.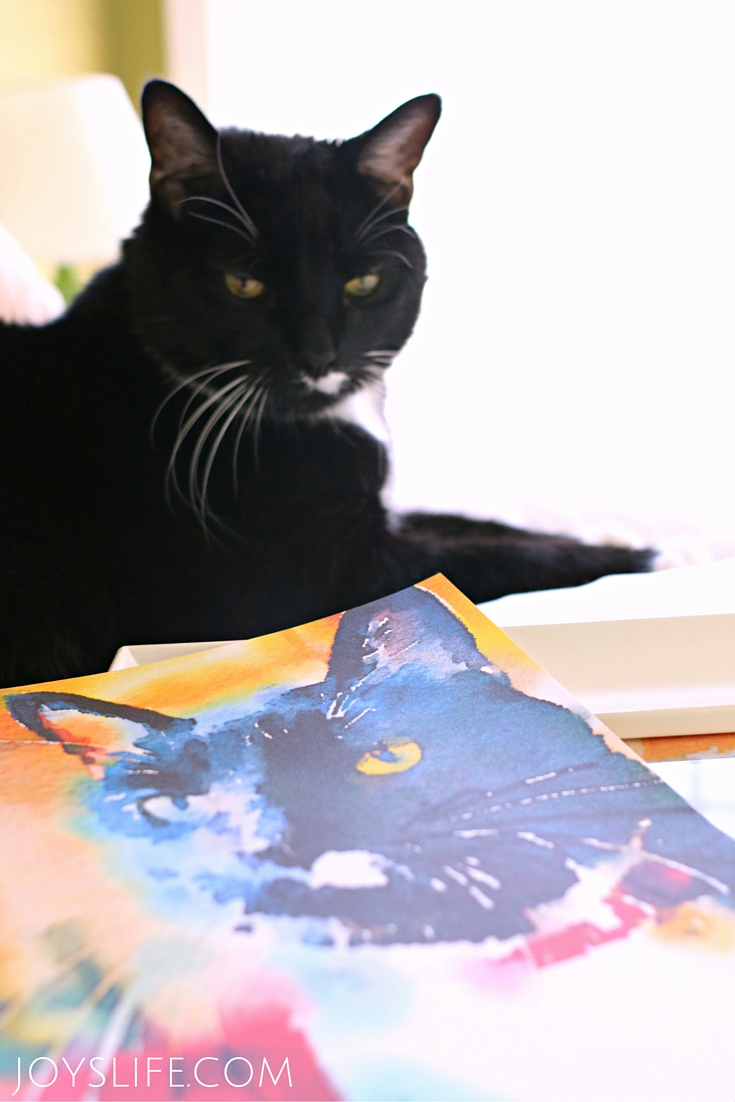 I just LOVE the way they turned out!  My daughter is going to be so surprised!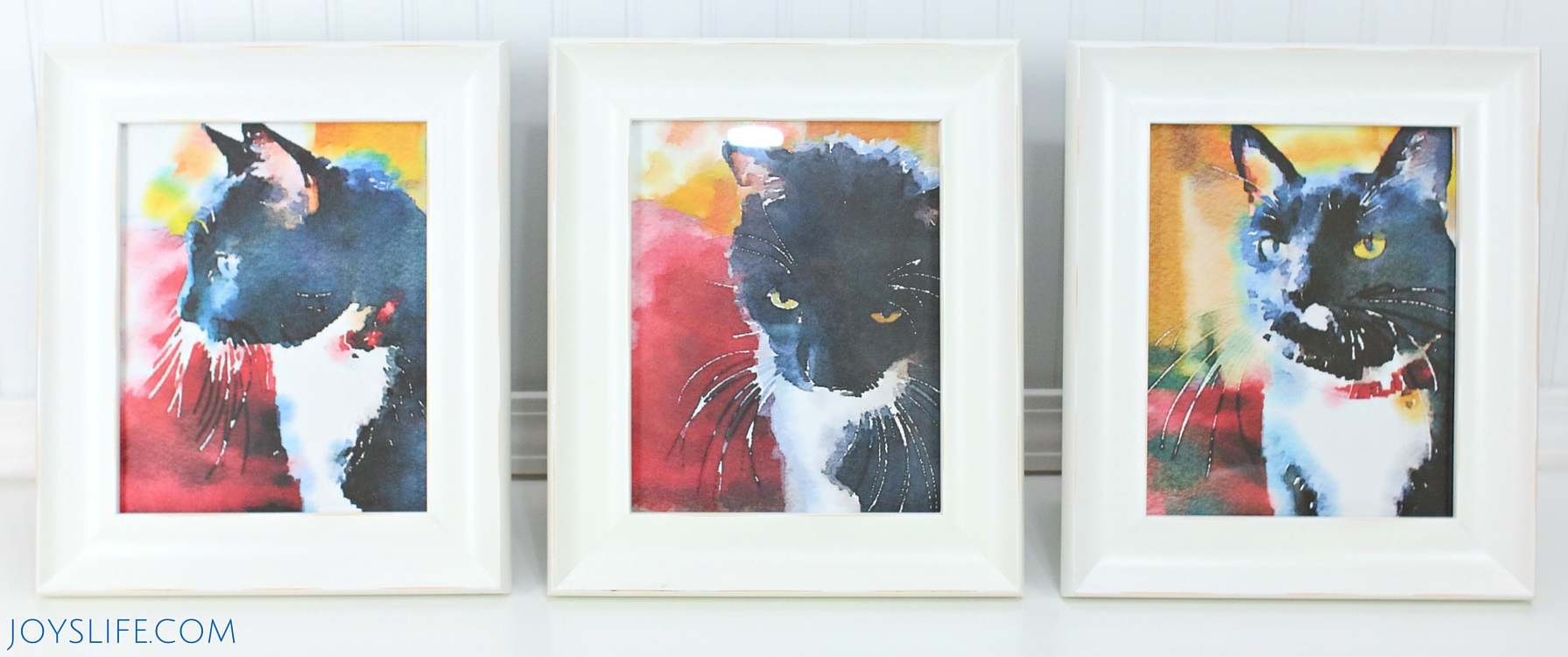 Next, I'll make some of our dog, but Domino has been with us the longest and deserves to go first because he's the oldest.  We got him from a shelter about 12 years ago.  He's been a great friend.
When we got him from the shelter they suggested that we feed him IAMS™ and we always have.  A few times we've tried something new, but Domino really does well with their Hairball Care and the IAMS™ Proactive Healthy Adult Dry Cat Food with Chicken.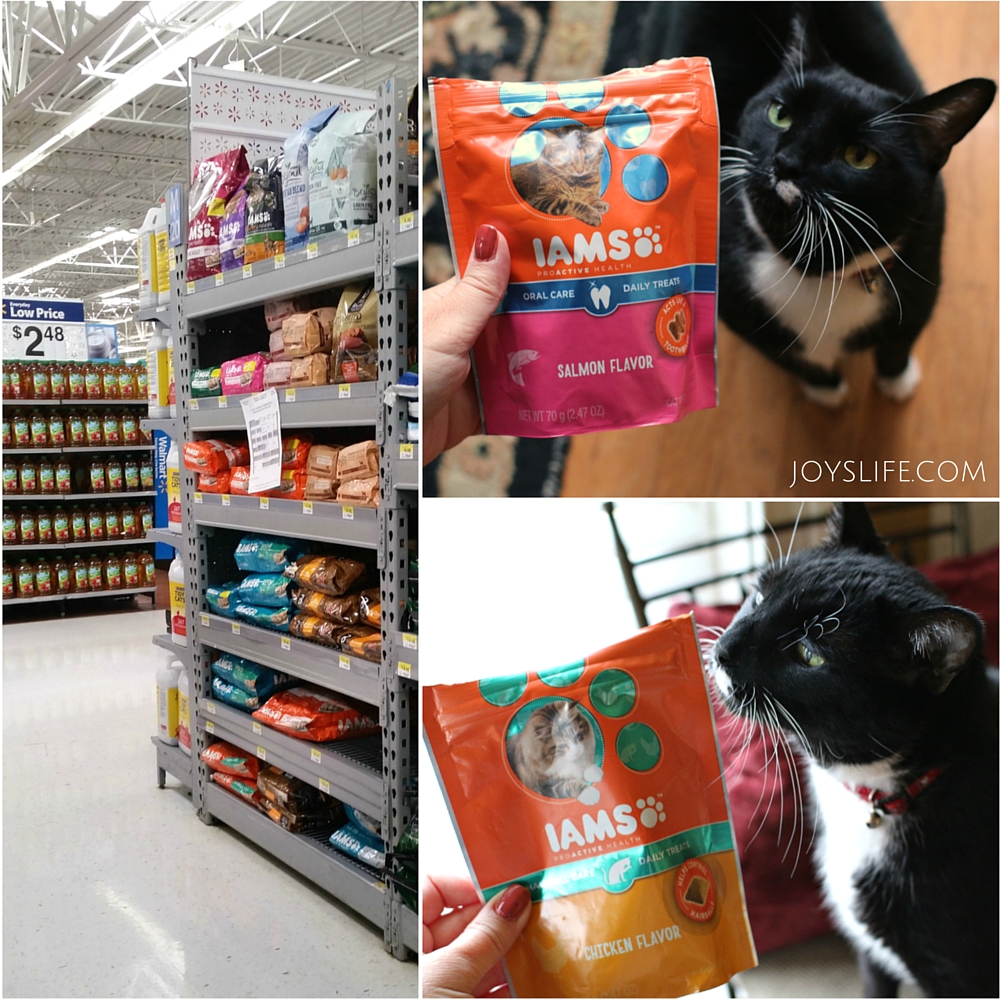 Wonder no longer if Domino likes IAMS™ new treats.  He's a big fan!  IAMS™ now offers treats that target specific dietary needs—Hairball Care, Digestive Health, and Oral Care.  Look for the new 5.5 oz Mega Bag of treats!  I got mine at Walmart.  Where I picked up a new lamp for my bedroom too.  All the better to spot Domino hiding on my black blanket!  LOL!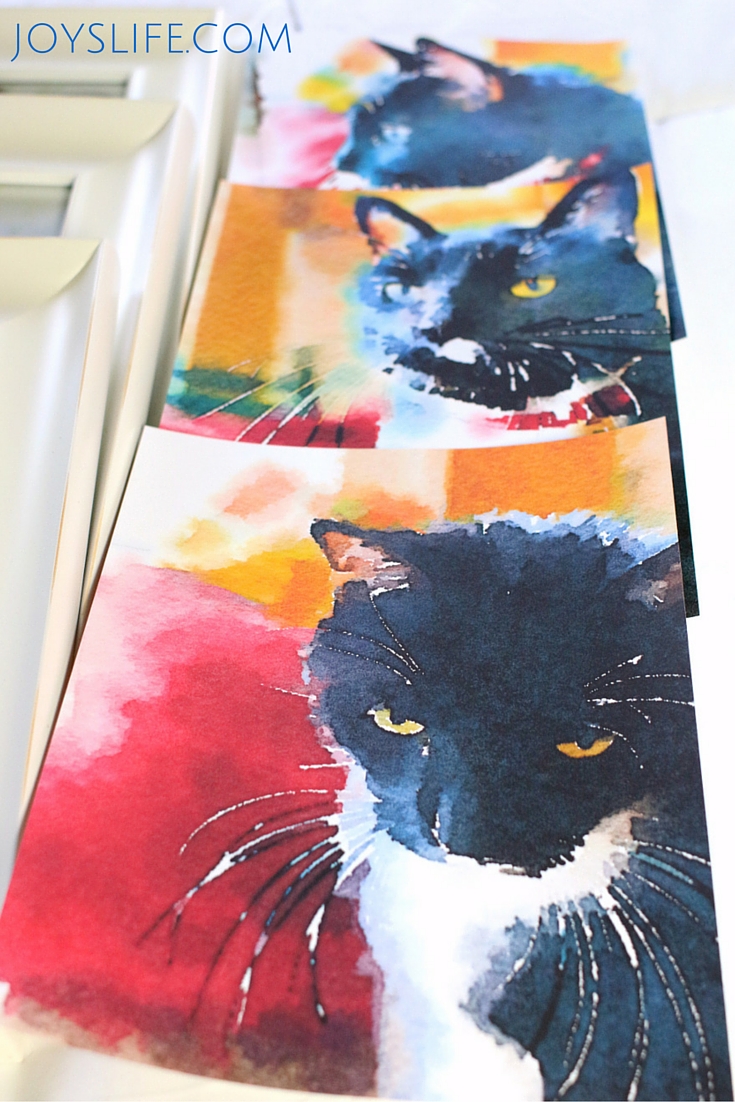 I'm so glad that I didn't settle on random art and instead made these cute cat pictures of Domino.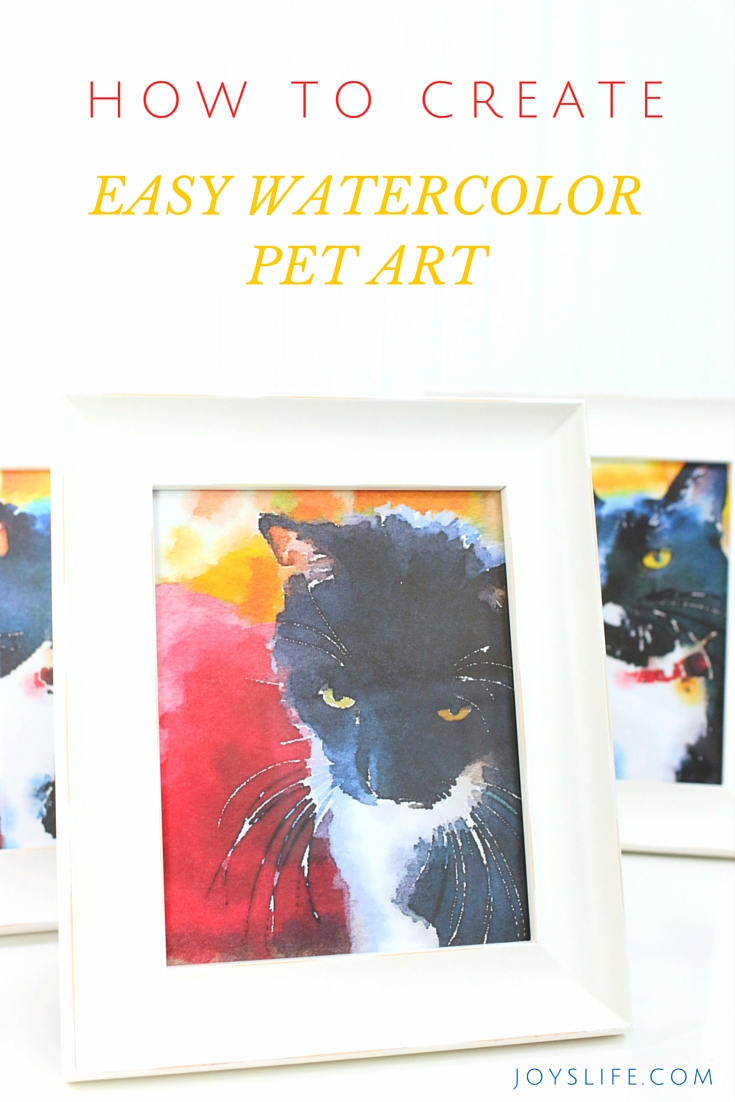 Do you display photos of your cats or other pets? We also hang a few pet photo ornaments on our Christmas tree, ever year.  You know what?  I think watercolor pet prints would make great gifts all year, don't you?  What are other ways you can think of to display pictures of your furry friends?