Lovely Autumn Box with Epiphany Crafts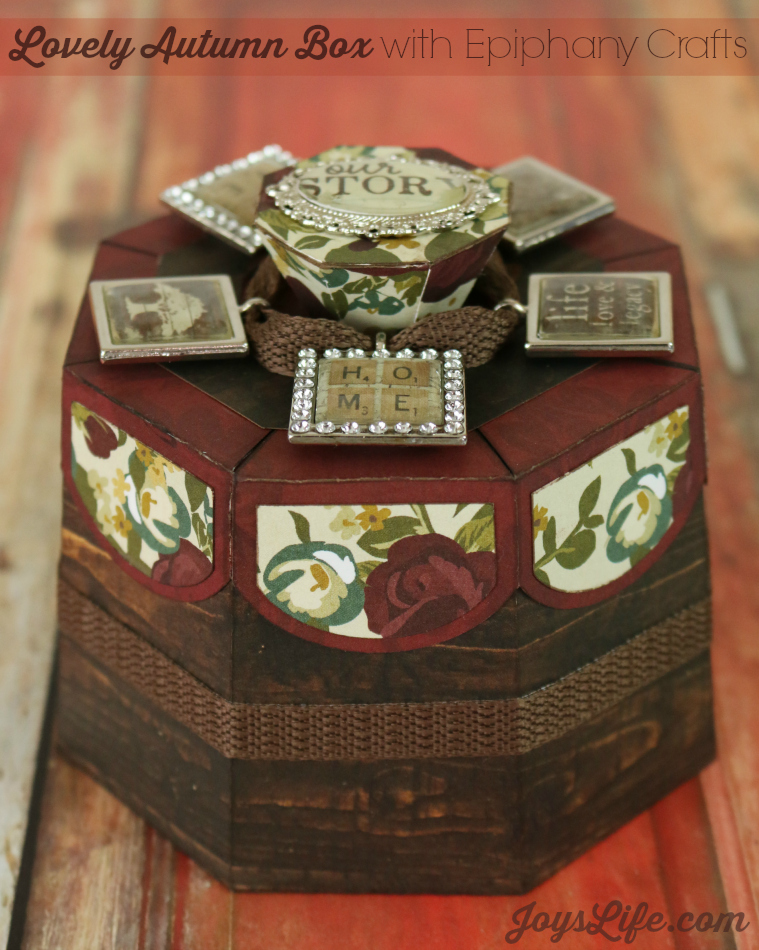 I am in love with Epiphany Crafts tools.  In love!  So, I'm always super happy when I can find a way to really show off how cool their products are.  I think this awesome octagon box by SVGCuts looks even better with the addition of these fall and family themed charms and embellishments.
I used my Silhouette Cameo to cut everything out and my Xyron Sticker Maker and some liquid glue to help me put all the pieces together.
As I assembled the pieces, I used a brown Faber Castell Big Brush pen to color in any of the white core paper.  That helped give the project a more finished look.
I used paper from the Simple Stories Legacy collection along with Epiphany Crafts Shape Studio Square and Square Bubble Caps to help me create the centers to those gorgeous charms that surround the outside of the hexagon box.
To complete the top, I used the Shape Studio Oval along with oval bubble caps and an oval setting.  I punched out the words "our story" and created that lovely center piece.  Those beautiful "home" and "love" charms are using the Rhinestone Square settings while the others are using the Charms Square 25 setting.
I strung the charms onto a piece of brown ribbon and added them to the top of the box using dimensional foam dots.  I just love the way this autumn box looks with all of the themed Epiphany Crafts embellishments. What are you making this fall?
Have a crafty fall y'all!