The New Xyron Creative Station – What's New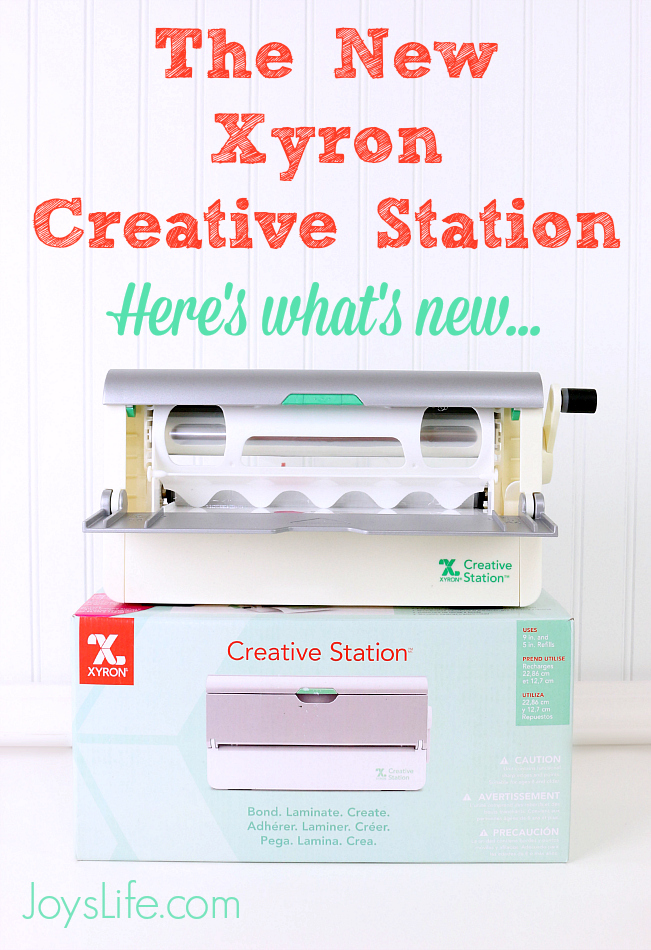 The new Xyron Creative Station has a brilliant, efficient design.  It has all the functionality of the previous Creative Station but can use both the 9″ and 5″ cartridges.  Do you know what that means? This machine saves you space because it takes the place of two previous machines.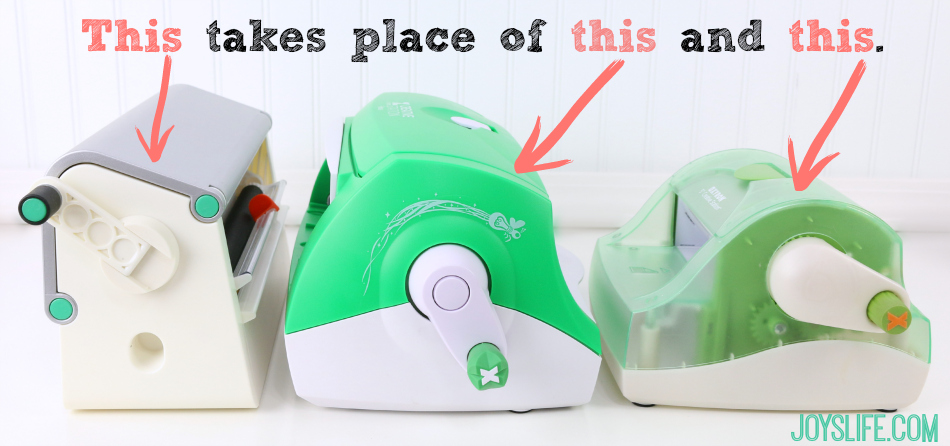 Seriously.  Can you believe the new Creative Station holds all the functionality and ability of the previous Creative Station in the middle and the Xyron 510 on the right?  It does!  I'm thrilled about that because I need all the craft space I can get.  I think most crafters would agree.  Am I right?  Guess what else?  The handle on the new Creative Station can be flush with the machine giving you even more shelf space when you put it away.  Nice!
Even better, the new Xyron Creative Station takes the same cartridges that you used in the previous Creative Station and the same ones that went into the 5″ machine.  I'm so glad that Xyron made the machine fit existing cartridges.  So, if you upgrade to the new machine you don't have to be concerned about loosing your previous cartridge investment.  Yay to that!
Here's the new Xyron Creative Station with the front opened.  It comes with a 9″ permanent cartridge already in it.  That's perfect for bigger projects.
Want to work on smaller projects?  Take out the 9″ cartridge and flip up the green 5″ adapter.  Now you're ready to slide a 5″ cartridge in there.
Xyron has different kinds of refill cartridges: Permanent Adhesive, Repositionable Adhesive, Laminate + Magnet, Double-Sided Laminate and Laminate + Permanent Adhesive (the last one is for the 5″ only).
See how easy that is?  Next, you would feed the material through the two black rollers.  Turn the hand crank, close the lid, and you're ready to roll!  I give this new machine 2 thumbs up!
Check out these Xyron projects I've created!
See my Xyron Pinterest board too!
I received this machine and wrote this post while participating on the Xyron Design Team.