Great Mother's Day Gift Ideas with Groupon
This is a sponsored post written by me on behalf of  Groupon for  IZEA. All opinions are 100% mine.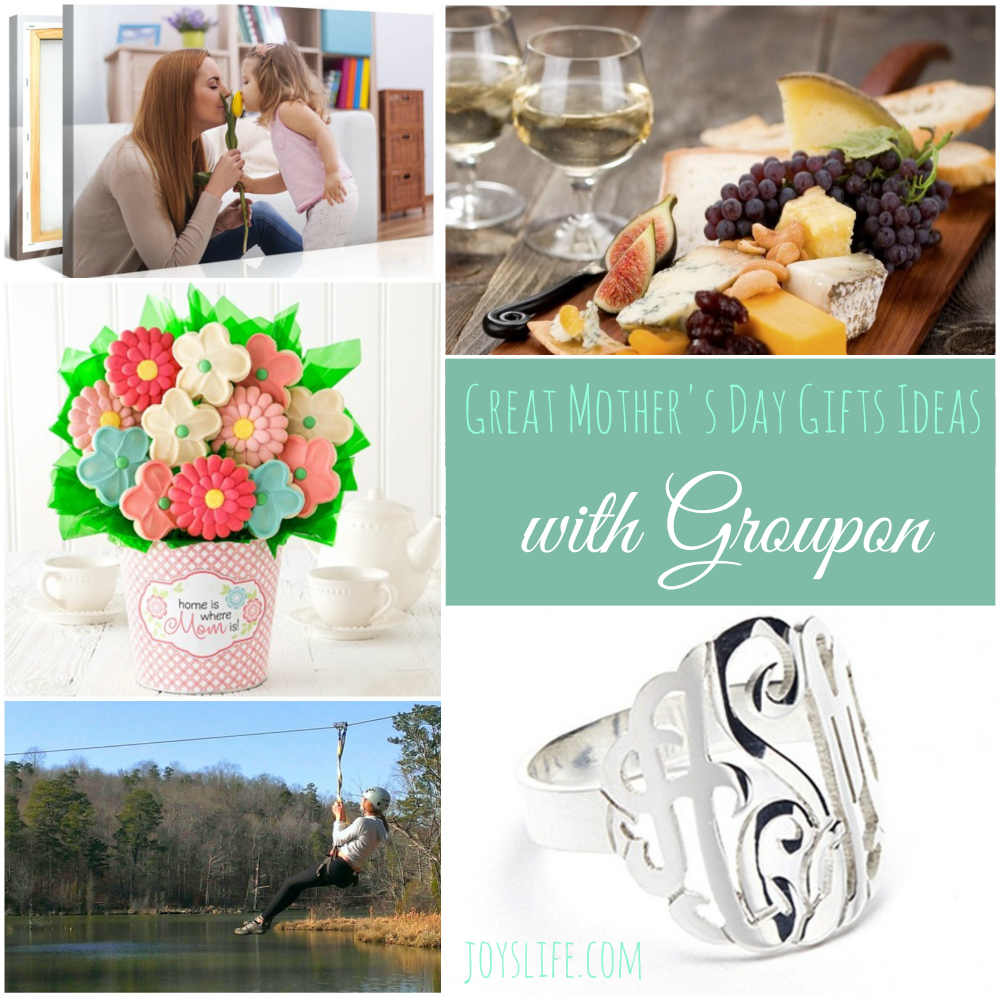 Do you ever struggle with what to give or even what you want to receive on Mother's Day?  I know that I've found myself stuck for an answer to that question once or twice.  This year I'm thinking, "Why not mix it up a bit?  This is the perfect time to ask for or to give something that's really memorable, like trying something you've always wanted to try.  For example, Groupon's Mother's Day Gift Shop has both gifts and experiences.  So, this might be the perfect time to try wine tasting!  Sign me up for that!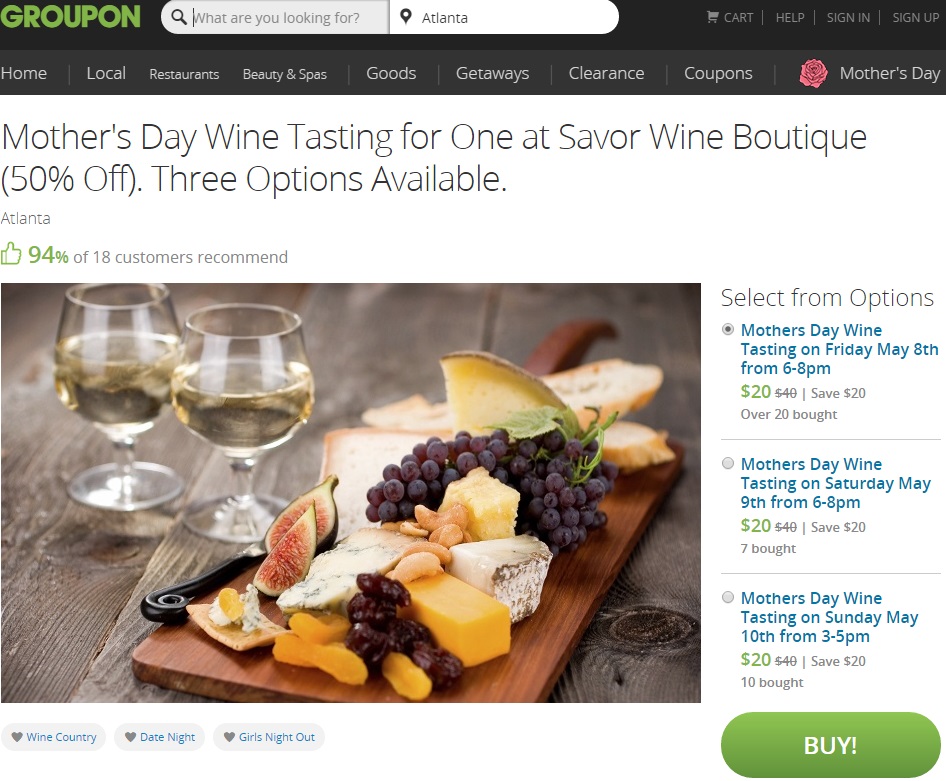 Here's something I found that I'd love to try, zip lining!  Granted it's for your more adventurous types but maybe that's you or your friend…or your Mom!  I really, really want to do this.  It's on my list of things to do.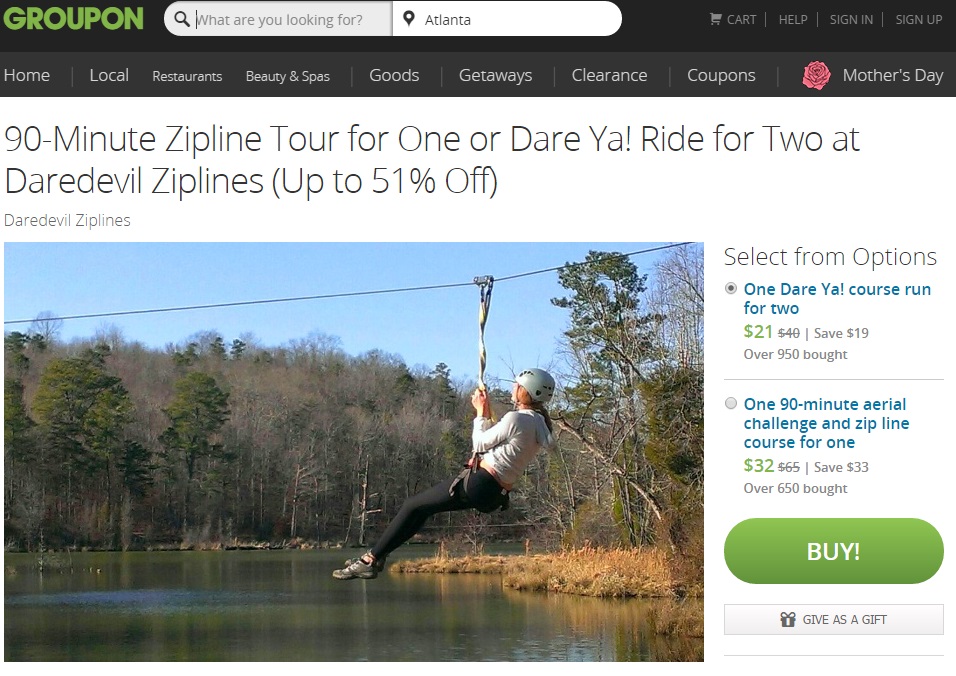 I used to be scared of heights but one day I decided that life is too short to impose limitations on yourself.  Right?  There are enough reasons that things can be hard to do without adding to that list.  Adventures and experiences are truly the spice of life, why say no to things you don't have to say no to?  I'm going zip lining this summer.  Yep, Grouponing it.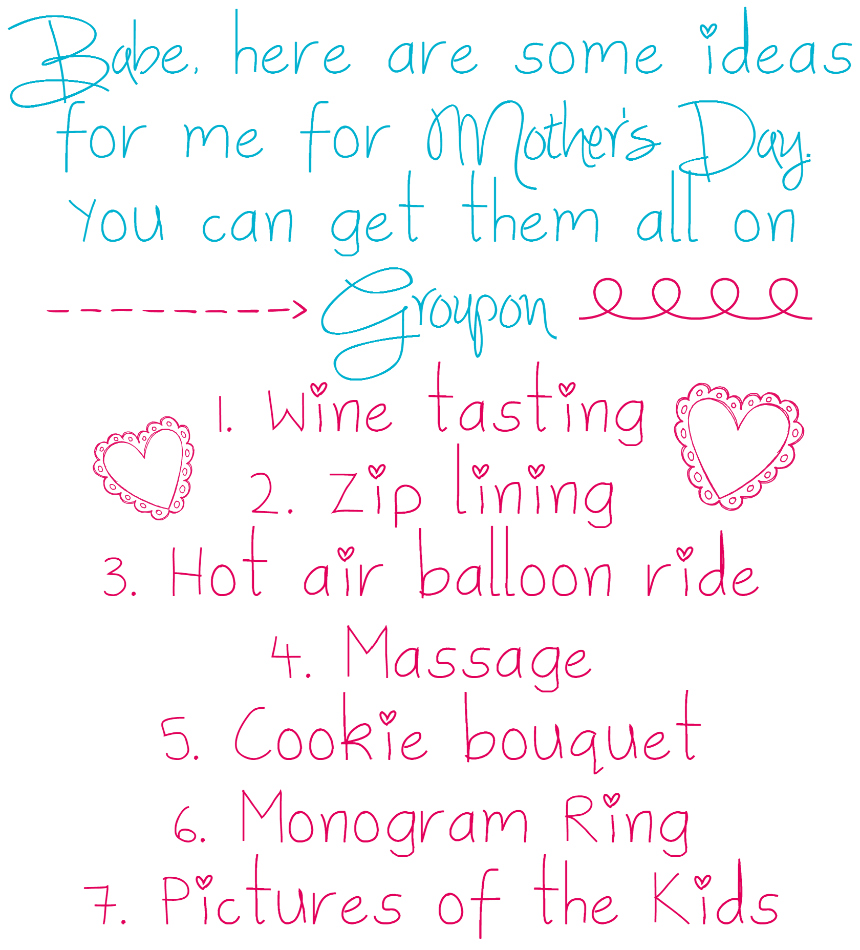 This wouldn't be the first time that Groupon inspired me.  Once I spent a whole day having Groupon experiences with my children.  It was awesome.  We tried all kinds of places and things we hadn't tried…even in our own town!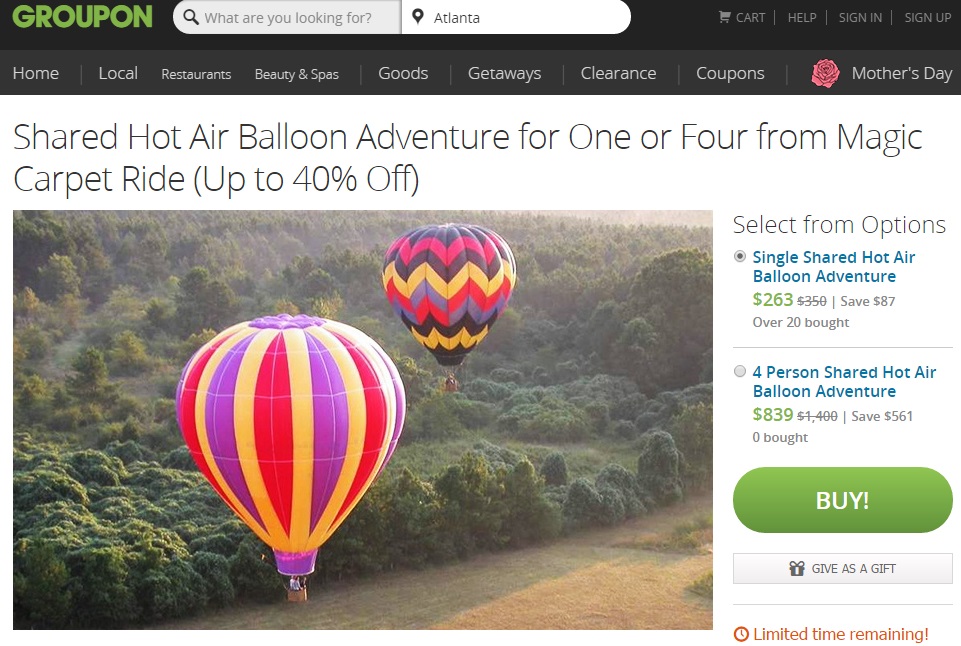 Here's something awesome that I didn't know Groupon had hot air balloon rides!  Wouldn't it be nice to enjoy that with someone you love?  I love adventure gifts!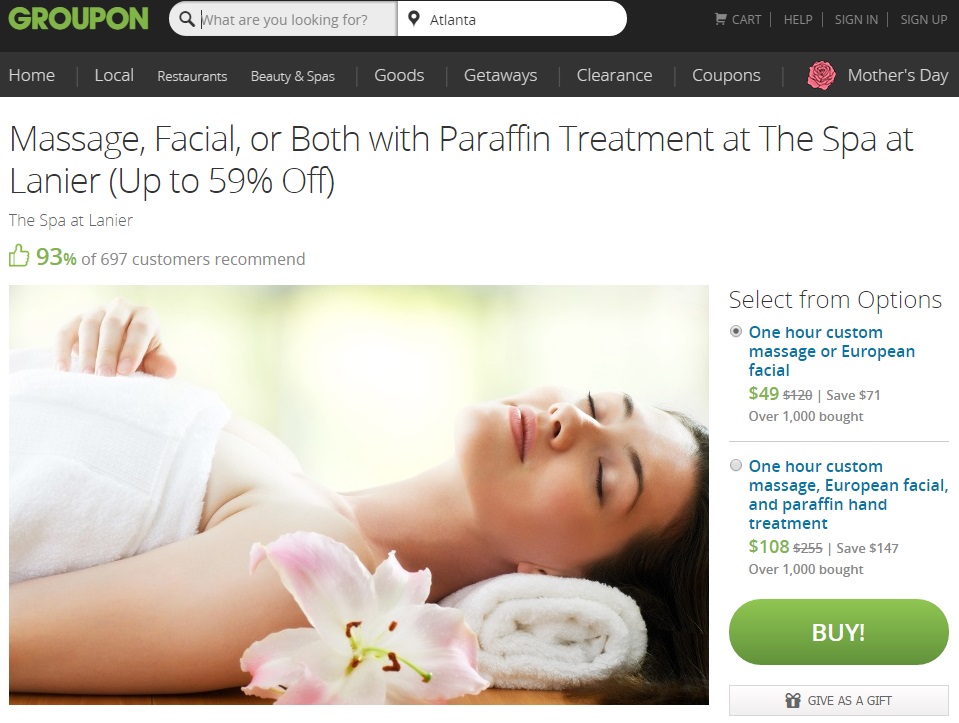 Feel like keeping your feet firmly on the ground?  Relaxing in style is always appealing!  A massage at the spa.   That's something that I'll never buy for myself but I think would make a great Mother's Day gift.  Gosh, what a way to relax!  I bet any Mom would be thrilled to get this as a gift.  This Mom would!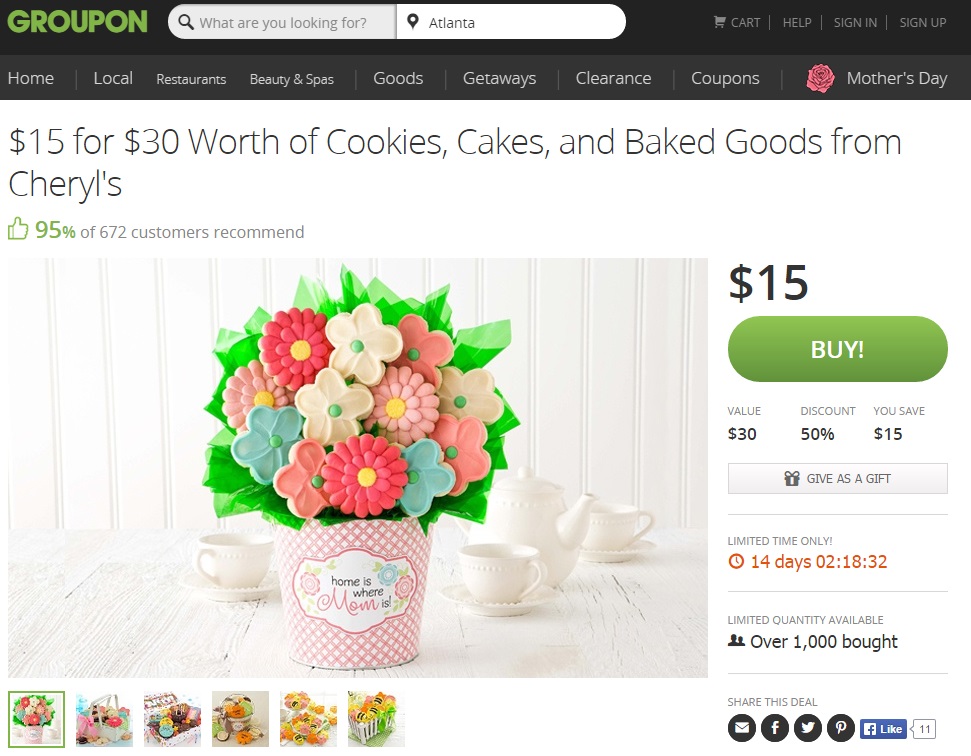 I love to give gifts that are easy for me and that thrill the recipient.  This fits that requirement perfectly!  Wouldn't sending your mother, mother-in-law or friend a fun cookie flower arrangement be yummy and memorable?  I'd love to get one of these.  I can just hear exclamations of, "So cute!  Who thinks of these things?  I love this!  Delicious!"  I'm actually buying these in a minute for my Mom.  My brother better step up his game.  LOL!  Wait.  He better not out-Groupon me.  Ack!  Is he reading this?  Awww man.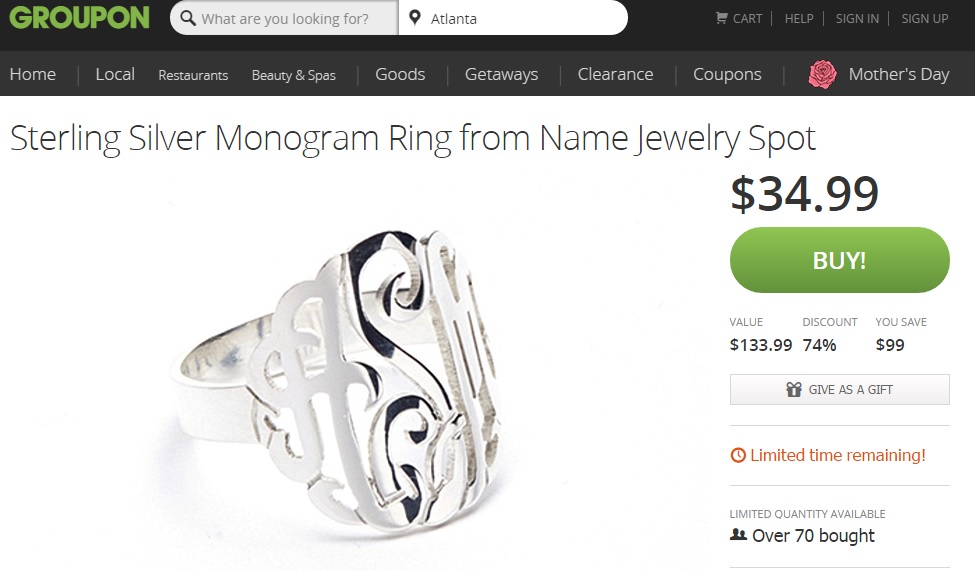 Fine.  My brother can get her this ring.  That would work perfectly if he'll also send me one because I definitely want it.  I didn't know where to buy a monogrammed ring and I've wanted one. It's in the Groupon Shop!
Of all these great things, my true favorite would probably be pictures of my children.  After all, they're the whole reason I'm a Mom!  Wouldn't you love having a canvas print from one of your favorite photos?  YES!  This is the perfect gift for Mom, Grandma, friends and me!
I love all of these Groupon deals. They have everything. Plus, I love the way their experiences and gifts really make you think outside the box. Check out the Mother's Day Campaign for more ideas!
 Groupon even has $0 deals! Check out this one for a year's worth of spa days!  Mother's Day $0 Deal for 1 Year's Worth of Spa Days on Groupon
Hurry and get your Groupon's now!
Use Promo Code "SALE3" on 4/27-4/28! You can receive up to 20% off up to 3 Local Deals, 3 Goods Items and 3 Getaways Flash Deals!