Silhouette Cameo Fall Tree Owl Mantel Decor
You're just going to have to come over to see how pretty this is in person.  LOL!  I used my Silhouette Cameo and the print and cut Fall Tree .svg by Lori Whitlock to decorate 5 and 1/2 feet of my mantel.  The only thing that's not part of Lori's file is the sentiment which I came up with and typed out in the Silhouette software.  Let's look at some close up pictures!
The photo I took gave a fisheye look to the photo, but I assure you my mantel is level. LOL!
I printed the file using my regular printer and now I'm having the Silhouette Cameo cut everything out.  I love this machine!
I had planned to make this whole project out of vinyl but after doing a test cut in paper I changed my mind and did the whole mantel in paper, except for the lettering. I liked using paper because I could give dimension to the leaves. I chose to attach everything with Glue Dots so I could easily redo my mantel for Christmas, which is coming faster than a rolling snowball.
I love the shape of the tree, the colors and those gorgeous leaves. You can use the Fall Tree.svg as is or just use the tree, the leaves or the owls. I added more leaves to my trees.  In the photos below, you'll see that I also enlarged some leaves and made multiples of the owls.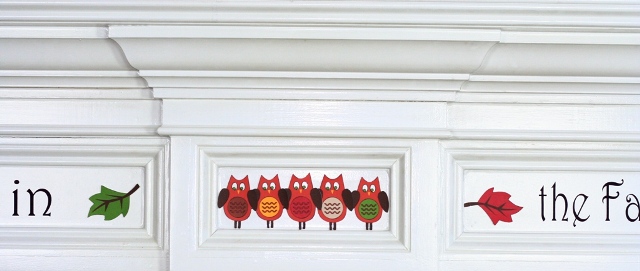 See those peeps in the center? That's my family.
I chose to duplicate the owl (so easy in the Silhouette software) and change up the colors of the circle of feathers, that way you could tell us all apart. My kid owls are a tiny bit smaller than the Mom and Dad owl. Do I look fat in this picture? They say feathers add 5 pounds on camera.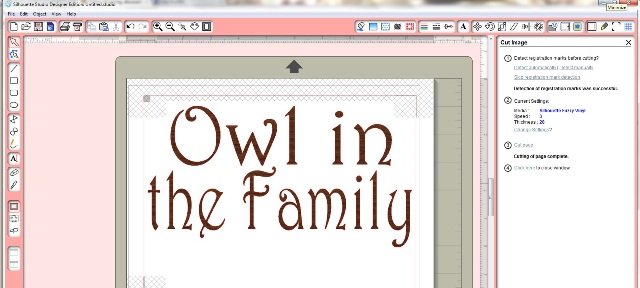 It sure looked like vinyl on the mantel, didn't it?  It's not!  I used printable adhesive material by Square1.  It's got a bit of texture and is easily repositionable.  Cool.  Now I can just peel that off too when I'm ready to turn my mantel into Christmas!
I wrote this post while participating on the Lori Whitlock Design Team.