Cork Acorn Fall Decor with Faber Castell
You may remember this fun fall design from last year when I was on the Faber Castell Design Team. I'm posting it on my blog today in it's entirety.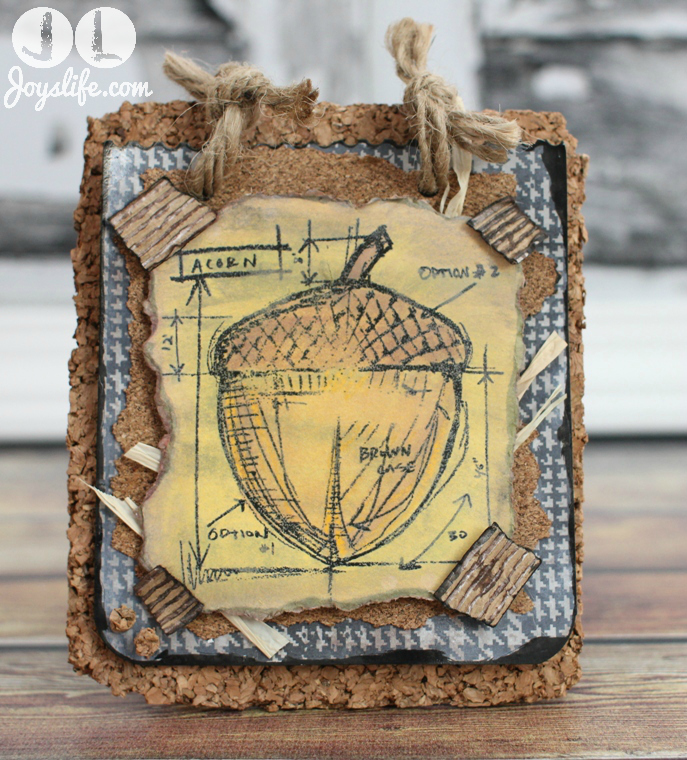 I had the best time creating this and I'm going to tell you just how I did it but first I have to point out the orange/yellow highlights on the main part of the acorn.  I LOVE that!  It's as simple as pie!  Simply highlight parts of your project using Paper Crafter Crayons before painting.  Yep.  That's awesome.  It withstood paint AND Gesso and it still shines on.  YAY!
I stamped that cool acorn image by Tim Holtz with ink and then embossed it using a fine black embossing powder.  I used a few different techniques to paint my acorn.  I used that water brush and applied it directly to the Nougat Pitt® Artist Big Brush Pen and then painted onto the cap of the acorn.  I also drew the Nougat Pen onto my craft mat, added a few spritzs of water and used it like watercolor.  I blended in other colors using the Pitt® Artist Big Brush Pens in Orange Glaze and Cold Grey too.
See that beautiful yellow Paper Crafter Crayon?  I love it.  That's what made those awesome highlights that I pointed out earlier.  Again, so impressed that it held up through paint and gesso and kept on shining.  Impressive!  I used water with the Permanent Green Olive Pitt® Artist Pen to accentuate the wording of the stamp.  I next went along the edges using Pitt® Artist Pen in Light Green and Orange Glaze.  Later I toned the whole thing down by covering it with Gesso and quickly dabbing it off after it subdued the colors.  I also added (my favorite) Squid Ink Gelato® everywhere except the acorn and that's what made it look a little more aged.
Gesso is perfect for toning down a too lively paper.  I love this paper but it just needed to take more of a backseat in this project.  I covered it with Gesso and then blotted it off leaving just enough to achieve the look I wanted.
I love cork!  Now that that's out of the way, you can see I used two kinds of cork for this project.  One is a very thick cork square.  The other is a thin sheet cork that I applied to the houndstooth paper using Glaze.  The Glaze gives the paper a bit of a shine and is also working as an adhesive for those two mediums.  I outlined the paper using a black Pitt® Artist Pen.  I used an EK Success Postage Stamp punch to create a notebook like style to the top of the page.  Next, I punched two holes in the top of the page and in the thick cork using my Crop a Dile Big Bite.
My whole project took on a natural elements tone, so I'm using jute to tie it together.
Ahhh, yellow Paper Crafter Crayon you're still beautiful!  See it shining through?  So pretty!  I added some raffia and created some tree bark looking tape by tearing, smashing and coloring corregated paper.  I used White, Black and Nougat Pitt® Artist Pens to help me create the tree bark tape.  Check out the bottom left hand corner.  I even reused the cork that I punched out earlier.  I stuck it on using mini Glue Dots.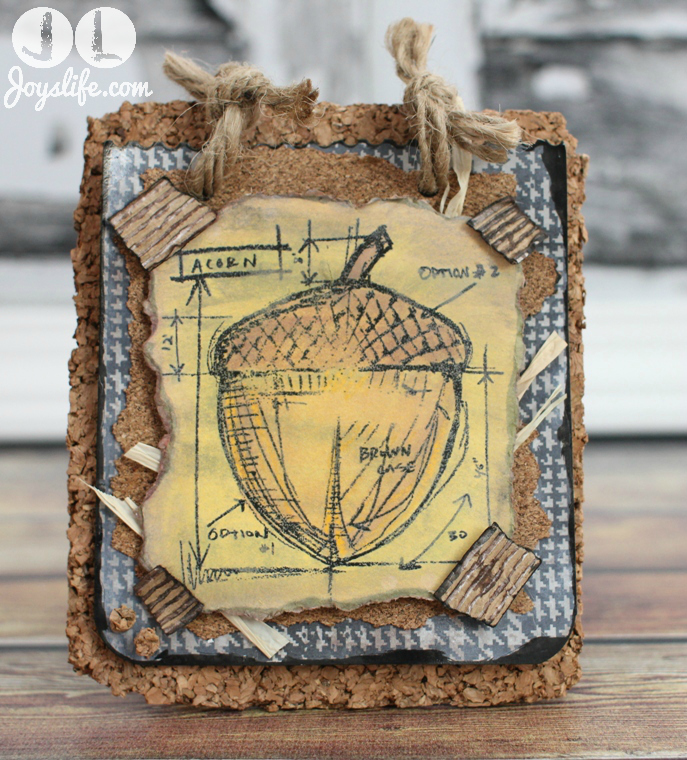 I hope you enjoyed this project!  I have it sitting on an easle on my desk.  I'll eventually take it to the mantel but I like looking at it on my desk right now.  I love fall!
You can also find me on Facebook, Pinterest, Instagram, Twitter and YouTube!
 Supplies:
Paper Crafter Crayons: Yellow
Big Brush Pens: Orange Glaze, Cold Grey, Black, White, Permanent Green Olive, Light Green, Nougat
Gelato®: Squid Ink
Corregated Paper
Fine Black Embossing Powder
Cork Thin Sheets and Thick Squares
Tim Holtz Acorn Blueprint Stamp
EK Success Postage Stamp punch
Crop a Dile Big Bite