Photo Puzzle Gift using the KNK Zing and Lori Whitlock 12 pc puzzle svg
I was so excited to give Lori Whitlock's great 12 pc puzzle .svg a try.  I thought it would be fun AND I needed to send a quick "hello" note to my Mom who lives several hours away.  What better way to say, "Hi" than a cute photo of one of the grandkids?  Well, I think receiving cash is a great way to get a hello…but…I sent this instead.  LOL!
First, I printed a photo of my son with a penguin onto thin chipboard. I love that photo! We had it taken when we did a behind the scenes tour at Sea World last summer.  I'm using the Canon PIXMA Pro9000 Mark II printer.
After it was finished printing, I stamped directly onto the chipboard with the "You're One of a Kind" sentiment from my Sweet Popsicle Puns stamp set.  Try bending these stamps. It's a great way to create a unique look.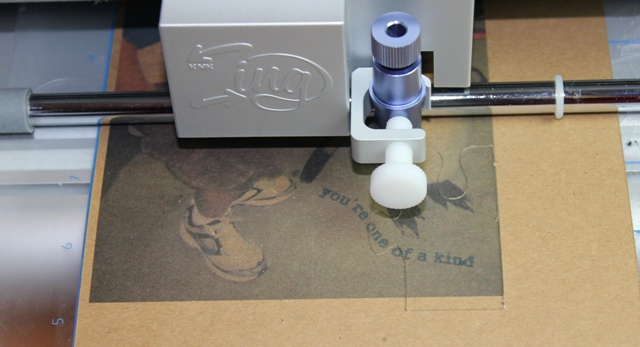 I cut it using my KNK Zing die cut machine.
CUTE!
I'm still learning to use the KNK Zing and I had the blade turned up a bit high and also didn't have the cut centered quite right. Regardless, I think it turned out so cute! (Why didn't I just use the print and cut function? A great question! I am still asking myself that very thing. Would you believe that it didn't occur to me? True story. I'm still pondering my thinking process on that one. Bizarre!)
I put the puzzle into a clear pillow box, tied it with a ribbon and then added the "Shore do Miss you" sentiment from Joy's Life newest stamp set, Pun in the Sun.
I'm sending this to my Mom who lives many hours away. I think it's such a cute and unique way to send a happy hello. Consider using this same idea for invitations! I've done that before and they were a huge hit!
I wrote this post while participating on the Lori Whitlock Design Team.
Happy Crafting!