Advent Calendar Blog Hop – Cookie Tray Gift
Advent Calendar Cookie Tray
My advent calendar doubles as a gift. You can remove everything and have a usable cookie tray. Woo hoo! Wouldn't it be great to give this away and get REAL gingerbread cookies in return? I knew you'd agree.
I used my Gypsy to help me save space and paper. I was able to fit 25 gingerbread men in a small area. I made 5 rows of 5 and each row was 5 inches long. That's a lot of 5's. I opened another tab so I could create all of the layers for the cookies.
This paper is by American Crafts. It has a slight texture to it.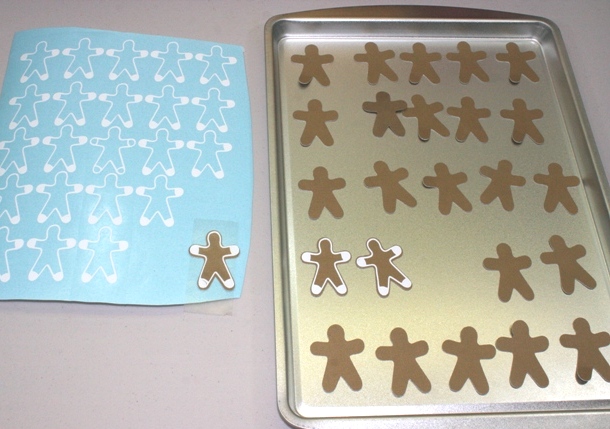 I used white vinyl to create the frosting layer to my gingerbread.  The gingerbread men are from the seasonal Cricut Gingerbread cartridge.  If you'd like to see all the cuts from that cartridge, I made them all HERE.
Say What? I forgot what I was doing!
It wasn't until I finished that I realized I'd cut out mittens when I'd meant to cut out kitchen gloves.  LOL!  Oh well, we'll just pretend they are heavy duty kitchen mittens.  I used the Joys of the Season Cricut cartridge for these "kitchen mittens".  I ran the mittens through my Cuttlebug using the Houndstooth embossing folder.  The coolest thing I used was Marvy Liquid Applique. It's so much fun to use.  First you draw with it, then you use a heat tool/gun on it and it puffs up.  I thought it would be perfect to create those little stitches.  CUTE!
That "Happy Holidays" stamp is from my All Around Sentiments stamps.  I stamped it into a glue pad and then poured the Zing embossing powder on it.  I used my heat gun to melt the embossing powder.  Next, I used that 1-1/2″ punch to punch out the stamp.  I stuck the finished product to a magnet.  Now it will work perfectly as a date marker on the calendar!
See?  Now all we have to do is move the magnet with my stamp on it to the correct day!  YAY!  Then we can treat ourselves with a piece of candy from around the sides of the cookie sheet.  YUM!  After we've eaten our whole project, we can use the cookie sheet to make more goodies.  LOL!  Oh, I used the Designer Calendar Cricut cartridge and red vinyl to create all the numbers on the gingerbread men.
Want to know more about using vinyl?  You know what I'm going to say don't you?  Yep.  Check out my Cricut Vinylology DVD. It will teach you everything you need to know about using vinyl.
Need vinyl? I like to buy mine from Expressions Vinyl.
Happy Holidays!