Painted Cat Bag using Cricut Meow, Tulip Fabric Paint, Viva Decor Pens & Vinyl + Cricut Imagine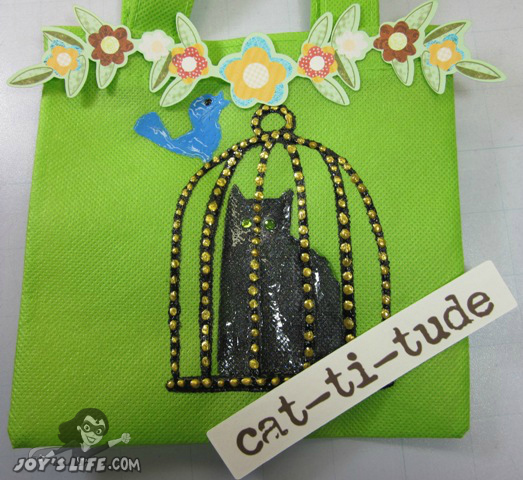 I just couldn't get enough of painting with the Tulip fabric paints after making that Mummy T-shirt.  So, I took some hideous neon yellow vinyl I had and used the Cricut Lite Meow cartridge to make myself a little template.
This is my red Cricut Expression.
I couldn't use any heat on this little bag because (as I found out after ironing it) it's actually made from FOAM.  Yep.  There's even a little blooper in my Cricut Vinylology DVD with one of these bags.  Pretty funny.  I ended up not using them in the DVD at all, but I had to add in the melted blooper just the same. 😉
Yes, I had a very hard time getting the vinyl to stick to this little bag.  I actually ended up using the wooden end of my foam paint brush to burnish the vinyl to the bag.  It worked pretty well! 😀
Sloppy, sloppy, sloppy.  I LOVE IT!  LOL!
Here I'm using Tulip fabric paint.  I just squirted some out and used a foam paint brush to spread it around.
I peeled away the vinyl and what I had was even lamer than this.  LOL!  So, I went back and lined the cage with more black paint straight from the bottle.  Those green bling eyes are from Tulip's Glam-It-Up iron on crystals.  You can find those at Michael's. 😉  I used Beacon Adhesive's Fabri-Tac to glue the eyes on instead of the Tulip heat setting tool because any heat on this bag has proven to be fatal to the bag.  Just ask my iron.  He'll tell you.
I thought my initial creation looked like something only a mother could love.  So, I figured trying some Viva Decor pens on this wouldn't hurt.  Actually, I was AMAZED at how well they worked on top of the paint.  I've only done two projects with them in the past.  One = really ugly.  Another = really cute.
Viva VIVA Los Bird-A!!  (I have the feeling angel Elvis wants to punch me.)
I put the Viva Decor Transparent Gloss Gel
over the bird.  It cracked a bit after it dried, but I still think it improved the overall look.
Woo hoo!  And the bling doesn't stop.  (Oh this would be the perfect spot for a rap, wouldn't it?  I could make a million with the "bling doesn't stop" line.  Brainstorming…and now moving on…rap free.  LOL!)  I used the Viva Decor Gold Creamy Paper Pen
to decorate the cage.  Well, the cat was just calling out for some glittery attention so I covered him in Viva Decor Hologram Glitter Liner Pen
.  It's pretty awesome isn't it?  Thumbs up to Viva Decor.  AND…they dry fast too.  TWO THUMBS UP!  I bought all of my Viva Decor Pens
from Amazon.  They were having a 4 for 3 deal.  YAY!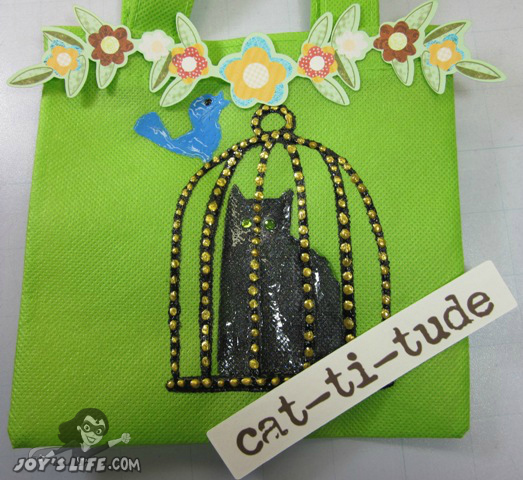 I think it all turned out pretty cute!  I even printed out the flowers and Cat-ti-tude sentiment using my new Cricut Imagine.  I have to say…the cat-ti-tude sentiment was probably worth the price of the Imagine, LOL! 😉
HAVE A CRAFTY DAY with plenty of Cat-Ti-Tude!