Cricut Layered Freezer Paper T-Shirt Stencil Mini Monsters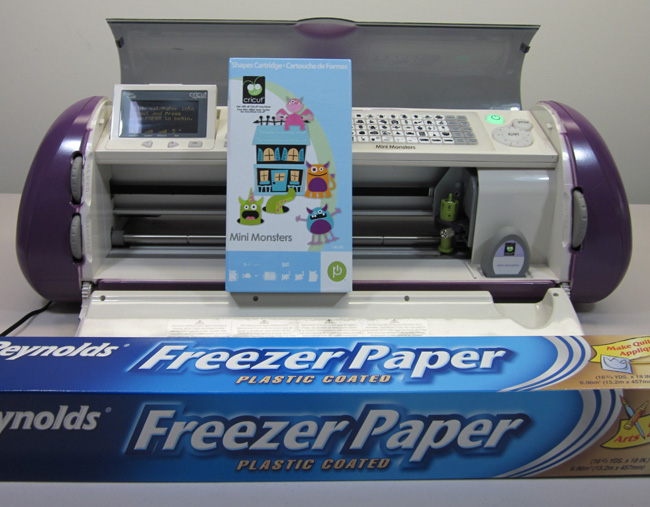 Yep. That's the Cricut I painted purple.
FUN!  I made a stencil using freezer paper, fabric paint and my Cricut so I could create a little mummy tee shirt for my nephew.  I used the Mini Monsters Cricut cartridge for this project.
I used my Red Expression too.
The MOST IMPORTANT thing I can tell you about this project is to make SURE you are using FREEZER PAPER.  It is NOT the same thing as wax paper.  Freezer paper is only waxy on one side.  You put that side against your shirt or fabric.  As that wax melts it sticks the stencil to your fabric.  Very cool!  If you used wax paper, it would stick to your shirt, but it would also stick to your iron.  That's bad news for your iron.
Do you heart that little tabletop ironing board?  I do.  It's perfect for small projects.  I got it at Walmart for about $7.  This one at Amazon is nice because it will even hold your iron.  I kinda want to upgrade.
I used these Tulip fabric paints.  That glow in the dark one works GREAT!  You can buy a bunch of those foam brushes in a package pretty inexpensively.  Thumbs up to that!
I put freezer paper inside the shirt so the paint didn't bleed through.  Be sure 

NOT

 to leave it inside the shirt when ironing!
I put the waxy side down on my Cricut mat.  It helped me remember to put the waxy side down when I ironed. I cut the different layers of the mummy out using the regular blade set at 4, speed 2 and pressure 3.  For my first time trying this, choosing to do a layered design was harder than it had to be.  It worked out fine, but if you want to do something fast I'd suggest doing a single layer or lettering.  I let each layer dry for four hours before adding the next layer.  So…it took a while.  I just wanted to be sure I didn't smear anything.
Look!  My nails match the mummy. This is layer one.  I let it dry 4 hours.
It's not perfect…me neither.
Time for the next layer! I ironed this right over the already painted blue mummy body. Since I had waited until the body had dried completely, I didn't have any trouble when I ironed it down.
I used the purple Tulip fabric paint for the arms and legs.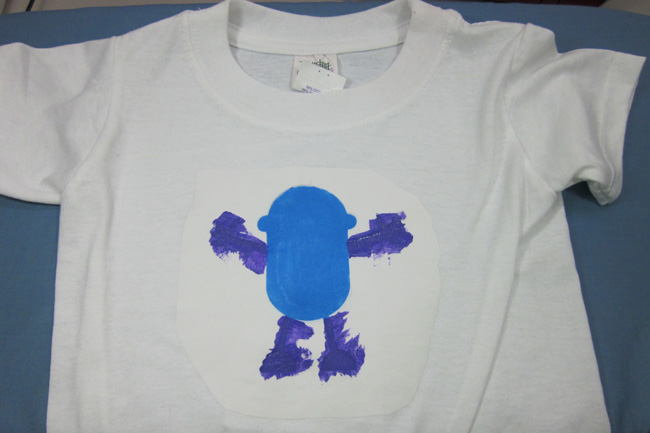 You can be messy.  You're going to pull the wax paper and your messiness right off.  No problem.
TA DA!!  No mess!  So then…I let that dry FOREVER (or 4 hours that just seemed like forever).  Then I did the COOLEST thing.  I mixed some glow in the dark paint with white paint for the mummy bandages.  SO COOL!
So here are the mummy wrappings all ironed down. Then I just painted over that with the white/glow mix. I also used the plastic cover from some tape I bought as a little mixing area. I'm becoming quite the recycler. 😀
This was the hard part for me. I dotted on eyes and freehand painted on the mouth.
I think that turned out pretty cute! I have one more little tip that I found to be quite helpful. Pull the freezer paper off soon after you paint, don't wait for it to dry. If you do, sometimes it's harder to pull off. I remembered to pull it off early until I got to the bandages. I was working on another project at the same time and the bandages were close to being dry when I pulled off the freezer paper. In some places it didn't come off easily.
Here's the BEST PART!!! It GLOWS IN THE DARK!!
Isn't that super cute?! I really like the way it turned out. This freezer paper technique is fun and inexpensive. I hope you have a good time making your things!
Don't forget to hover over all of my pictures for some mummy related fun and facts.