It's April 1st and I'm not foolin'. 😉  Actually, I'm pro pranks all year but anti-April Fool's Day pranks.  So, we're just going to talk about berries.  Why?  Because it's going to be summer before we know it and my husband and I just started making planting plans for our backyard garden.  What I'm most excited about is that this year I just know (hope) my blackberry bushes are going to give fruit.  I'm already planning a pie in my mind.  One of my other favorite fruits, though we can never get them to grow, are strawberries.  So, this post is about them.  YAY!
If you haven't stopped by the Design Team blog lately, I hope you will.  This is one of the recent posts by Kimberly.  Do you love this as much as I do?  She even put Hershey Kisses in those strawberries.  LOVE!  Wait.  There's not a love button for me to press.  Oh well.  LOVE!  I made my own.  LOL!  She's using a Joy's Life stamp sentiment from..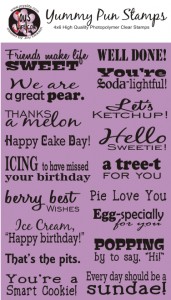 A berry nice time…

At the end of last May, I had a berry good time with my kiddos.  I took them to a U-Pick field for the first time.  I planning on doing that again this year.  You can read more about that and our other mini-uno-day-cations here.
A Berry Useful Cup…
I used Make the Cut and Lettering Delights along with vinyl to help me create this cup.  You can learn how to create one too!  Go to this post.
Box o' berries

I made this box of berries last year.  I just love 'em!
I hope that April is the berry best for you!