Cricut Cartridge Checklist UPDATED & ADDED FEATURE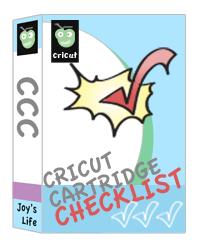 I spent yesterday morning updating the Cricut Cartridge Checklist and it should have every new cartridge on there now.  If you find that I'm missing any please let me know and I'll get them added ASAP.
Added Feature
Super DH "Tech Support" added some functionality that I think you're going to LOVE!  If you click on something on the checklist it will now remember what you checked when you come back to it later! YAY!!  I hope you like this new function.  I DO!
You can click the check mark to go to the checklist. You can also find a permanent link on the right side of my site.
But wait! There's more…
On January 4th I will begin 5 days of posts with new Cricut Users in mind.  I hope you'll let all of your Cricut friends know!
Have a Super Day Everyone!!