The stamps are from the Joy's Life Mother & Daughter set.
I am in LOVE with Sizzix dies. This one was so easy and fun to use! Let me show you how it works.
I'm using the Sizzix #656303 Long Triangle box die.  You'll need the Sizzix extended cutting pads with this die.  That's what you see in the photo.  Here they are all pretty because I haven't used them yet, but after I run the die through, they'll get all scratched up.  That's the way it goes. 😉
I ran a 6×12 sheet of paper through 1 time and it gave me these two pieces. The die scores the paper too, which is so nice. All I had to do was bend the pieces at the score marks. That may look like 2 different sheets of paper, but it's a double sided sheet that I used. The paper is by Anna Griffin, the Isabelle Collection. I bought it last year. It's so pretty.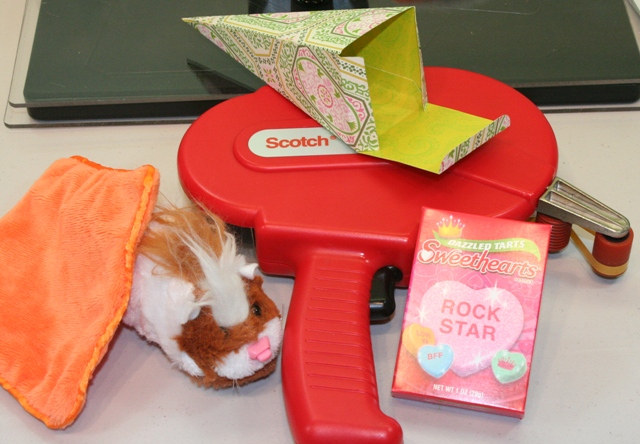 I used my ATG gun to tape the parts that needed taping.  When you make a box it's important to use a strong adhesive.  Though it's not shown, I used my Crop A Dile Big Bite to punch a hole in either side of the triangle box.  Then I threaded ribbon through to make a handle and added some candy hearts.
Here's a link to a video about how to use the Crop A Dile and the Crop A Dile Big Bite.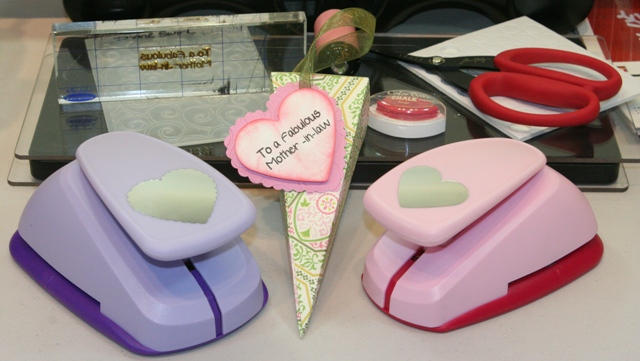 Having some punches makes crafting life easier.  These punches are by Marvy Uchida.  They are my favorite for this kind of punching.  Martha Stewart Punches are my favorite for detailed punching.  I used the 2 punches shown to create the tag.  The smaller of the hearts is inked with ColorBox Fluid Chalk inkpad in Rouge.  I also embossed the pink heart using the D'vine Swirl Cuttlebug folder.  I love that one.
The best thing about the stamp set that I used is that if you don't think your Mother-in-law is fabulous, don't worry about it.  You can switch it out with another term or name.  I know a bunch of you just breathed a sigh of relief.  LOL!  My Mother & Daughter stamp set works perfectly with my Father & Son set too. You can check them out on the Joy's Life Products Page.
Time for a Give Away…
Best Craft Oranizer.com has given me one of their great Spool & Store Ribbon Storage and Dispenser Systems to give away!  Have you seen it before?  Here's a video I made all about it:  How to Use the Spool & Store Video
To be eligible to win: Leave me a comment telling me what your favorite crafting items are. I'll choose a winner on Friday, February 11.
AND THE WINNER IS:
Nancy C. Says:
February 7th, 2011 at 4:47 PM e
What a cute box! I guess my favorite item is my expression – but I just got my gypsy and I managed to weld two hearts together and make alot of cards that my granddaughters could use, so that is fast becoming my favorite. I don't even know everything it can do and I love it already. I also love my punches. Thanks for all your great advice!
Don't forget to pre-order your YUMMY PUN stamps while there's still FREE SHIPPING!