Peachy Keen Guest Designer Valentine Holder from Tissue Box
Today I've created a Valentine holder from a tissue box.  I LOVE to upcycle things.  Basically, upcycling is finding new uses for useless or throw away items.  It's a passion of mine. 🙂  Do you remember when I turned a Kleenex hand towel box into a car wash?  Here's a link to that post.  I also upcycled a drink holder.  I think it's so cute…here's a link to that too.
oops this photo is on a vacation
I used super simple tools to create this Valentine holder.  Mainly, I used an Exacto knife, heart punches by EK Success and Marvy Uchida Heart Punch.  You're going to be surprised to learn that I used Peachy Keen Monsters 'n More for the two heart faces on the bottom of each skewer!  (I don't think they sell that set anymore.)  I used Peachy Keen Wide Eyed Kids Face Assortment for the rest of the faces.
uh oh, this photo is vacationing too
I also used an ATG gun, tulle for the ribbon, pop dots, tissue paper, black ink for stamping and liquid chalk for inking. Use a self healing mat when cutting with an Exacto/craft knife. It provides an excellent surface for cutting and you can press down hard with the knife without worrying about damaging anything. Be careful though!
I'm so thrilled that I finally found a reason to use these AWESOME Fringe Scissors.  I used the fringe scissors and red tissue paper to make a pretty and fun lining for the top of the box.  Zip Dry paper glue helped me attach the fringed tissue paper to the inside of the box top.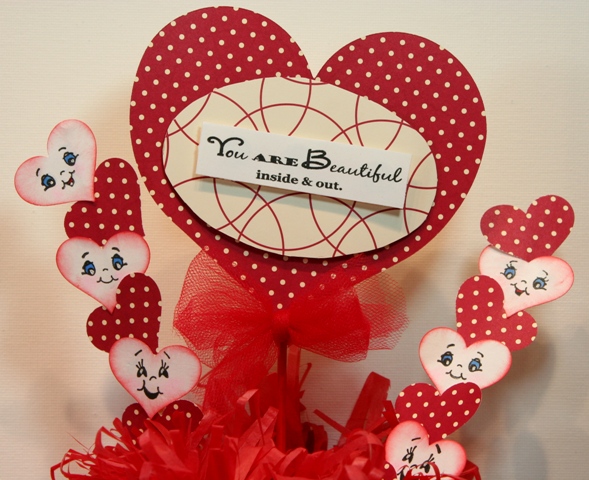 The "You are Beautiful inside and out" sentiment is from the Joy's Life Mother & Daughter stamp set.
Look at all those cute Peachy Keen faces! I used DH's grill skewers to attach the hearts. Poor DH. His bamboo skewers have been depleted for crafting uses throughout the year. LOL! I used a red Copic marker to color the skewer with the big heart on it. It blends in much better after coloring it red.
This vacationing photo will be back eventually, I hope!
I hope you like my upcycled tissue box Valentine holder! 😀
And now…time for a fun Give Away!!
AND THE WINNER IS…
morefunscraps Says:
February 3rd, 2011 at 10:14 AM
Love the pillow boxes. You are amazing with coming up with ideas. I so need to puchase those for my machine. I would love to have those adorable peachy keen faces. I am just starting my crafting and everything is so expensive. This would be a great gift for me to add to my crafting collection.
Peachy Keen has given me a set of their PK-754 Critter Faces Set A to give away during my week of Guest Designing. YAY! All you have to do to be entered for a chance to win these cute stamps is to leave a comment here and also on my post on the Peachy Keen blog. I'll choose a winner Saturday, Feb 5 and post the winner on Friday's post. 😉