Peachy Keen Guest Designer Sizzix Pillow Box & Sizzix Milk Carton
I'm having so much fun stamping this week! Today I've made pillow boxes and a milk carton. Don't worry…it's not a real milk carton. LOL! It holds candy!!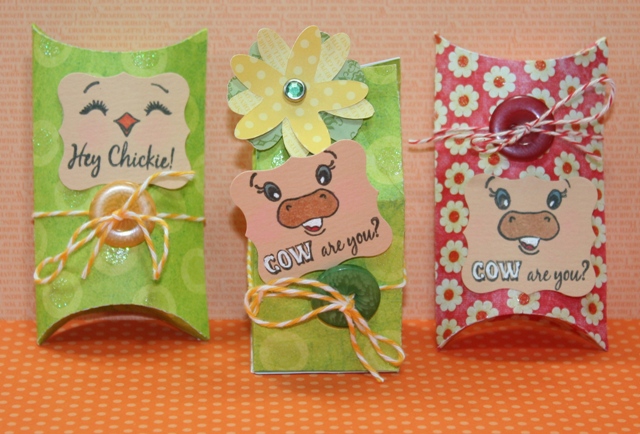 PKS Guest Designer 2011
Look how well the Peachy Keen PK-754 Critter Face stamps work with the Joy's Life Lots of Pun stamps! The Sizzix Pillow Boxes are on the right and left, with the Sizzix Milk Carton in the Middle.
I love my Cricut.  You know that, of course.  I've used it to make pillow boxes and milk cartons before.  Here's a link to the Cricut made pillow boxes and to the milk carton.  So, you might wonder why I bought those very dies from Sizzix.  Right?  Well, sometimes it's nice to have a change and not have to use the Cricut.  Plus, you can use thicker materials with the dies than you can with the Cricut.  You can also cut multiple things at one time.  The real downside is not being able to adjust sizes.  Regardless, I had fun using these dies with my Big Shot.  It's especially nice to have dies for cuts you will make often.  Here's a link to the Sizzix pillow box on Amazon.
Buttons + Copics + Stamps = Pretty
There's a Joy's Life Lots of Pun stamp sharing one side of a block with a Peachy Keen cow face stamp!  I used Copic markers to color in the stamps.  I also used a Signo white gel pen to color in all of the white areas including the "cow" word.  I used chalk to give the cheeks of the animals a little color.  That Stampin Up punch helped me give a fun shape to the animal tags.
I love pillow boxes!  They're so prettily shaped and useful.
You can see how the milk carton can pour out its contents if you look at the top right side of it.  I did use my Cricut in this project, just not to make the containers.  I used it to make the flower on the milk carton.  That flower is cut at 1-1/2″ using the Cricut Mother's Day Bouquet cartridge.
And now…time for a fun Give Away!!
Peachy Keen has given me a set of their PK-754 Critter Faces Set A to give away during my week of Guest Designing. YAY! All you have to do to be entered for a chance to win these cute stamps is to leave a comment here and also on my post on the Peachy Keen blog. I'll choose a winner Saturday, Feb 5 and post the winner on Friday's post. 😉
Come back tomorrow for another Peachy Post! 🙂
Don't forget to check out Joy's Life's Design Team post today!!