Cricut Halloween Treat Boxes Using 12×24 Mat
These pumpkins have candy guts.
If you have to make a lot of something, you're going to want to use the 12×24 mat. It's GREAT not only for making big things, but for cutting multiples of things. In this case, I've only cut 2 things out of a sheet of paper, but you can do way more than that depending on what you are cutting out.
I found this 12×24 paper at Hobby Lobby. It can be hard to find, so you might want to shop online for it. Occasionally, other companies make 12×24 paper, but this paper is by Cricut.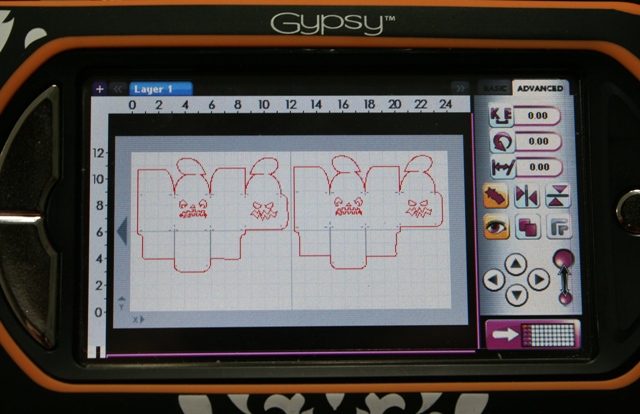 I used the Tags, Bags, Boxes & More Cricut cartridge for this heart shaped box. Can you tell that it's a heart shaped box? Look at the top and you'll notice the heart. Here's a link to another post I made where it's an undeniable heart box. 😉
I used the Happy Hauntings Cricut cartridge to make the Jack 'o Lantern faces on either side of the box. Originally, they were whole pumpkins with carved faces, but I used the Gypsy to delete the circle of pumpkin so I would just be left with the faces. Then I welded them onto the box and cut them out. 😀
Previously, I cut the heart box out for another project and I learned that making it "fit to page" on a 12×12 mat made it a good, workable size. This time I used my Gypsy and did basically the same thing. I made both cuts fit as they would on a 12×12 mat.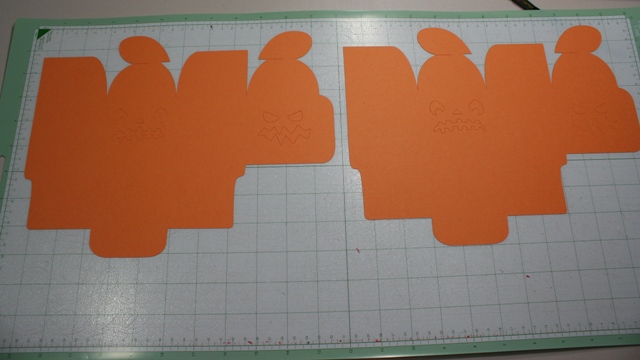 Now we have to score them.
Ah HA! Proof that I didn't eat all of that taffy from yesterday.
I use the Fiskars Paper Trimmer and Scorer and I really like it.  After scoring, I folded everything and glued what needed to be glued.  I just used my ATG gun for that. 😉  Curious what difference scoring makes?  In the photo below, the pumpkin on the left isn't as well scored as the one on the right.  You can tell because it doesn't have neat, crisp folds.  I used Stickles on the heart tops so they could be leaves.
There you go!  2 Fun Pumpkin Candy Holders!
These Happy Hauntings creations have an even happier ending than candy…
…a GIVE AWAY!!!
The really special treat in this treat/gift bag post is a Give Away from Oh My Crafts that includes Imaginisce Spooky Town kits for TWO WINNERS!!!  These kits are SOOO CUTE!!
TWO WINNERS will receive: Tombstone Terrors Stickers, Spoooky Sticker Stackers, Pumpkin Parade Rub-ons and a Spooky Town Glossy Paper Pack of 12-2 sided glossy sheets.
WINNERS
# goddessmychele Says:
October 19th, 2010 at 4:07 PM
Between your videos on you tube and your posts here I'm going to be ready to create when my Expression and Gypsy get here- hopefully in just a couple more days! Thanks for all you do to inspire and teach!
# mcvicwif Says:
October 18th, 2010 at 12:22 PM
Oh Joy! Thank you for explaining about the Gypsy! I will show my husband your comments and (cross my fingers) maybe I will get one soon!!! Thank you! This is just the push I have been looking for to upgrade my little bug! Love the project, I have 4 kiddos, and I know they would all love this!
Thanks
kacee
Thank you Oh My Crafts for this super fun donation! I know it's going to be adored by the winners! I'm going to use Random.org to choose a winner on Thursday the 21st so I can get them shipped out to the winners before Halloween. So, leave a comment and Good Luck!
See you Tomorrow for some more crafty fun!