Cricut Holiday Door Hangers 12 Days of Christmas DAY NINE GIVE AWAY
You can make your own door hangers!
I have wanted to make my own door hangers for a long time and I finally did it! YAY!  This 12 Days of Christmas has been good for me.  Last night the kids, DH and I all played several rounds of the Bingo game I made.  They loved it!  I walk past my vinyl angel decor and feel pleased that it's somewhere we can all enjoy it (on the way to the kitchen, LOL).  In the kitchen I have the advent calendar I made.  It's sitting on the island.  Each day I notice that someone has moved the magnet to a new day.  That makes me so happy.
To create these door hangers I used the My Community Cricut cartridge.  You can also find door hangers in the Batman, Superman, Locker Talk and Sesame Street Elmo's Party cartridges.  They aren't all shaped like this one, but they are door hangers. 😉  I used multi-cut 2 AND the deep cut blade.  I've found that my Cricut prefers a fairly thin chipboard for cutting.  I suggest looking for chipboard that is the thickness of a cereal box (or using a cereal box). 🙂  Here are some projects where I've cut cereal boxes with my Cricut.
After I cut the chipboard door hanger centers, I switched to the regular blade and cut some paper by Bo Bunny to cover each side.  I cut the hangers and their covers at 8″.  I was able to get 3 hangers out of one sheet of 12 x 12 cardstock.
I used my ATG (adhesive tape gun) to glue everything together.  If you don't lay your paper down just right and you're a little off you can do what I did and sand the edges down a bit.  I then went over the edges with some chalk.  Problem solved!  Hey, it happens to everyone. 😉
I love to use reversible paper.  It's such a nifty little trick to be able to flip paper over and know the other side will match.  Easy as pie…not homemade pie from scratch, but store bought pie.  Here I've also laid a little piece of red scrap paper behind an area I punched out using a Martha Stewart snowflake punch.  That allowed the negative space to show as a snowflake.
I used the Winter Frolic Cricut cartridge to decorate my door hangers.  Here's Santa being assembled.  I had to recut one of the red pieces because my Cricut freaked out and made a weird cut.
Winter Frolic is a pretty cartridge, but there are a lot of pieces to many of the cuts.  I find it easier to use vinyl with this cart, but I heart vinyl so that shouldn't really surprise anyone. 😉  I actually used vinyl on the bird hat and the ribbon over the birdhouse.  I even used Stickles on the vinyl ribbon!  The paper the birds are cut out of is paper I created using my Cricut Imagine.  It's leftover from this project.
Need vinyl?  I like to buy mine from Expressions Vinyl.
Here are the cartridges, Stickles and Cats Eye Colorbox chalk I used.  I love that Winter Frolic cartridge!
HO HO HO!!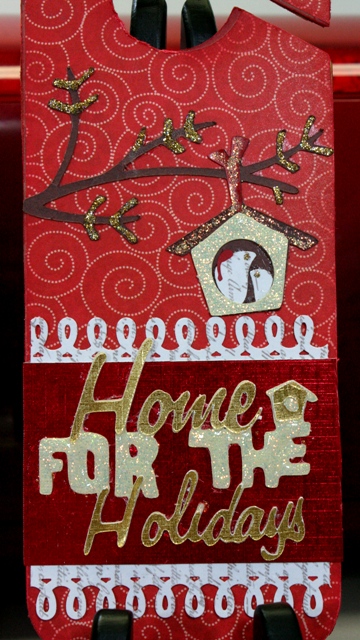 TIME FOR A GIVE AWAY!!!
On the 9th Day of Christmas Custom Crops.com Gave to one Winner….
a $25 Gift Certificate to be used at Custom Crops.com!!
 Happy Shopping! To be eligible to win please leave a comment on this post. The winner will be chosen by Random.org on December 13.
Winner's announced on this post.
Join me on Facebook and Twitter!
SEE YOU TOMORROW FOR THE 10th Day of Christmas and a Crafty Post & Give Away!!