Hey Gorgeous Iron On Vinyl Silhouette Cameo Cover
Why have a plain Silhouette Cameo cover when you can make it talk to you?  (Clearly, mine is flirty.  LOL!)  With just a little heat transfer vinyl you can make yours say anything!
I'm using glitter heat transfer vinyl by Silhouette.  Expressions Vinyl has a lot of glitter heat transfer vinyl choices, so you might want to check them out too.
I bought the Cameo dust cover from Amazon.  They've got a nice bundle deal on the Cameo too.  (UPDATE: This also fits the Silhouette Cameo 2.  Read about the differences in the two models here.)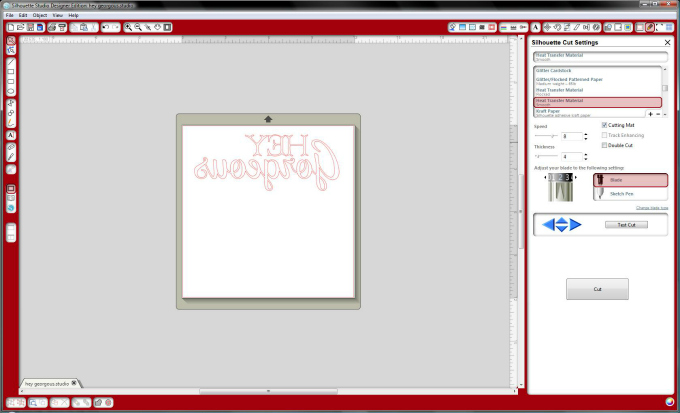 I created my words using the "Small Rose" font for "Hey" and "Rochester" font for "Gorgeous".  When you're creating a heat transfer lettering project be sure to reverse your words or you'll end up with a backwards creation.  So sad.  Ready to cut?  Choose the "Heat Transfer" settings that apply to the kind of vinyl you're using.  I'm using smooth today.  I found that moving my blade to #4 worked best for this particular vinyl.  Remember, when you cut heat transfer vinyl it goes SHINY SIDE DOWN on the mat.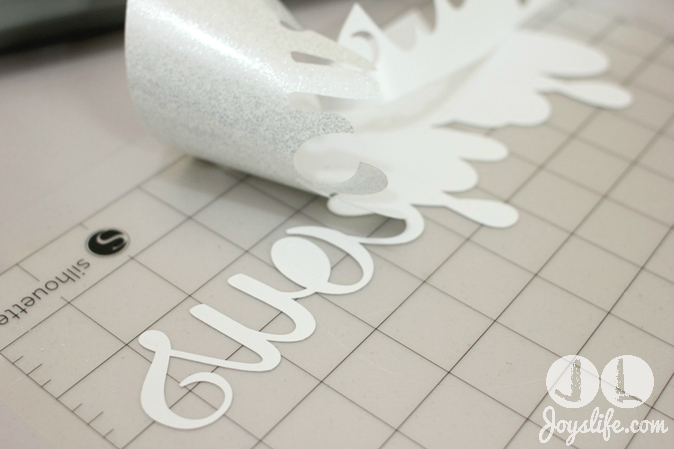 Now I'm removing the vinyl I don't want to use from the vinyl I do want to use.  That's called weeding.
Want to see some of my other vinyl projects?  Check out my vinyl Pinterest board.
Sweet!  This is going to look good!
I peeled the lettering off and put it on the cover where I wanted it.  Next, it's just a simple process of ironing and I'll be all done!  (Ignore that green stain on the bottom left.  That's leftover from a melting incident back when I created my Cricut Vinylology DVD.)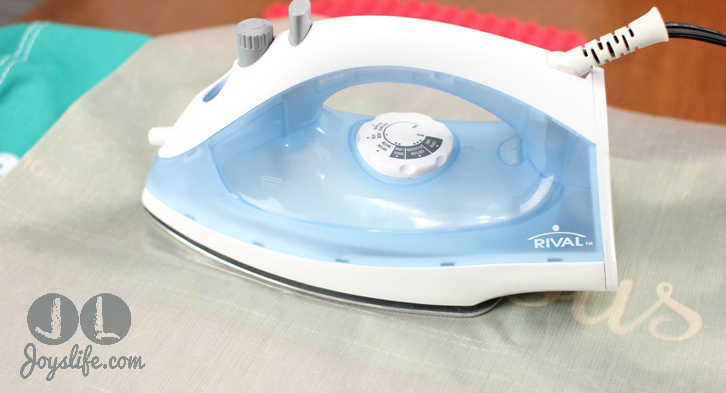 I'm ironing on a teflon sheet that is directly over the vinyl lettering.  Put something on the inside of your Cameo cover to keep the two sides apart.  I had a small melt issue with some of the lining.  It wasn't a huge deal but I wanted to let you know. 😉
The clear piece is the backing of the vinyl.  It gets thrown away after you've got your image ironed down.
Need help with the Cameo?  Check out my Silhoutte Tutorials!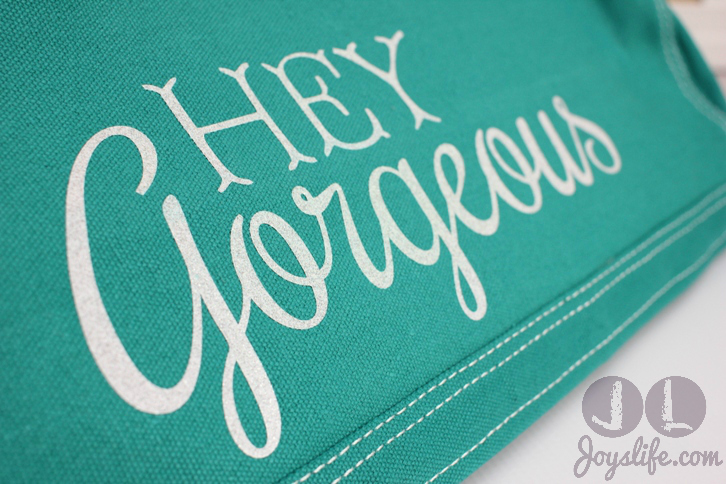 Well, hi yourself, Cameo!
I like that my new cover is silly.  I imagine that it's like all those Pinterest and Facebook pictures of famous actors that people have captioned to compliment them on shopping for more scrapbook supplies and things like that.  Silly fun. 😉  Apparently, my Cameo appreciates the crafting in my pjs look that I usually sport.  Cameo, you're swell.
So, that's how you make a lovely talking cover for your Cameo!  Now my Cameo is protected from dust and the general chaos that can occur in my craft room.  (For a general chaos reference see this photo on Instagram.)  Ok…now just follow me on Instagram because one day I might show a photo of it clean and you don't want to miss that.  LOL!
Check out all of my Silhouette projects here (Joy's Life) or on my Silhouette Pinterest board.
Happy Crafting!