Cricut Artbooking Hello World Masculine Card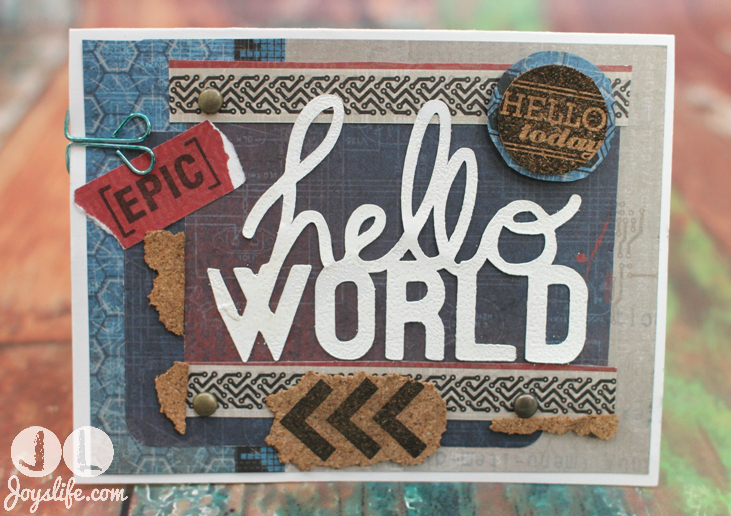 Today I used the Cricut Artbooking cartridge, available through Close to My Heart, to make a masculine card for my husband.  The "Hello World" saying is perfect for a new baby but it can also be used for a software/programming card because "Hello World" is one of the first programs that people learn.  My husband has been in computers for a long time but I still remember when he got that first "Hello World" back.  It was a happy moment that we both remember fondly.
I created a standard A2 card (4-1/4 x 5-1/2) base out of white cardstock.  I cut pieces from the CTMH ProPlayer Paper Packet to fit just within the edges of the card, leaving a small white border.
I cut the "Hello World" words out at 2.5″ using white cardstock.
To give the cardstock a bit more strength and dimension, I covered it in clear VersaMark and then coated it in white embossing powder.
I almost just added the words to this card and called it done but it just looked so plain.  So I tried a few more things.  Oh!  I used that Art Glitter glue again. It worked great on details.  YAY!
I used a blue Copic marker to color these silver paper clips.  They fit the card better blue than silver.
I used the CTMH Real Life stamp set for all the stamped images.  I LOVE stamping on cork!  I got this cork a long time ago but I just recently got it out and tried stamping on it.  LOVE!  It's so cool.  This cork is adhesive backed which makes it a cinch to apply to things.  I stamped directly onto the cork and then punched it out with a circle punch.  Awesome!
Wanna see more?
I used cork on these recent projects too.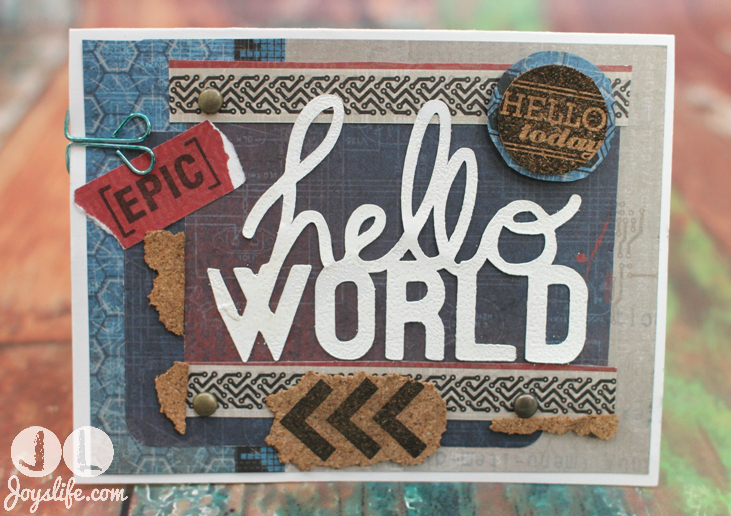 I hope you liked this card!  It was fun to make and it made my husband smile.  YAY!
Check out these great deals from Melanie with Close to My Heart:
You can also find a link to shop Close to My Heart with Melanie on the right hand side of the page.
Disclosure: The stamps, paper and cartridge used in this post were sent to me by CTMH consultant, Melanie Brown.
Have a Crafty Day!