Margarita Card and Lime Box – Summer in 3D Blog Hop
Hi Friends!  Welcome to the Summer in 3D Blog Hop!  Be sure to visit all the creative ladies at the bottom of this post AND don't miss the giveaway!
I can't help but think of Jimmy Buffet's Margaritaville song when I think of summer.  That's why you'll see the pop tops on my card.  If you're familiar with the lyrics of that song, you'll catch that reference immediately. 😉  I actually prefer daiquiri's but I defer to the more famous margarita when making my fun summer 3d project.  Plus, that song wins hands down.  LOL!
I'm using SVGCut's Fruity Fiesta SVG kit with the Sizzix Eclips to create this cute lime 3D box and fun margarita card.  To keep from wasting paper, I made notes of which pieces from the different projects used the same color cardstock.  That way I was able to group like colors and organize the shapes to take up the least amount of space on the paper.
This is the first time I've used this Circle Background by Darice.  I really like it!  I rubbed a yellow ink pad over it after it was embossed.  I'm on a same color inking jag right now.  Did you see when I used a pink/red combo earlier this week?  I love it!
Did you just say, "Hey, what I need are some stamps?"  Well, you can find these stamps and more in the Joy's Life Store.  Don't miss the Bundle Deals for Extra Savings!
The set I'm using here is "Pun in the Sun".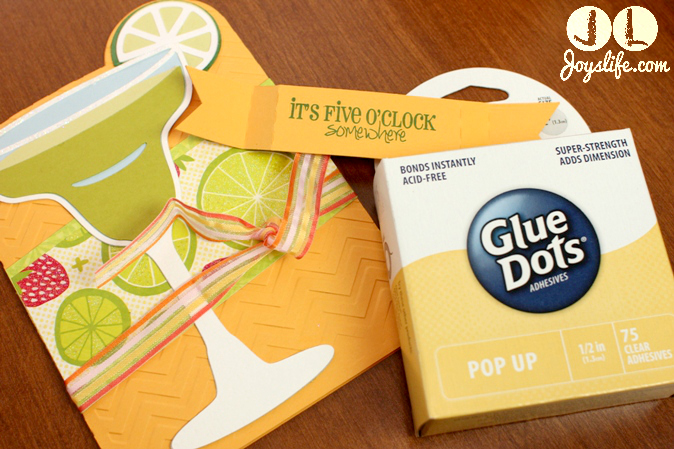 I added Stickles to the rim of the glass so it would have the salted look.  I cut a slit in the side of the card and ran a piece of ribbon around it.  Next, I added Pop Up Glue Dots to hold the ribbon in place and help steady the stamped paper ribbon.
My daughter saved those pop tops for me from some energy drinks.   How sweet!  I love them on this card.
I wrapped some ribbon around the lime for added texture.  I was happy that this ribbon got used and that it matched so well!  I'm giving this card and box to my sister-in-law for her b'day in a week.  I'll put a gift card and candy in the box.  She'll like this!
Go See What These Talented Ladies Made
Joy: YOU ARE HERE – WELCOME!
Dawn: http://dawnmercedes.blogspot.com
Kendra: http://luv2scrapnmakecards.blogspot.com
Jennifer: http://creativecricutdesigns.blogspot.com
Patty: http://craftykitten1.blogspot.com
Cyndy: http://arcyscraps.blogspot.com
Julie: http://muddypawsinkyfingers.blogspot.com
Laura: http://www.laurascraftsandmore.com
Stacey H: http://staceyscreativecorner.blogspot.com
Maria: http://asimplefive.blogspot.com
Lori: http://got2bcrafting.blogspot.com
Megan: http://thoughtsoftraveling.blogspot.com
Giveaway
Leave a comment for a chance to win Pun in the Sun and Sweet Popsicle Puns stamp set!  The winner will be chosen August 3 and listed on this post.
And the winner is:
CathyinMN says:
JULY 27, 2013 AT 4:38 PM
What a fun and colorful card and cute box! Thanks for the chance to win some of your stamps.
Have a great day!