Wash the Dishes Kitchen Towel with SEI Tumble Dye
The kids are out of school for the whole summer.  Now is the perfect time to make some awesome crafts together!  Here's an idea…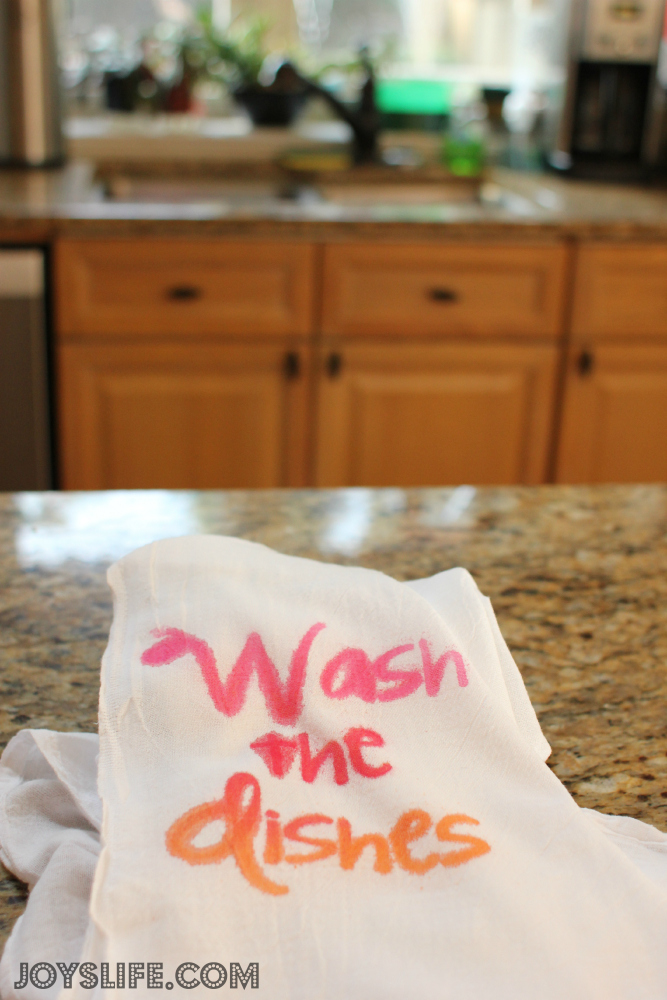 See, if you create a direct command in ombre coloring it makes doing the dishes seem exciting and fun!  Right?!  Um…to avoid disappointment maybe we shouldn't test that whole "doing dishes is exciting" theory on the kids but we should still make funny towels anyway.  LOL!  Regardless of what you want your towel to say, here's how to make one using the super easy SEI Tumble Dye.
Design your template using a die cut machine, cutting by hand or using a purchased stencil.  I'm just using some plain white cardstock like I did in this tie dye post.  If you want a crisper look than the one I achieved, consider sticking your paper down with Glue Dots, that way the dye will stay in the lines.
That being said, these flour sack kitchen towels that I'm using are absorbent and thin, so the dye is going to bleed some.
I want mine to look damp when it's finished, like a kitchen towel that's wet from the sink.  So, I wanted a little overspray/bleed with the letters or I would have stuck them down better.  This time I took steps to cover all of the fabric that I didn't want colored, as opposed to when I made this project.  I simply used scrap paper so I could throw it all away when I was finished.
Isn't that pretty?!  First I sprayed the word "Wash" with the pink Tumble Dye, then red and orange as I continued to the following words.  I put the plastic sheet that protects my die cut mat under the layer of the towel where I was spraying so the dye wouldn't spread to the layers below.
To keep the spray from getting all over my white desk, I use a Inkssentials Craft mat.  I've been using them for years and love them.  You'll also see them marketed as Ranger craft mats.  You can even use an oven liner.  I bought this one and have been using it for over a year but I still prefer the other ones.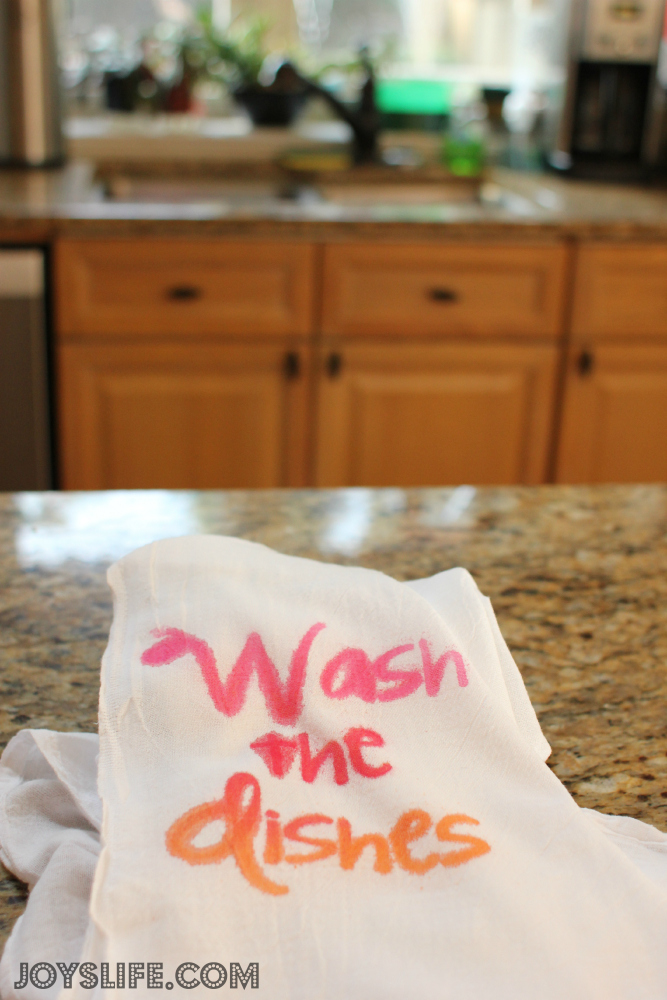 To set the dye, heat set the towel in the dryer or with an iron.  Bring on the dish washing…or the crafting of more towels!  What will your towel say?
I wrote this post while participating as a member of the SEI Design Team.
Happy Crafting!