Cherry Cream Cheese Tarts & Lettering Delights Cupcake Wrappers
Today, I cranked up my Silhouette Cameo to make some fast cupcake wrappers from Lettering Delights for these yummy Cherry Cream Cheese Tarts I made. The real star of this post are the tarts. They aren't too hard to make and are DELICIOUS. They're so pretty too, perfect for a celebration!
Cream Cheese Tarts
Print Recipe
Share by Email
Share on Facebook
Share on Twitter
Pin Recipe
Ingredients
Notes
Preheat oven to 350°F.
Place a paper cupcake liner in each cup (12 total) of muffin pan.
Beat cream cheese with electric mixer until fluffy. Add sugar and vanilla, beating well. Add eggs, one at a time, beating well after each.
Place a vanilla wafer FLAT side down, in each muffin cup. Spoon cream cheese mixture over wafers filling each to about 1/4 inch from top of paper.
Bake for 20 minutes.
Allow tarts to cool completely before filling. When you remove the tarts from the oven, they will be puffed up, but as they cool, the center will sink, creating the perfect well to fill with a couple of spoonfuls of your favorite filling.
Chill thoroughly before serving.
To make this fast, I printed the wrappers on my printer and then cut them out with the Cameo.
Aren't these pretty? They're from the Sweet Peeps Cupcake Wrappers collection. You get 10 different patterns. Several are Easter and Spring related but I think the others work year round. (I don't think these are offered anymore, sad.) Want something different? Check out these cupcake wrappers for a ton of options!
Snack Time!
I mixed up the batter and poured it into a wrapper lined muffin tin that had vanilla wafers in the bottom of each one.  You know why my wafers look so weird?  I made them myself!
I told you our family's been cooking a lot. I guess I have the cooking bug because instead of running to the grocery store for a box of 'Nilla wafers, I used this recipe and made my own.
Under each of those batter filled cups is one of my homemade vanilla wafers!
I overfilled these because I refuse to follow certain recipe directions so that I can maintain my rebel status. LOL!
This is sort of the best recipe in the world because you WANT it to CAVE IN when it comes out of the oven. Oh, sweet! As it cools, it creates the perfect place for you to add some pie filling or fresh fruit…sweet cream…a wad of cash…whatever. I used cherry pie filling because it's awesome.
So…well..hmmm…I made this and it looks beautiful. Just like…it should be on a picnic table in the middle of summer just waiting for the rocket's red glare and the bombs bursting in air, right? Yeah. It's December. Consider your cupcake wrapper color choices…OR…do what I did and make new wrappers for it!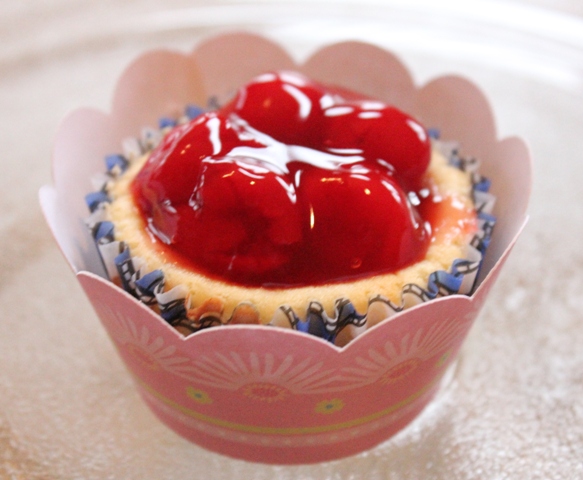 Whew.  These pink cupcake wrappers saved the day…actually…I could go for some BBQ, fireworks and an outdoor picnic…however…it DID just start snowing.  LOL!  Hey, when the 4th of July rolls around somebody better remind me to make these!
I hope your day ROCKS!