Bunny, Chick & Lamb Easter Gift Cards & Egg Holder – Glue Dots Design Team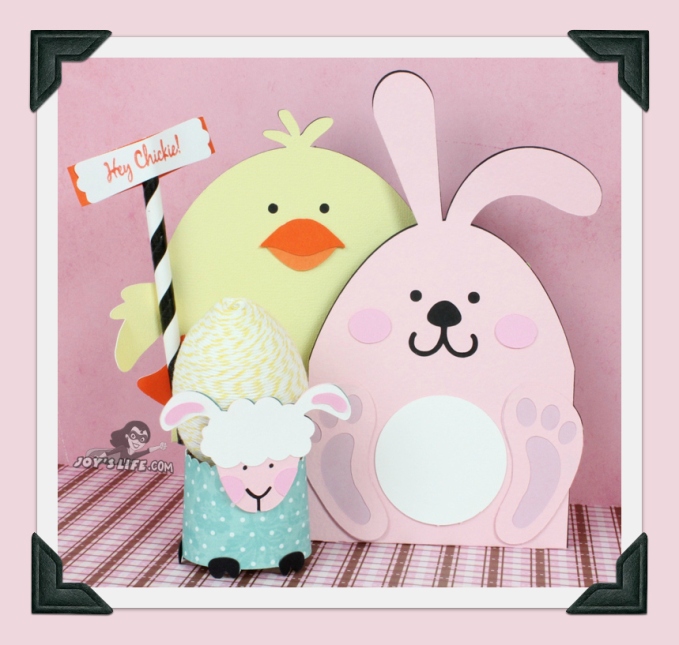 Hoppin' Down the Bunny, Chick and Lamb trail…
How cute is this group of friends?  Un baaa lievably cute!  They're easy to make too, which is always high on my list of likes.  I used the Peep Squeakers Egg Holders file from Lettering Delights to make that precious lamb.  That happy chick and bunny are from the Peep Squeakers Gift Card Holders file.  These guys are even cute from the back!  Scroll to the next photo to see!
Do you remember that twine egg?  I made it in this post.
Say what?!  An Easter gift card holder?  Too cute!  See how easy they are to make below.
Need some fun stamps?  I just announced 3 new sets!  Go check them out on the Products Page.
These are the pieces that make this project.  They cut out very easily, bend on perforations and layer without any trouble.  Sweet.
I'm using Glue Dots® Mini and Craft Glue Dots® to attach the different layers of the animals.  Here's a tip:   A small circular band can create an egg holder.  Simply cut one smaller than the base of your egg and glue the ends together.
Have a cute animal shape but not using these files?  A gift card holder can be made by measuring your card and adding about a 1/4″ of an inch around three sides, folding the 1/4″ overlap and gluing it to the back of your paper animal using Craft Glue Dots®.  I really like that cool journal plate and bracket punch.  I used it to create some negative space for my stamp by punching the orange paper and then gluing it over white paper.
This chick can hold things!  Well, that's because I used a Glue Dot, a straw and some leftover paper to stick a sign to his hands.  You can too!  Don't have straws?  Roll up some paper into a straw shape or use a toothpick or wooden skewer.  That works too.  The "Hey Chickie!" saying comes from my very first set of stamps, "Lots of Pun".
I wrote this post while participating on the Glue Dots Design Team.
Here's an idea for making crosses for Easter.
Have fun creating for this joyful holiday!