It's All Fall Blog Hop – Twine Pumpkin
 Welcome to the "It's All Fall" blog hop!  Be sure to check out the blogs (AND GIVEAWAY) listed at the end of this post for more fun fall ideas!
I am so glad that I finally did something with this Dollar Store foam pumpkin! It's been sitting in my craft room for almost TWO YEARS looking all boring and out of place.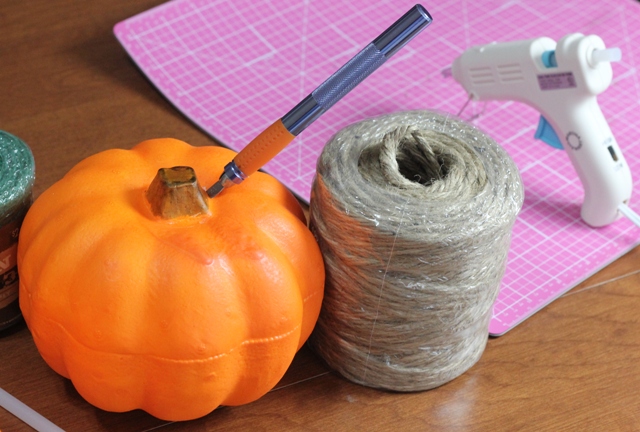 You only need a few things main things for this project: a pumpkin, twine, scissors and hot glue. Using my Fiskars Craft Knife, I cut off the stem. Keep the stem around. Yer gonna need it.
Now, it's just wrap and hot glue, wrap and hot glue.
I had quite a time deciding how I would wrap my pumpkin. I chose to keep the twine in one long strand while I criss crossed the pumpkin and glued. However, I found that keeping one continuous strand made for quite a bulky pumpkin. In the end, I went back and cut some of the areas much shorter and blended them in. That gave the pumpkin a much nicer look. You could cut a bunch of strands and apply them but I just didn't have the patience for that. 😉
Can you believe that's the pumpkin stem we removed earlier?  Copic Markers can do amazing things.  I used these two markers to turn that previously super fake looking stem into a not quite as obviously fake looking stem!  LOL!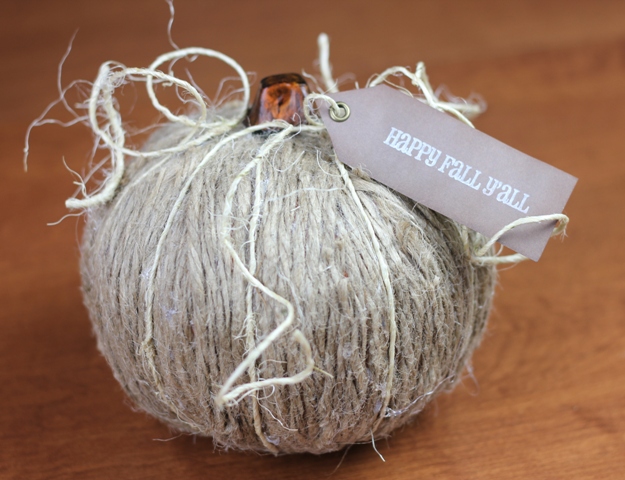 Now that the stem is all colored, I just hot glued it to the top of my finished pumpkin. Woo hoo! To give the pumpkin some extra details, I used a thinner and lighter color twine to define the lines of the pumpkins sections. I left the thin twine long at the top so it would look like the vine.
I wish you could see this pumpkin in person because it looks even better in real life!  Even my hubby and sons loved it!  If you need some fall stamps for your projects, check out my, "It's All Fall Puns" stamp set on my Products Page.
Time for a Giveaway!!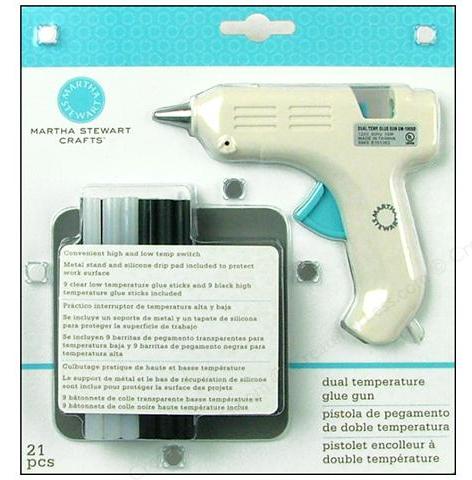 Leave a comment on this post to be eligible to win an awesome Martha Stewart glue gun…like the one I use in this post. I love that thing!
AND THE WINNER IS:
Sallyedm says: SEPTEMBER 17, 2012 AT 12:36 AM
Hey, Joy! I haven't written in forever…but just wanted to let you know how much I enjoy your blog. The mini-mini vacations were so fun to read. I'm in california so won't be able to go to any of the places you went anytime soon. I really like you wrapped pumpkin. I found a little pumpkin I've had for a long, long time, some twine and an exacto knife…now if I just had a glue gun! Hmmmm. How about some fun and spooky vinyl projects for Halloween? I have a bunch of vinyl, but just never know what to use it for!
Thanks for everything. You ROCK! P.S. My dog just got skunked! Do you have any recipes to get the smell out of carpet (and hardwood floors and bedding and towels and bathtubs…auuugggghhhh!)
AND NOW CHECK OUT THESE AWESOME BLOGS!
Joy: You Are Here…WELCOME!
Sarabeth: http://www.chroniclesofsarita.blogspot.com
Maria: http://joyfulstamper.blogspot.com
Patty: http://craftykitten1.blogspot.com
Lori: http://got2bcrafting.blogspot.com
Megan: http://thoughtsoftraveling.blogspot.com
Stacey: http://staceyscreativecorner.blogspot.com
Cyndy: http://arcyscraps.blogspot.com
Amy: http://redheadedcrafter.blogspot.com
Laura: http://www.laurascraftsandmore.com
Jennie: http://earthyscrap.blogspot.com
Thanks so much for stopping by!