Easter Basket from Cricut Easter Cartridge
Isn't this pretty?  What a nice design!
To make this, I used a 12×12 piece of cardstock and the Fit to Page button on my Cricut Expression. I'm looking at the finished product from across the room right now and I'd say the basket part is about 4″ tall, not including the handle. It turned out so well I put it on a lighted bookcase I have in our den. I love it!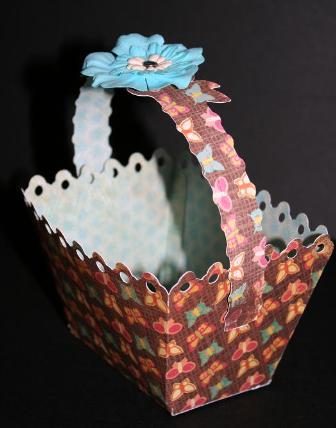 Notice the top of the handle next to the flower? There are little leaves on both sides of the flower. I didn't even notice them until after I had applied the flower, so I just left them unadorned. About the flower I added…it's just 3 paper flowers that are layered and are attached with a blue jeweled brad. There is a hole already in the top of the handle which is just part of the cut. I did use my Crop A Dile to cut holes in the paper flowers because they didn't already have holes cut in them. That surprised me. Every time I've bought them before they've had holes in the center already. Well, punching a hole in a paper flower is no big deal for a Crop A Dile. They can even cut through tin.  Hey, remember when I made this ribbon box?  I used the Crop A Dile Big Bite for that.  I love those things.
Well, I'd like to say that this little basket went off without a hitch, but that wouldn't be true. This thing was a PAIN to score because it was so hard to tell where the score lines were. So, I did you a favor. 😀 Next, I will post a tutorial about where to score this cut. I can tell you that I'll be referring to it again the next time I make a basket from this cartridge.
Things you could use this basket for…lining a table with little treats, festive napkin holder, Easter Basket (duh, LOL), gift bags, etc.   Later, I'll show you something else I did with it! 😀