There's a new Cricut in town!  The Cricut Mini!  I just saw it at Summer CHA 2011.  It's got a sleek new design.  Check it out: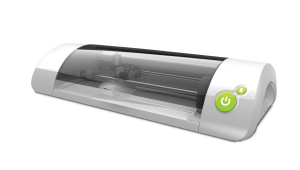 The best new function of this machine, in my opinion, is its ability to cut 8.5″ x 12″ instead of the previous 6″ x 12″ of the other baby bugs (Cricut Personal or Create). It's made to work with the free Cricut Craft room online software. Will it work without the Cricut Craft room? I can't quite figure that out and I forgot to ask. If I get by there again tomorrow, I'll make that a priority.
The Cricut Craft room is currently still in beta testing, but when the Cricut Mini machine is available (coming soon), I was told that the Cricut Craft room software will be ready for everyone as well. Yay! I've tried the Cricut Craft room software for the past few months and I think it's a nice program. It basically replaces the Design Studio software and is online and FREE which is super nice.
This machine will retail for $119 (or $129…I can't remember which.) Still I thought that was a nice low price. It's a perfect pairing, I think. A low priced machine AND the free online software. Pretty nice. 😉