Cricut Wild Card Cartridge Father's Day Card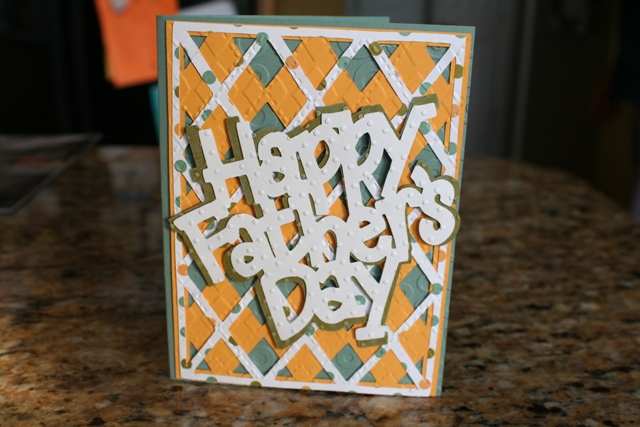 I heart this card I made last year for my Father in Law.
I used the Cricut Wild Card Cartridge to make the whole thing.  Do you know the trick about using the Wild Card cartridge?  You should cut the envelope first using the "fit to page" button.  Write down the size it uses for the envelope and then make the rest of your cuts that size.
I used the "Argyle" icon images from page 33 of the Wild Card cartridge.  The Father's Day sentiment came from page 66 using the "Phrase" button.  There isn't a shadow for "Father's Day" so I made 2 cuts that were the same size and set the top one off to the side  a bit.  I made this card without Design Studio and before the Gypsy came out.  Now it's much easier to make shadows.  I also could have cut the sentiment a little bit bigger for a shadow effect.
I went Cuttlebug folder crazy on this card. I used Spots and Dots, Swiss Dots and Argyle (keeping a theme using an argyle cut and folder, LOL).
Have you seen my Beer and Wings Father's Day Card that I made DH last year?  Check THAT out! 😉
Need help with the sizes on the Wild Card Cartridge?  Click HERE for a Cutting Guide for the Expression.  Click HERE for a Cutting Guide for the Cricut Personal or Create.
Happy Father's Day Weekend!