Hello Fox Card with Cricut CTMH Art Philosophy and Artiste + My Card Mistakes and Fixes
When I saw this fox in the Close To My Heart, Wild About Love, stamp set I started playing right away, which you can see right here  in this Instagram photo I took.  You'll also notice that I was using Stickles which didn't make it to this finished project.  Sometimes the idea that you have in your head doesn't work for your completed project.  Read on to see how I prepare for some common mistakes and fix some ideas that don't work! 😉
Here I am using the Cricut Artiste cartridge.  I only need one of those word bubbles for the stamp I'm using but I'm cutting four.  Why?  Because sometimes I screw up.
See?!  Here's a screw up right here.  I knew I'd need more than one word bubble.  How the screw up on the left happened: I stamped with the paper laying directly on my table.  How I got the better stamped image on the right:  I put a stamping pad (like this one by Darice) under my paper and then I stamped on top of that.  Does that always fix the problem?  Not always.  If your stamp is dirty you should clean it off  first.  If it's new you can use a white eraser (I use this) and gently rub the stamp with it.  That will clean off any manufacturing funk.
Now let's get to the card!  I cut the "Hello" word bubble out using the CTMH Cricut Artiste cartridge (pg. 65).  It's cut at 2″ to fit the stamp I used from CTMH Collection Kudos set.  I cut the heart out using the CTMH Cricut Art Philosophy cartridge (pg. 69).  It's cut at 1-1/2″ to fit the CTMH Wild About Love stamp set (the one with the fox in it…cute!).   I folded a piece of white paper to make an A2 card base.  An A2 is 4-1/4″ x 5 1/2″ and is a standard mailing size that can take a first class stamp.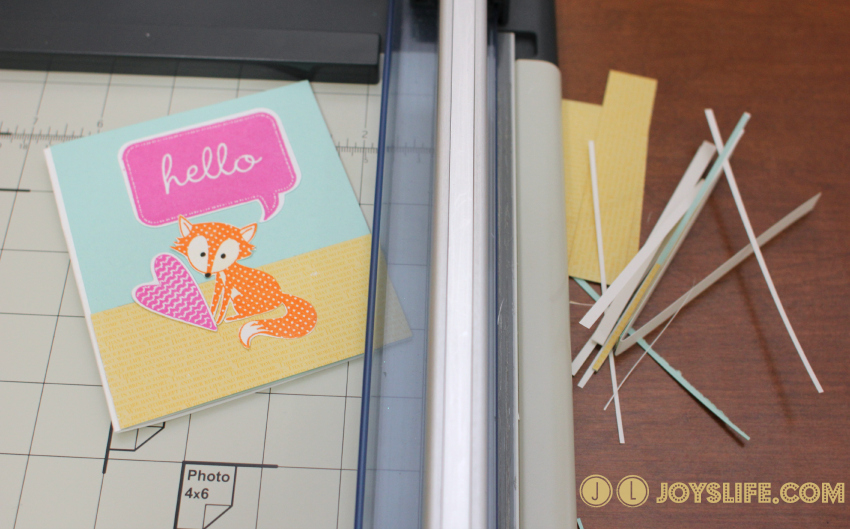 I glued down the blue paper first and left a lovely boarder of white all around it.  It looked great!  I added the yellow paper on top and stuck my fox and other pieces down.  Then…it looked terrible.  The balance was completely off.  My fox was just stuck in the middle of a card that had an endless sea of yellow below it.  I kept trying to add things to the bottom to balance it but nothing worked.  That's when I finally took the plunge.  I cut the bottom, sides and top off until it looked right.  What was once going to be a lovely A2 sized card ready for mailing will now be … smaller.  LOL!  Be unafraid to make changes!  After all, it's just paper and ink. 😉  This is YOUR craft and it's perfect and lovely when YOU say so!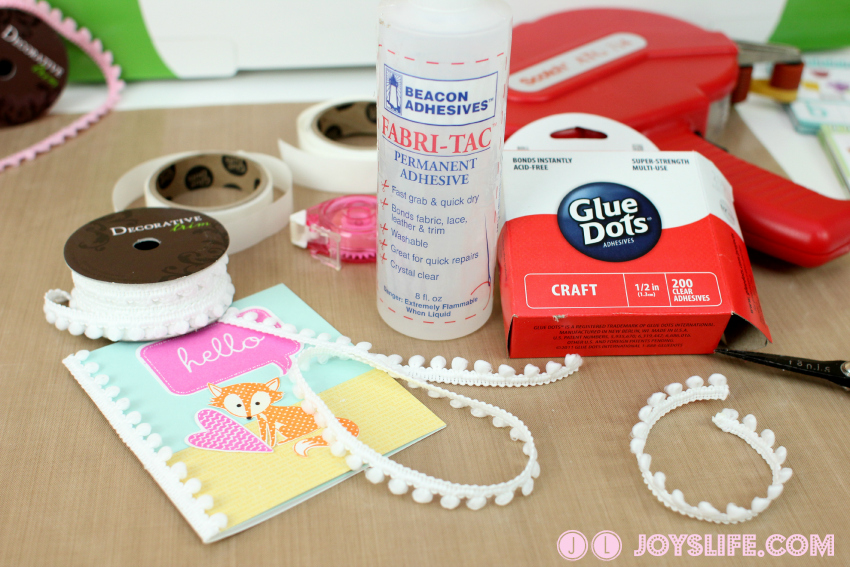 I actually used all those adhesives in my project.  Do you think I could have added just one more?  Probably!  LOL!  Some of these adhesives have the same function but the ATG gun can be a little rough on small pieces, so I opted for Glue Dots (both Craft and Mini).  I used the ATG to stick my big pieces down.  The Fabri-Tac is holding down my pom pom ribbon (which I picked up at Hobby Lobby for 1/2 off last week, score!).  I could have used Zip Dry for the ribbon instead and that might have been better since I cut the top off my Fabri-Tac so low that it pours out in a wide stream.  That tiny pink glue runner I got from a crafting convention a few years ago.  I used it to stick down the tiny fox hands.
I added a bit of pink bling to the Hello sentiment.
I hope you enjoyed this post!  If you need CTMH things be sure to click on the links below!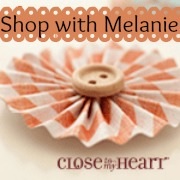 Disclosure: The stamps and cartridges used in this post were sent to me by CTMH consultant, Melanie Brown.
Have a crafty day!