HGTV PARTY & Cricut Vinyl Tablecloth Red Carpet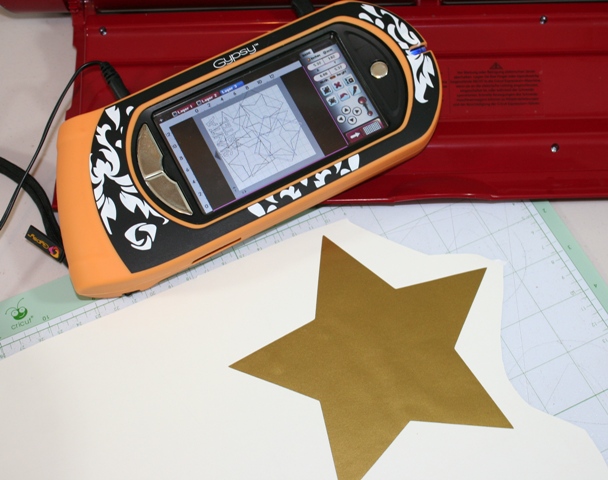 Here's the 4th of 5 posts I'm doing about the HGTV Premier and birthday party decorations that I created for my friend Sunita who earned a spot on HGTV's new show All American Handyman.
Well, there's no way you can have a Premier party without a red carpet, right? Of course not! So, I made stars out of some gold vinyl that I had. I used the George Cricut cartridge for this star, but there are stars on a lot of the cartridges. This particular star seemed just right.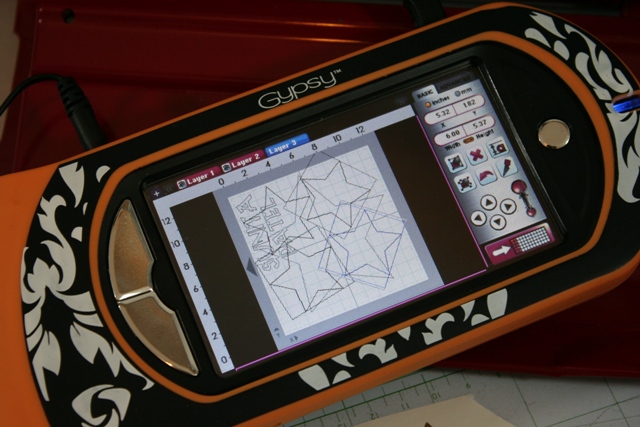 I used the Gypsy to make different sizes of stars AND to write out Sunita's name. You could do all of this just using the Cricut alone. Once again, I found myself using the Storybook cartridge. I own a bunch of carts, but I find myself turning back to that one often. I really like it!
Sunita's husband brought me an inexpensive plastic red tablecloth and asked me to put a star on it. A brilliant idea for a red carpet isn't it?! What I did was leave the tablecloth folded in half, then I burnished the stars on it. When you use one of these tablecloths right out of the package, you're going to have folds show up in it…so that's why it looks all…foldy.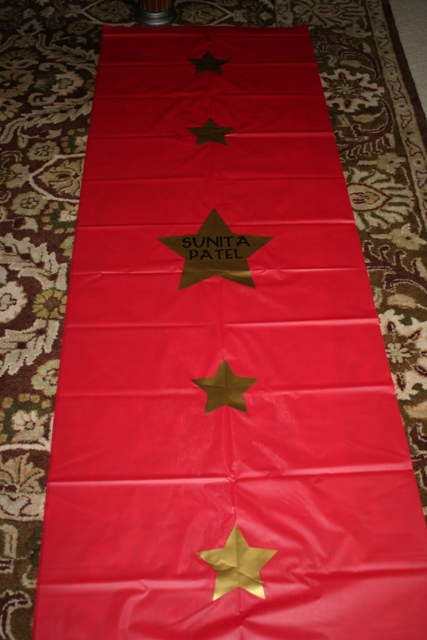 This is a red plastic tablecloth from Walmart. You've used these, right? So you know the folds are in there forever.
Foldy tablecloth and all…I think that's a cool use of both the tablecloth AND the vinyl. You could do this for movie parties too! Inexpensive, cute and fun! There is some trouble getting vinyl to stick to this surface, but you just do a burnish push/pull method and you can get it down. I talk about that in my Cricut Vinylology DVD when we're making a beautiful glass block creation.
To see yesterday's HGTV post click HERE AND for the 2nd HGTV post click HERE AND for the first HGTV post and GIVE AWAY click HERE.
STAY TUNED FOR the Final HGTV party post!