Cricut Imagine Printable Vinyl & 3M Post-It Craft Paper
Cricut Printable Vinyl on left – 3M Post-It Craft Paper on right
I'll keep this brief.  I've used a lot of vinyl.  So, I was excited to give the new Cricut printable vinyl a try in my Imagine.  Well, the Imagine certainly can print well on it.  My only real complaint about it is that it is not as sticky and does not have as thin a consistency as regular Cricut Vinyl
 (which I love).  I'll give it another try soon. 😉
Here are all of the images I chose to print and cut using the Cricut Printable vinyl.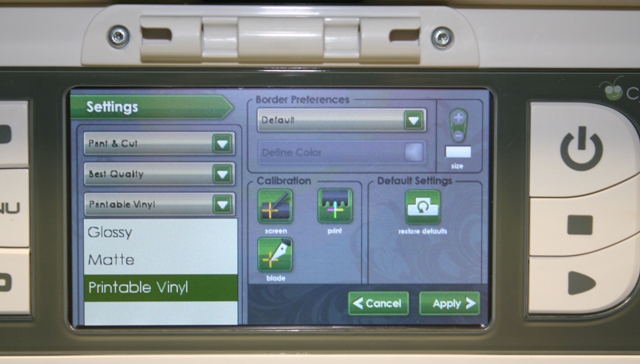 I figured it made sense to use this setting on the printable vinyl.  Um, duh! 😉
Here it is all printed and cut.  Next, I weeded it and stuck it to my Imagine!  The Imagine can make much smaller cuts than the Expression.  I'd say that's the #1 thing I like best about the Imagine.  I just wish that it was more compact!
POST-IT CRAFT PAPER…I just had to use it again today.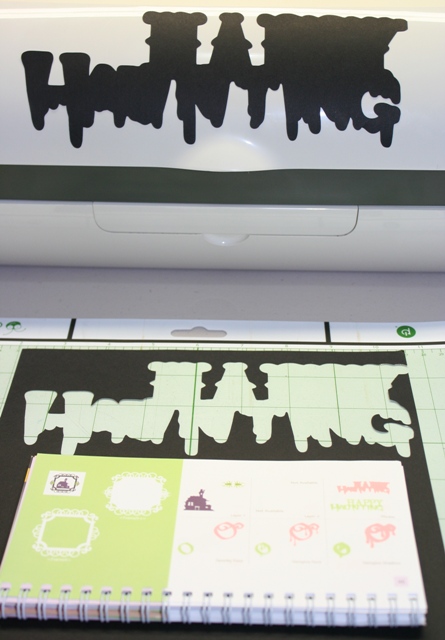 I used the Happy Hauntings Cricut cartridge for everything in this post.
Yesterday, you saw me use the Post-It Craft paper that 3M sent me to try.  Click HERE for that post.  The truth is that it is so easy to use I just wanted to use it again today.  So, I cut out this "Happy Haunting" sentiment with it.
I cut out the shadowed background and then I cut out the sentiment in orange.
This Post-It craft paper peels off so easily and is repositionable.  Wonderful!  Plus, you can print on it!!
I started thinking about what else I normally would do to paper.  After all, it IS craft PAPER.  So…let's Stickle that baby!
Woo hoo!  The best thing about this paper is that I can just peel it off and stick it somewhere else if I want to move it.  AWESOME!
Don't forget to leave a comment to be entered for the Cuttlebug dies and folders AND the deep cut blade from yesterday's BLOG HOP!  Click HERE for that!
SEE YOU TOMORROW!! Woo Hoo it's FRIDAY!