How to Make a Tomato Cage Christmas Tree Card Holder
This shop has been compensated by Collective Bias, Inc. and its advertiser. All opinions are mine alone. #SendHallmark #CollectiveBias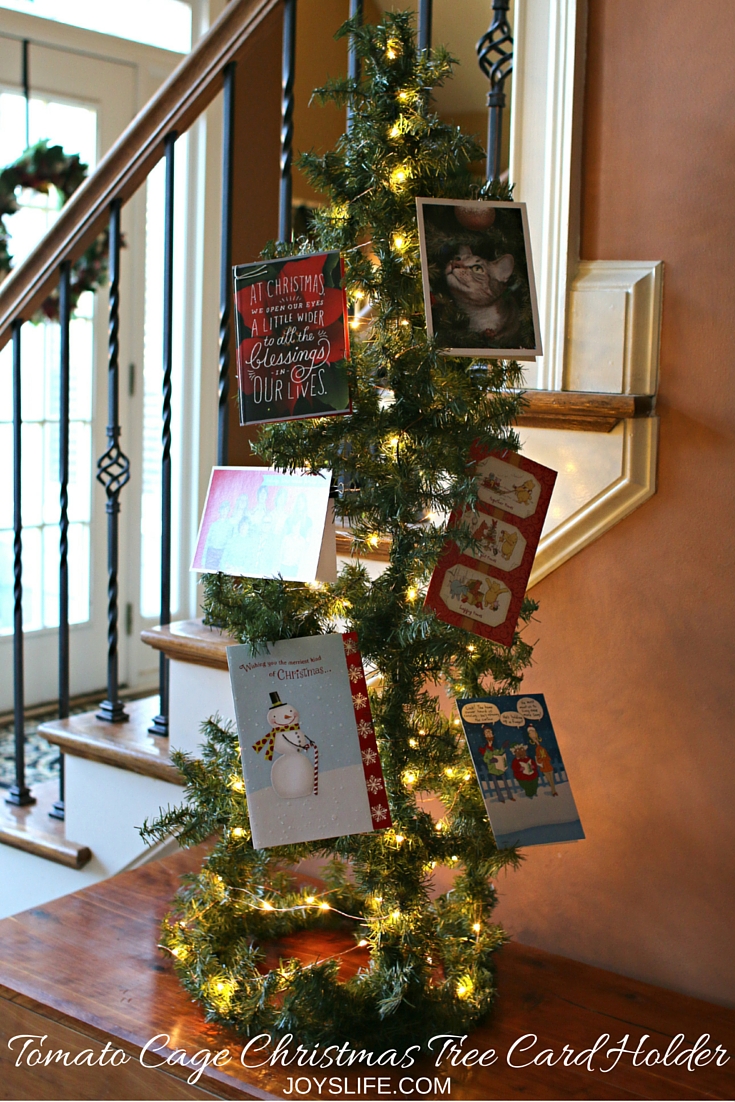 I love when I get cards from people during the holidays, don't you?  I think it's the nicest way of letting someone know you're thinking of them.  I enjoy being able to look at the cards but sometimes they get hidden when I display them on my mantel.  This year, I decided to make a tomato cage Christmas tree card holder so I can see and enjoy those cards.  Yep!  A Christmas tree out of a tomato cage!  I've been wanting to try this for years and I wish I had made one sooner.  It's not difficult at all and you can customize it to fit your decor by choosing ornaments, colors and lights that best fit your style.  It's a great way to display your cards so you can enjoy them all season.  You can even clip up cards you plan to give to others so they're always easy to find!
Let's Get Started!
You might want to protect your work space from scratches the tomato cage could cause, unless you're working on a table that you're about to refinish, like this one.  LOL!  My husband and I were just given this table and we LOVE it!  It just needs a lot of TLC.  Sooo, so much TLC, but one day it will grow up to be as pretty as this tree's about to be!
SUPPLIES
You'll need a tomato cage:  Mine is 3 1/2 feet tall.
Garland: I used about 25 feet of garland.  I initially purchased two packs of garland that were 9 feet each but that wasn't enough and I had to run out and get another pack.
Wire Cutters: I used them to cut the garland when I needed to fill in certain places and also because I didn't need the full third pack.
Small Binder Clips: These help you clip your cards to the tomato cage.
Hallmark Cards: Ones you've received and/or ones you plan to send.
Optional: Lights, twist ties, ornaments, ribbon
I bought all of these Hallmark cards at Walmart.  That's where I picked up the wire twist tie dispenser too.  I didn't even know they made that!  It's perfect for tying garland to things!

Unwrap your garland and start wrapping it around your tomato cage beginning at the top.  You can use the twist ties to cinch up the top or you can just tightly wrap the garland around it.  There is truly no right or wrong way to do this.  It's completely up to the kind of look you want.  I followed the lines of the cage because I wanted it to look like a tomato cage tree when I finished.  You can add more garland for a fuller look.
When you're finished with that, add lights if you want them!  I'm using some really pretty copper wire lights.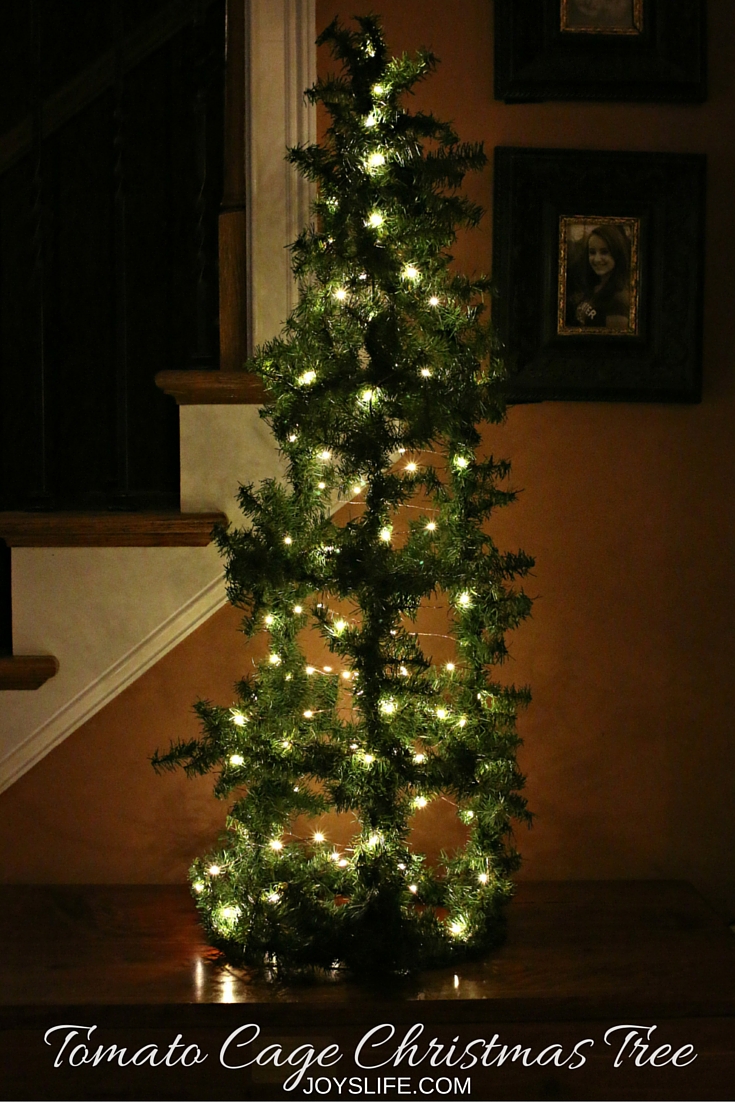 Now you need to add your Hallmark cards!
Check out this one that I bought…
Some cards are just soooo purrfect.
I bought this Hallmark card for my husband's aunt, then I caught Domino striking a similar pose.  He likes to get into the Christmas tree.
Well, he likes getting into the middle of any project so he can monitor what's going on.
Attaching the Cards:
Once your tree is finished use the small binder clips to attach the cards to either the limbs or the cage itself.  I found that the limbs offered more options for my cards.  If you open them up and attach the card from the back, people can open the card and read who it's from.  I like that!
You can add ribbon to the binder clips too!  I might do that later but I really like it as it is right now.
Hallmark greeting cards are the perfect way to show you care and they work well for any holiday, special occasion, or just because. I'm sending the card with the family on the front to my daughter today. This is the week of her final exams and I know she'll appreciate getting happy mail! Any day is the perfect day to send a Hallmark greeting card to someone you love.
Can we just take a moment to laugh at this elf looking Storm Trooper?  How funny is that?  When I saw this Star Wars Hallmark ornament in Walmart, I just had to get it.  It actually made me laugh out loud.  Adding a Hallmark ornament to the tree is one of our family traditions.  This year Hallmark has 16 Walmart exclusives, resin figurines, Holiday Barbie, new deco figurines and more.  It was easy to find something to carry on our family tradition!  This one is too cute!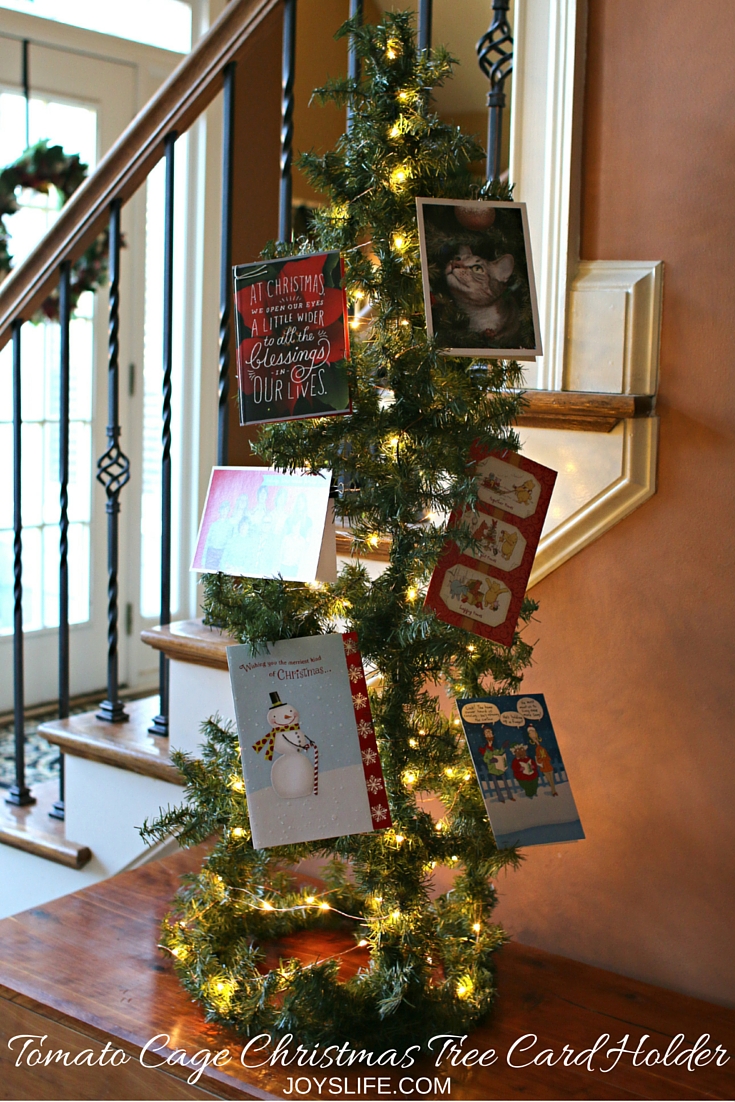 Alright, I've got to go or I'm going to miss the mailman.  Let me leave you with this…the tomato cage Christmas tree card holder turned out to be one of my favorite things that I've ever made.  My husband liked the cards on it so much, he suggested that we leave them there.  I think that's high praise for both the tree and the Hallmark cards.  I'm still sending them out though…so send me some cards!  LOL!
Which ornaments are you most looking forward to adding to your tree this season?  I'd love to hear how you display your holiday cards!
Happy Holidays Everyone!