Tips for Planning Your Thanksgiving Table
This is a sponsored post written by me on behalf of NABISCO Cookies and Crackers. All opinions are 100% mine.
With Thanksgiving quickly approaching, I wanted to share a few tips for planning your Thanksgiving table.  My first tip is – don't do what I usually do…don't wait until the last minute!
This year, I finally did something that I've never done and it's TIP #1:  Plan out your tablescape before Thanksgiving.  I counted up our guests and made sure that I had enough plates, bowls and glasses for everyone.  Be sure to check silverware too.  I've got plenty of that, so I skipped putting it out on the table.  I also didn't iron the tablecloth yet, but this is just the dry run.  I'll do that and wash everything before the big day.  Doing this is a great way to make sure that you're not scrambling at the last minute, so you can enjoy the day too.
Tip #2: Have snacks.  You are going to hear, "When is dinner?" about a thousand times, but having some snacks and crackers around will make the wait easier.  I like to add some to the Thanksgiving table and around where everyone is congregating.  My husband is a Ritz fan, probably from birth, so we always have them on hand.  I like the way they taste and that they come in sleeves inside the box so they stay fresh until I'm ready to open them.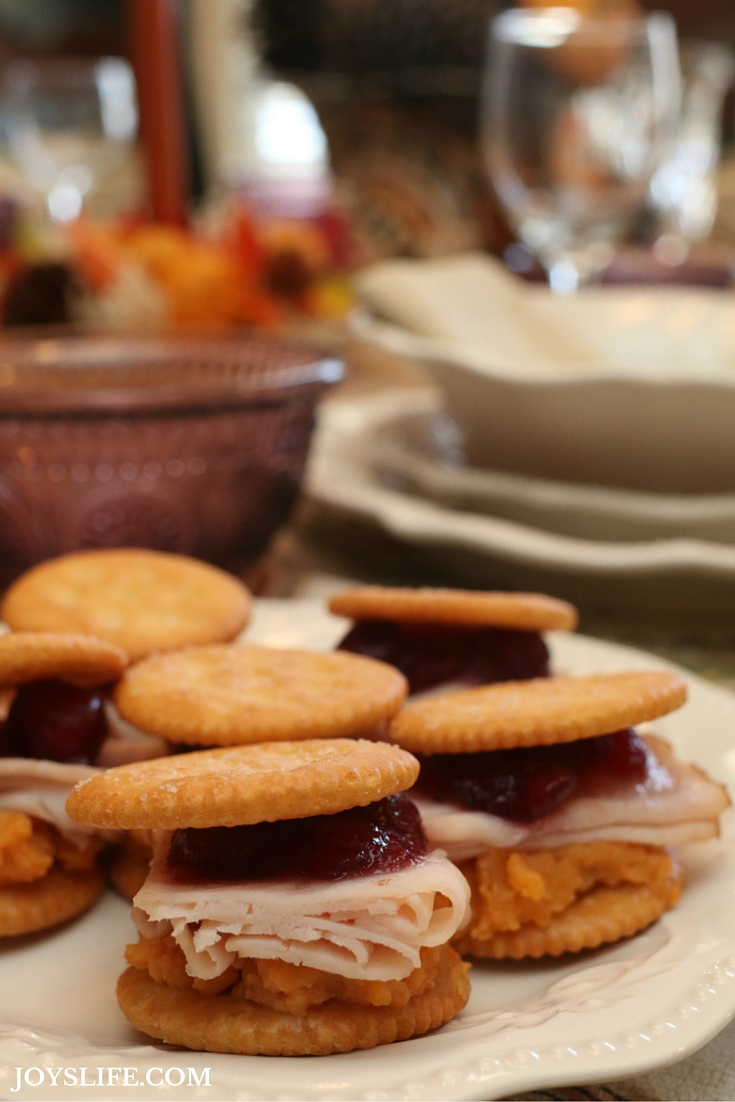 Try this yummy Roasted Turkey & Sweet Potato RITZwich recipe!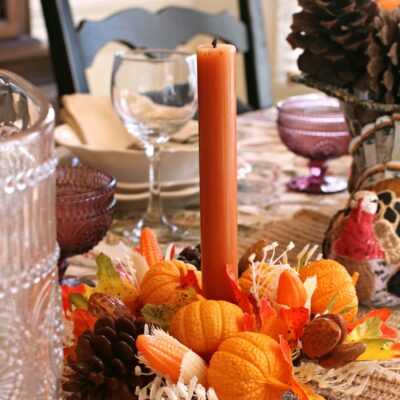 Roasted Turkey & Sweet Potato RITZwich
This is a great way to use leftover roasted turkey and sweet potatoes. But these tasty snacks are equally delicious when prepared with turkey purchased from the deli and mashed canned sweet potatoes.
Print Recipe
Share by Email
Share on Facebook
Share on Twitter
Pin Recipe
Ingredients
12

RITZ Crackers

2

Tbsp.

mashed sweet potatoes

2

oz.

sliced roasted turkey breast

cut into 6 pieces

1

Tbsp.

whole berry cranberry sauce
Instructions
HEAT oven to 350°F.

PLACE 6 crackers in single layer on baking sheet; top with potatoes and turkey.

BAKE 3 to 5 min. or until heated through.

TOP with cranberry sauce and remaining crackers to make 6 cracker sandwiches.
Tip #3: Runner Guide For years I just used a tablecloth without a runner, and there's nothing wrong with that, but when I added a runner I realized that it gave a lot of visual interest to the table.  It also helped serve as a guide for me, helping to reign in my decorations and keep them out of the eating area.  So, consider using a runner.  I think, besides being pretty, it helps define table space.
Tip #4: Add Pitchers Some years we have 20+ guests, other years it's 5-8.  When you have a crowd, consider adding water, wine, tea pitchers/decanters to the table.  It keeps the table from turning into a whack-a-mole situation, with people constantly popping up and running to refill drinks.  Plus, it looks nice!
Tip #5: Be Yourself There's nothing wrong with buying new things for Thanksgiving or trying something totally new for you.  I think that's great, but don't forget a few of the old traditions.  You might be surprised to find out that someone misses that plastic pumpkin you used to put on the table or those pilgrim salt and pepper shakers.  I have some truly hideous orange plastic grapes that I put on the table when my brother comes.  My Mom used to put them out and she gave them to me.  They make my brother laugh, so I always put them out for him.  My sons like the plastic pumpkins around the candles, so there they are.
Tip #6: Go outside  Pine cones, branches, nuts and leaves bring in great natural beauty at no cost.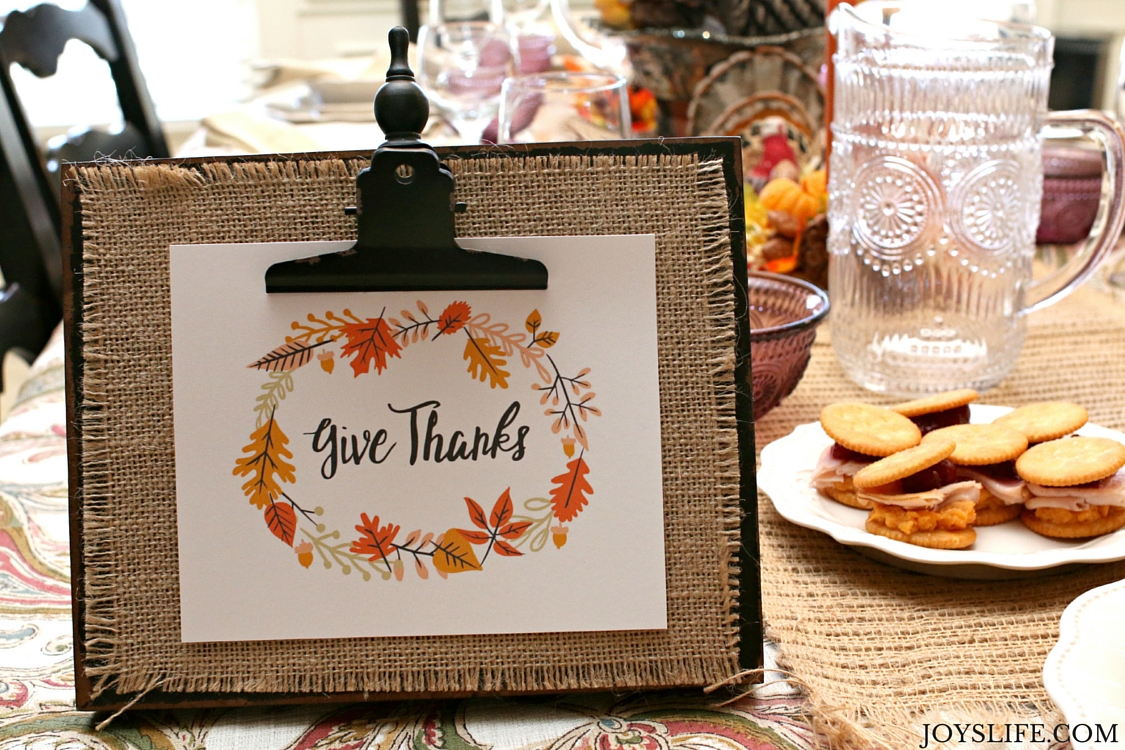 Tip #7: Print it Out – You know I love crafts, but when it comes close to the holidays, I'm all about keeping it simple.  When I wanted to add a pretty saying to my Thanksgiving table, I bought this image and printed it out.  Adding more visual interest to the table doesn't have to be difficult.  Use your computer and create a quick menu.  Print that out and lay it on the plates.  It's a nice touch that doesn't have to take long at all.
Tip #7: Keep Your Sense of Humor Sometimes the unexpected happens, like the cat wants to live in your tablecloth or use your table runner as a scratching post.  Remember to plan ahead so you're not too stressed.  Get enough sleep, save a Ritz for yourself and grab a camera for those things that you'll laugh at next year!
Be sure to visit NABISCO Party Planner where you can find more themed holiday recipes from NABISCO as well as coupons savings at Publix!
Happy Thanksgiving!