Dollar Store Thanksgiving Candles with Chalkboard Tags
Candles are a great addition to tables, mantels, special dinners and holiday celebrations.  The greatest things about these, besides being pretty, is that they are inexpensive and easy to make.
I made these using clear glass candles from the Dollar Store, SEI Yesteryear Sundries, wood grain paper from the Chalet paper pack and SEI Blooms & Blossoms chalkboard tags.  I love SEI products!
I cut the paper, wrapped it around the candles and held it in place using my ATG gun. To be safe, I started my paper well below the lip of the candle. Even so, I will only burn this while keeping an eye on it.
I covered the chalkboard tags with chalk, wiped it off and then wrote on each one leaving a chalky look to the edges. I punched holes and set eyelets in the corners of the tags using my Crop a Dile Big Bite. I like the look of the eyelets and they also provide a nice way for the twine to string through and help tie the tags to the candles.
Need help using the Crop a Dile?  Check out this video.
I created the tiny banners using the Yesteryear Sundries buttons, leaves, gems and flags. Glue Dots and my ATG gun helped hold everything in place. Well, the gems are self adhesive so they didn't need any help at all. They stuck right on the chalkboard tags. I glued twine to the top and bottom of the candles to help give them a finished appearance.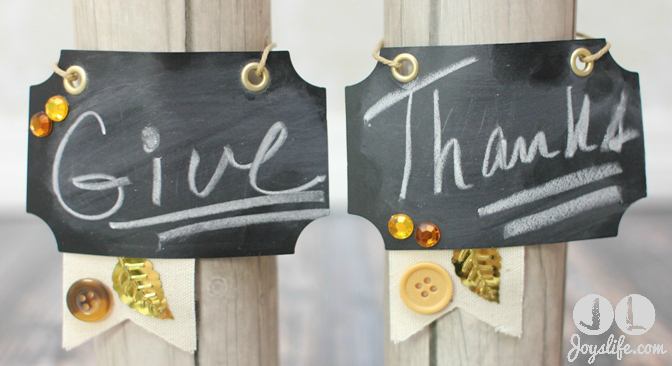 I love the way these turned out!  Currently, they are living on my mantel but as soon as Thanksgiving is here they will definitely be on our table.
I wrote this while participating on the SEI Design Team.
Have a wonderful day!