Silhouette Sweet Scrapbook Layout Photo Display – Lori Whitlock Design Team Post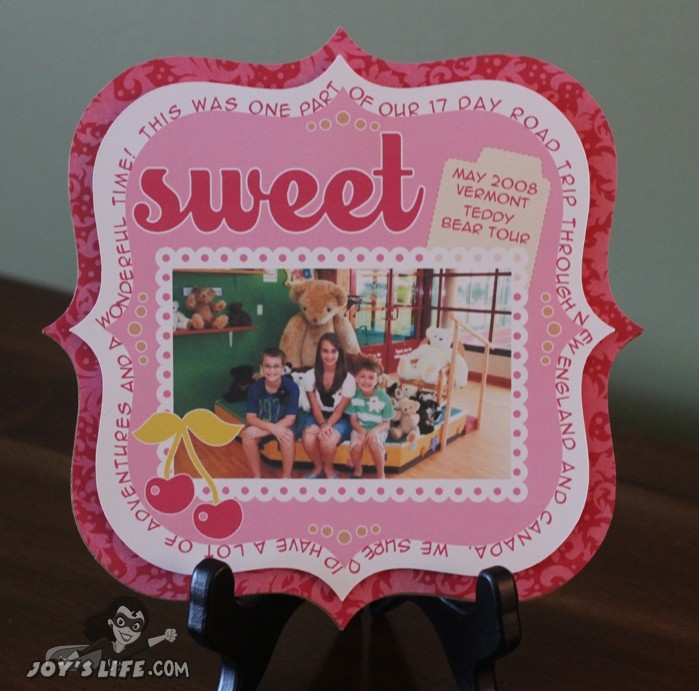 I almost never make scrapbook layouts.  As a matter of fact, I've only done one die cut version and a few digital (and they were nothing to write home about, LOL).  I've just never felt inspired to create in that way…until now.  This project is a hybrid of die cut and digital and I think I'm in love!  If you're like me and don't do much scrapbooking you might consider trying the Sweet Layout, filling it with digital color and adding a special photo. It was a fun and easy way to make an adorable decorative item that is also very memorable for our family.
I used the Silhouette Designer Edition software to color the different layers of the file. Next, I imported a photo from the road trip we took in 2008.  This one is from the Vermont Teddy Bear Factory tour in Vermont.  I added text about our trip around the outer edge of that pretty shape.  The file comes with a square shape around the one you see in my project.  I deleted the square.
Check out my Silhouette FAQ's for more information on how to do some of those things!
I duplicated that pretty shape you see my lettering hug and put it around the outer edge of my project.  That's the "cut line" that I had my Silhouette use.  I increased the size of it until it fit nicely around the wording.  Next, I made another shape to encompass the whole project and cut it out using a thin chipboard.
I heart my pink Scotch ATG gun.  I use it all the time!  Using Lori's new Love Story line of paper with Echo Park,
I cut a pretty background to cover the chipboard and glued it down.
 Pop dots helped me raise my photo scrapbook image for added dimension.
I just love the way this turned out! It's now living happily on my mantel. I am truly moved by how this photo display affected my family.  They commented on it more than any other thing I've made recently.  What do they like so much about it?  Seeing the photo and having the written information on it.  Who knew?  Um…maybe the billions of scrapbookers in the world. 😉  LOL!  I really want to make more of these for display and have finally found the way that I like to scrapbook…or scrap display.  YAY!
The Sweet Layout, by Lori Whitlock, doesn't have to be used with digital anything.  It is an easy to cut file that can be used with any "real" paper you have.  So, don't feel that you have to use it like I did, this is just how I decided to use it.  I wrote this post while participating in the Lori Whitlock Design Team.
Have a Scrappy Day!