Decorate a Travertine Tile with Vinyl – Lori Whitlock Design Team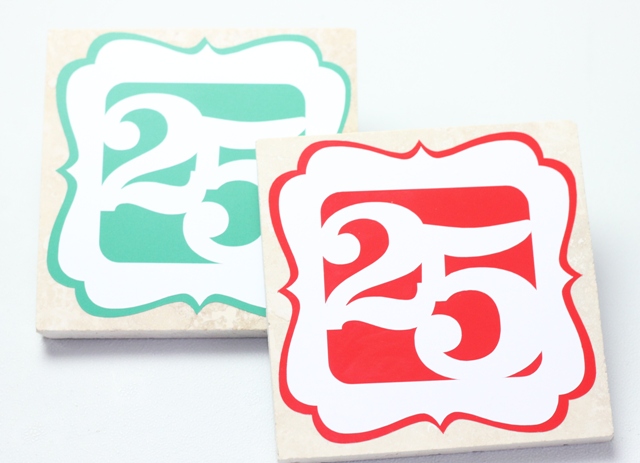 It's easy to make useful gifts using vinyl and tiles from your local hardware store. I'm using a travertine tile. They're great at absorbing water.
I used the #25 from Lori Whitlock's "Number Set 21-31"to help me create my vinyl decorated tile. A number set can be super useful. You can create things like birthday cards, advent calendars and mini albums with them and focus in on a specific important day or year. That's cool!
Need vinyl? I like to buy mine from Expressions Vinyl.
When you get this file, the numbers are one piece like the 25 you see on the right. I wanted to create a separate background so it could give a shadow effect to the number 25. Using the Silhouette software, I selected the #25 image and chose "release compound path". Next, select the part of the image you want to copy and click "duplicate". Now you've got a copy of the piece you wanted. In my case, it's the shape without the #25 in it. I also enlarged the new background (on the left) so it would become a shadow to the number.
I enlarged the background slightly and cut it out in red vinyl and again in green vinyl. I used my favorite vinyl tool, the Fiskars Heavy Duty Craft Knife to help me remove the unwanted vinyl. I'm using an outdoor vinyl in red and indoor in white. These are just the colors and kinds that I had on hand.
Next, I used transfer tape to help me move the 25 to the shadow layer. Don't have transfer tape? Use masking tape. You can cut vinyl with just about any die cut machine. I can't think of a single one that can't do it.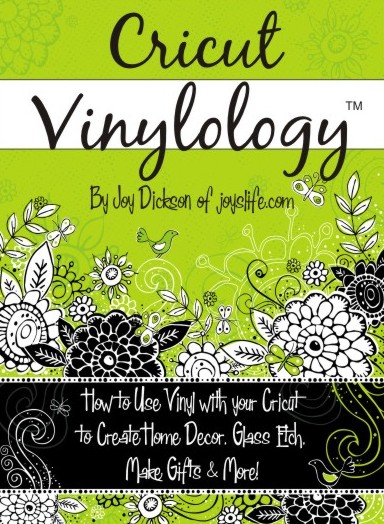 Have vinyl questions and own a Cricut? You'll love my Cricut Vinylology DVD. It's a 2 disc DVD set with over 3-1/2 hours of instruction on using vinyl with your Cricut.
Layer the images and burnish to the tile.
To keep the tile from being directly on your table add some felt feet.  I bought these felt feet/pads at Lowes…or was it Home Depot?  Well, either way you can find them in a home improvement store or Amazon. They are super inexpensive.
My cup started sweating on cue! Awesome! 😉
You've got a great tile gift all ready for the holidays!
Here are some other vinyl tiles I've created:
I wrote this post while participating on the Lori Whitlock Design Team.