Cricut Kate's ABCs Vinyl Travertine Tile Drink Coaster
I made this drink coaster for my sister-in-law. It's her birthday and she loves butterflies. I've decorated other tiles with vinyl, I show you how to make several in my Cricut Vinylology DVD, but this is the first time I've used travertine (which absorbs water GREAT). It's also the first time I planned to use the tile as a drink coaster.

I've also used images from the Kate's ABCs Cricut cartridge to make this vinyl canvas scene.
I am just too paranoid about giving a drink coaster gift with vinyl on it, so I added a coat of polyurethane as a sealant over the top of the vinyl. You might find this to be an unnecessary step since I was using outdoor vinyl, but it set my worries at ease. 🙂 I didn't want spills and long periods of hot coffee or cold sweating glasses to ruin the coaster. An ounce of prevention is worth me not having to drive myself crazy with worry a pound of cure.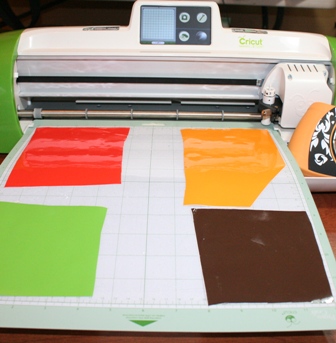 I cut everything just under 4″. I used my Gypsy to help me position the different cuts so that I could cut the pieces without having to remove the mat, add vinyl and cut everything one at a time. You can do this with any Cricut whether you have a Gypsy or not, just use the buttons to move your blade over to the next piece of whatever you are working with, then press cut.
After weeding the vinyl I layered it. I use transfer tape to make this process MUCH easier.
I decided not to use the little orange piece that goes in the center of the lid. This photo is BEFORE I added the polyurethane and the one at the top is AFTER I added it, but before it was completely dry. I hope she likes it. I'm going to make a whole set for her.
P.S. I bought that box of travertine tiles at my local home improvement store for about $7. Woo hoo!
Happy Crafting!